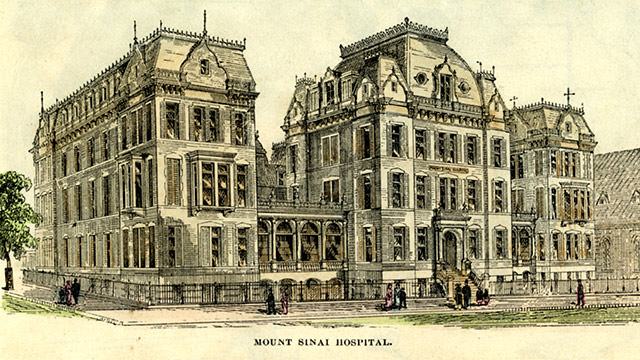 The History of The Mount Sinai Hospital
On January 15, 1852, nine men representing a variety of Jewish charities agreed on a vision for free medical care for indigent Jews in New York City. In 1855, that vision came to fruition with the establishment of the 45-bed Jews' Hospital in New York in what was then a rural neighborhood on West 28th Street between Seventh and Eighth Avenues.
Although the hospital was a sectarian institution, the Jews' Hospital accepted emergency patients of any religious affiliation. In its first years of operation, the majority of patients were foreign born. As the Jews' Hospital was a charitable enterprise, its directors relied on the gifts of friends and members, as well as later payments from the government, to provide enough to subsidize care.
During the Civil War, the hospital expanded to accommodate Union soldiers. After this, to reflect its broadened mission and to ensure its eligibility for state and city support, the Jews' Hospital formally abandoned its sectarian charter in 1866 and was renamed The Mount Sinai Hospital. In 1872, it moved to a new 120-bed facility on Lexington Avenue, between 66th and 67th Streets, nearly tripling its original capacity.
Move to Upper East Side Leads to Expanded Services
With the move to Lexington Avenue, patient care grew to encompass outpatient services as well as new specialties such as pediatrics, eye and ear, neurology, genitourinary, and dermatology. The first tiny laboratory, large enough for only two people, was set up in a coat closet, and from here research took on increased importance.
In 1881, a training school for nurses was established, introducing professional nursing care to a facility previously served by untrained male and female attendants. The Mount Sinai Hospital School of Nursing closed in 1971 after graduating 4,700 nurses.
As advances in research, diagnosis, and patient care occurred, more people sought treatment at hospitals, and Mount Sinai's leaders realized it was time, once again, to move and expand.
New Facilities on Fifth Avenue Offer Further Growth
In 1904, the new 456-bed, 10-pavilion Mount Sinai Hospital was dedicated on Fifth Avenue at 100th Street. The President of the hospital, Isaac Wallach, described The Mount Sinai Hospital as "this House of noble deeds" with a three-fold mission of "benevolence, science, and education." Over the years, the hospital has expanded rapidly both physically and in terms of service, becoming a full-service medical facility capable of treating complex conditions. In an effort to help the hospital's patients balance their medical and social needs, a department of Social Work Services was created in 1907. The latter is supported by the Auxiliary Board, which was formed in 1916 to provide financial support and labor resources to social service-related activities at the Hospital. The Auxiliary today works diligently to support vital hospital and community outreach projects.
Mount Sinai Active in Both World Wars
The Mount Sinai Hospital sent medical units to both World Wars. Of the 24 physicians and 65 nurses serving in World War I with Base Hospital No. 3 of the U.S. Army Medical Corps in France, the majority of doctors and nurses were from The Mount Sinai Hospital. The group finished the conversion of a 15th century monastery in Vauclaire, Dordogne into a 500-bed hospital that at one point housed 2,800 patients.
During World War II, nearly 900 physicians, nurses, staff members and trustees from The Mount Sinai Hospital saw wartime service. The affiliated unit, the U.S. Army 3rd General Hospital, served in North Africa, Italy, and France. Nine people associated with Mount Sinai died while serving.
School of Medicine Opens in 1968
In the late 1950s, the hospital began plans to establish its own medical school, an unusual move for a hospital. With its chartering in 1963, Mount Sinai School of Medicine, now called the Icahn School of Medicine at Mount Sinai, became the first medical school to grow out of a non-university in more than 50 years. The fact that the hospital was encouraged to found a school is a testament to its tradition of excellence in patient care as well as research.
Mount Sinai School of Medicine opened in 1968 in affiliation with The City University of New York. In building the medical school, trustees envisioned a new kind of medical institution—a university of the health sciences. This new institution would encompass a medical school supported by a strong teaching hospital, a graduate school of biological sciences, a graduate school of physical sciences, and undergraduate programs for allied health workers.
The first class in the newly formed Mount Sinai School of Medicine consisted of 36 students, four of whom were women. There were also 23 students in a third year class and 19 students in the Graduate School of Biological Sciences. In 2007, the school began accepting 140 students in each first year class and there are now more than 300 graduate students at any point in time.
The 21st Century
The opening years of the 21st century found The Mount Sinai Medical Center struggling financially, but by the end of the hospital's 150th anniversary celebration in 2002, steps had already been taken to chart a new course. In January 2003, Kenneth L. Davis, MD, Mount Sinai Class of 1973, was named Dean of the School of Medicine. On March 24th, he was also named President and CEO of the Mount Sinai Medical Center. Four years later, the two offices were split and Dennis S. Charney, MD became Dean of the School of Medicine.
More than 160 years after its founding, The Mount Sinai Hospital continues to grow and lead, fulfilling its commitment to high-quality patient care and teaching conducted in an atmosphere of social concern and scholarly inquiry into the nature, causation, prevention and therapy of human disease.
The Mount Sinai Hospital Firsts
The Mount Sinai Hospital and the Icahn School of Medicine at Mount Sinai have achieved international acclaim for its lengthy list of firsts in research, education, and patient care. Among those firsts include:
2012—In collaboration with an international group of colleagues, discovered five new genetic mutations associated with Crohn's disease in Jews of Eastern European descent. This marks the largest study to date and the first to discover the unique risk factors of Crohn's disease in the Ashkenazi Jewish population. The researchers also found that some previously known risk factors are more potent in this population than non-Jews.
2012—Identified a protein kinase that plays a significant role in kidney fibrosis, a condition that results in kidney failure.
2011—Uncovered how a gene mutation causes Parkinson's disease.
2011—Identified differences in disease progression in two subtypes of multiple sclerosis.
2010—Presented research showing that the World Trade Center collapse caused potentially dangerous heart problems to first responders.
2010—Performed the first U.S. implantation of a new device for aortic stenosis.
2009—Discovered potential link between rare blood cancer and environmental contaminants.
2007—Developed an advanced imaging technique to capture the movement of the microdomains of leukocytes, or white blood cells.
2007—Proved why influenza spreads most rapidly in the cold, dry air of winter, and showed that it can be spread just in the air, without coughing, sneezing, or physical contact.
2006—Identified three proteins found in significantly lower concentration in the cerebrospinal fluid of patients with amyotrophic lateral sclerosis than in healthy individuals.
2006—Discovered a gene in the brain—OLIG2—that may play a causal role in the development of schizophrenia.
2005— Performed the first successful composite tracheal transplant, using a method developed at Mount Sinai that allows patients to breathe and speak without a tracheotomy. It is a composite of a donor trachea with the patient's own tracheal linings.
2004—Identified the first common gene variant linked to autism.
2001—Discovered the gene that is defective in most cases of prostate cancer.
2001—Developed a novel isothermal DNA amplification method with an amplification mechanism quite different from conventional polymerase chain reaction (PCR), resulting in an exponential amplification that distinguishes itself from the previously described nonexponential rolling circle amplification.
2000—Along with Case Western Reserve University School of Medicine, determined that HIV-associated nephropathy was caused by HIV-1 infection of kidney epithelial cells. This established that the best treatment for HIV+ patients in renal failure is antiretroviral treatment.
2000—Became the first to use black blood magnetic resonance imaging (BB-MR) to image the human coronary artery lumen.
1996—Identified a gene for a rare bone-thickening disease, pycnodysostosis, which causes dwarfism.
1995—Developed an ultrasound-guided technique to insert radioactive seeds into the prostate to treat prostate cancer.
1991—In conjunction with the University of California, Irvine, College of Medicine, identified a marker for premature birth—the presence of cervicovaginal fetal fibronectin in the second and third trimesters of pregnancy.
1988—Demonstrated how asbestos causes cancerous changes in cellular DNA.
1987—Along with Yale University School of Medicine, isolated and cloned a structural gene for human tissue factor.
1986—Performed the first blood transfusion into the vein of an unborn fetus.
1986—Developed an in vitro fertilization technique called zona drilling to help sperm cells penetrate egg cells.
1985—Provided the first direct evidence of the involvement of dopamine in schizophrenia.
1981—Discovered the proteasome (multicatalytic protease), the major regulated mechanism for protein degradation in the cell.
1977—Mapped the influenza virus genome.
1971—Discovered that dimethyl sulfoxide (DMSO) could induce cancer cells to progress or differentiate to a normal pattern of development.
1969—Developed an influenza vaccine—the first genetically engineered vaccine.
1968—Confirmed multiple-factor causation of human cancer through work done on increased incidence of cancer among asbestos workers who smoked.
1964—Established etiologic link between asbestos and cancer.
1963—Became the first to use a sequential combination regimen of chemotherapy for adjuvant treatment of breast cancer.
1963—Provided the first description of superior limbic keratoconjunctivitis, now called Theodore's SLK.
1962—Became the first to use a sequential combination regimen of chemotherapy for adjuvant treatment of ovarian cancer.
1960—Published the first description of postperfusion syndrome after open-heart surgery.
1960—Performed the first radioimmunoassay of a hormone—a test capable of estimating nonogram or even picogram quantities.
1959—Developed radioimmunoassay.
1959—Created polyacrylamide gel electrophoresis for separating proteins.
1956—Classified transient circulatory disturbance of the brain, which came to be known as transient global ischemia.
1956—Developed and standardized the latex fixation test for the diagnosis of rheumatoid arthritis.
1952—Perfected and reintroduced surgery for the mobilization of the stapes.
1951—Became the first to perform closed mitral valve commissurotomy.
1950—Developed a portable kidney dialysis machine.
1950—Published first description of familial lipoprotein deficiency, known as Bassen-Kornzweig syndrome or abetalipoproteinemia.
1949—Published first description of allergic granulomatosis (Churg-Strauss disease).
1947—Performed the first kidney dialysis in the United States, using a Kolff artificial kidney.
1944—Inhibited tumor growth by using a folic acid concentrate.
1942—Published the first description of collagen disease.
1940—Published the first description of eosinophilic granuloma of bone as a distinct entity.
1935—Published the first description of the vascular lesions in lupus.
1934—Described the first clinically applicable method for measuring the circulation time to the right heart.
1933—Published the first description of a total pneumonectomy in the United States.
1933—Introduced Hippuran as a radio-opaque medium.
1932—Published the first description of regional enteritis—an inflammatory disease of the intestine (Crohn's disease).
1932—Established bronchial adenoma as a clinical and anatomic entity.
1932—Described and gave name to bronchopulmonary segments, a hitherto unnoticed feature of the pulmonary lobe.
1931—Coined the term premenstrual syndrome (PMS).
1930—Published the first textbook in the United States on pediatric urology.
1929—Developed the first cardiac stress test, the Master Two-Step.
1929—Introduced Uroselectan (Iopax) as the first radio-opaque media for visualization of the urinary tract.
1928—Published work on "Shwartzman Phenomenon" (SP) — a necrotic reaction to filtrates containing endotoxin of gram-negative bacteria.
1926—Developed test to measure estrogen levels in circulating blood.
1926—Described pulmonary hypertension as a separate clinical entity.
1925—Published the first description of hemolytic thrombocytopenic purpura (Moschcowitz disease).
1925—Published the first textbook in the United States on thoracic surgery.
1925—Published description of a new lymphatic system disease, later expanded by Douglas Symmers's work, later known as Brill-Symmers disease and then nodular lymphoma.
1924—Published description of atypical verrucous endocarditis, Libman-Sacks disease.
1923—Became the first in the United States to publish on gastrectomy—a new surgical procedure for duodenal ulcers.
1919—Introduced the use of peruterine insufflation of the fallopian tubes for the diagnosis and treatment of sterility in women (Rubin test.
1919—Performed experimental transmission of encephalitis lethargica.
1917—Described idiopathic nephrotic syndrome (Epstein's syndrome)—the cause of swelling in Bright's disease.
1915—Described the minimum amount of citrate required to prevent blood from clotting, making indirect transfusion possible and practical, and allowing blood to be stored for later transfusion. This paved the way for modern blood banking.
1914—Invented the first modern electric ophthalmoscope.
1914—Published the first textbook in the field of geriatrics.
1914—Pioneered salpingography—the x-ray visualization of the uterine tubes with radio-opaque substance.
1914—Performed the first pulmonary lobectomy for inflammatory disease.
1911—Developed the first cystoscope for children.
1910—Identified endemic form of typhus fever (Brill's disease).
1910—Reported on a method of destroying benign tumors of the urinary bladder using electric current (fulguration).
1910—Developed the first practical positive pressure anesthesia technique (endotrachial anesthesia).
1910—Discovered that Strep. endocarditis is the most common cause of subacute bacterial endocarditis.
1910—Performed the first bypass and resective surgery for inflammatory colon disease.
1908—Published the first comprehensive report of clinical and pathological aspects of thrombo-angiitis obliterans (Buerger's disease)—a disease of the blood vessel walls that may result in gangrene.
1908—Published the first mention of using a blood test for compatibility before human blood transfusion. Became the first to note that blood groups are inherited according to Mendel's Law. Showed that group O blood could be given to group A and B patients, establishing the concept of the universal donor.
1901—Performed the first successful abdominal colectomy for colitis in the United States.
1892—Performed the first successful mastoidectomy in the United States.
1888—Published the first book in the United States on aseptic and antiseptic principles. This was also the first US medical textbook to use halftone photographs.
1887—Published the first description in the United States on familial amaurotic idiocy, later renamed Tay-Sachs disease.