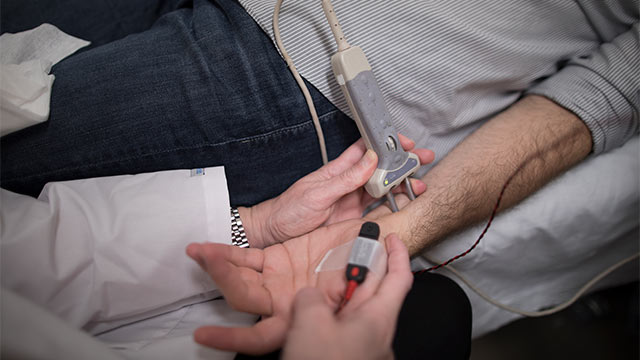 Mount Sinai's Division of Rheumatology provides advanced treatments for patients of all ages suffering from inflammatory arthritis, including rheumatoid arthritis, lupus, and Sjogren syndrome, as well as osteoarthritis, inflammatory muscle disease, and related conditions. Our team's multidisciplinary expertise and research activities make us a destination for difficult cases that have failed to respond to treatment elsewhere. By offering leading-edge care in the most convenient and compassionate manner, our Division's goal is to achieve the remission of disease and restore our patients' ability to live life to the fullest.

About the Division of Rheumatology
Rheumatic disease can affect patients of any age, from a young woman experiencing the symptoms of lupus to a grandparent struggling with rheumatoid arthritis. That's why Mount Sinai has assembled a multidisciplinary team of specialists who combine their expertise into a single Division offering advanced, comprehensive treatment tailored to the needs of each patient. Through a combination of research, clinical skill, and convenient services, our Division has a long history of providing our patients with the most successful possible care.
Providing Advanced, Multidisciplinary Treatment
Mount Sinai's highly-trained team of rheumatology experts offers specialized care for a range of conditions, including inflammatory arthritis, such as rheumatoid arthritis, lupus, and Sjogren syndrome, as well as osteoarthritis, inflammatory muscle disease, amyloidosis, and related conditions. Our experience in managing complex disease has made us a tertiary referral destination, with specialists skilled in a variety of treatments ranging from therapeutic injections to complimentary medicine such as herbal therapy. Our research and clinical trials enable us to also offer certain emerging therapeutics not available elsewhere.
In addition, our home within Mount Sinai means our specialists can readily collaborate on each patient's care with other outstanding disciplines throughout the hospital, such as Orthopedics, Dermatology, and Digestive Diseases. We are often able to arrange visits with multiple specialists on the same day.
Offering Convenient, Coordinated Services
Because our Division understands the importance of efficient care, we have a number of practices to ensure the best patient experience. We avidly use the MyChart online service, through which patients can directly access medical records and communicate with physicians. Because we use an electronic medical record system, we also eliminate the hassle of having patients repeat tests such as blood work and MRI's.
It is through such efficiency measures, combined with our advanced treatments, research studies, and compassionate care, that the Division of Rheumatology works toward its goal of freeing our patients from the pain and limitations of disease and restoring their ability to enjoy the best possible quality of life.