Thyroid Cancer Survivor Grateful for Care at Mount Sinai
In May of 2016, I discovered a prominent lump in my throat which was eventually diagnosed as thyroid cancer.
After a run to the emergency room and quite a scare, I had a biopsy done to assess the mass of the lump. I already had plans to visit my daughter in NY to celebrate her much anticipated birthday celebration in Brooklyn. So I chose to travel despite the discomfort and anxiety of my situation. I actually reside in Salt Lake City, Utah but had lived in the NY for over 26 years. Despite the hectic lifestyle which is so different from where I now live, the familiarity of NY gave me comfort as this was the place where I raised my children and had spent so many wonderful memories. During my visit, my daughter who diligently researched Mt. Sinai and found Dr. Brett Miles, Co-Chief of the Division of Head and Neck Oncology at The Mount Sinai Hospital in New York City. She encouraged me to visit with Dr. Miles due to his research and reputation in Oncology for a follow up appointment. I watched the patient video of Michael Gilligan saying he was operated on by Dr. Miles and was cured and well.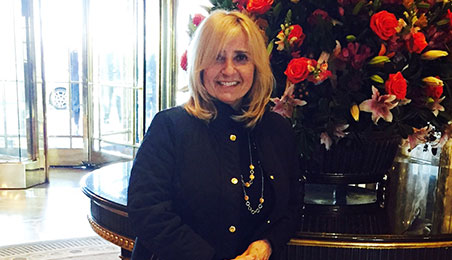 On June 5th, I met Dr. Miles and I felt comfortable in his presence and trusted his expertise on my thyroid. He encouraged me to stay in NY so that he could schedule the surgery as soon as possible. He was warm and caring towards me and assured me that he would remove the lump immediately. In fact, he encouraged me to stay in NY to do the operation on June 15th. So I checked myself into a hotel room and proceeded with the operation shortly thereafter. Of course both my daughters were by my side for the procedure known as a partial thyroidectomy; you see, there are two theories about thyroidectomy:
You can remove the entire thyroid, which mitigates recurring cancer in the thyroid, but you won't have a thyroid anymore and will need medications.
You can have a partial thyroidectomy, but the risk is that the other half may have or get cancer.
After the operation, Dr. Miles said I could return to Utah. However, when Dr. Miles relayed my results a few days later, he said, 'Unfortunately you have stage III thyroid cancer. You need to come back immediately to take out the other half of your thyroid.'
On July 6th, I had a second operation. I stayed in NYC to recover for 10 days and then returned to Salt Lake City for the radiation therapy. In order to mitigate the severity of the situation, I chose to have fun with the therapy and referred to my treatment as the 'nuclear bomb drink' with had a nuclear head that targeted the cancer. Dr. Miles was concerned that this could affect my vocal nerves which supply my voice, but I got very lucky, as I did not have speech issues afterwards.
Cancer Free after Entrusting Mount Sinai for Her Thyroid Care
October 20th marked my last scan after radiation, and I was told I was cancer free! I now only need to return for routine checkups.
I wanted to share my story because people in my situation are afraid and anxious. Others don't realize the psychological side effects that being diagnosed with something of this magnitude can take on your body and mind. Although medicine is an ailment for sickness, your psychological well being is also impacted by what one has to endure when being diagnosed with cancer. Having a positive outlook is of utmost importance as you need to keep your spirits up and maintain a positive attitude for healing to take its course.
I am not the most religious person, however during my recovery in NY I went to mass near Lincoln Center. And the priest who was delivering the lecture spoke about not being afraid and trusting yourself to the positive energy of God (or the universe); and he noted that "we are all connected." I believe that we can all choose how we connect – to your doctor, to your community, and to the world. And thus, you evolve into a better and trusting soul. I often think about the people who I entrusted with my care, and I now pray for them - Dr. Miles and all the people who took such good care of me. The nurses who gave me a glass of water and pushed my wheelchair with such care were fantastic. And of course, Dr. Miles who truly fixed me. I do believe that we are all one, and if you are not afraid you will feel more positive and hopeful about your outcome.
I placed my trust in Mount Sinai's hands; when you do this, there is a positive energy that you have that the team feels in response to your trusting spirit, and it is reciprocated. Trusting and believing is so important, whatever religion you are. All different walks of life can trust doctors, professionals and ourselves. If you trust and believe, you will be better for it.
This cancer was the scariest moment of my life. And yet it gave me perspective on the journey of life. Our family arrived in NYC from Uruguay in 1985 and so much had changed since then. My daughters are grown and well accomplished American citizens, I no longer reside in the Big Apple and so much has changed since then. But as I returned to NYC, under a different circumstance, I knew that I was meant to be here for my care. I owe it to everyone to express my appreciation. Dr. Miles will hold a special place in my heart forever.
I'm very grateful to him and the entire staff at Mount Sinai!
With much appreciation,
Susana Clar