Mount Sinai Doctors-Urgent Care & Multispecialty, Inwood
Urgent Care
When you visit a Mount Sinai Urgent Care, you will have access to board-certified doctors who can diagnose some conditions, order tests and medication you may need, and refer you to specialists within our network. With multiple locations across the city for your convenience.
You can get care quickly through our video and online care services using virtual urgent care in MyMountSinai. If this is an emergency dial 911.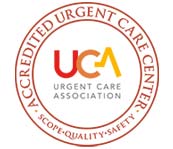 Mount Sinai Urgent Care has achieved accreditation and certification from the Urgent Care Association, an industry authority for ensuring the safe delivery of high-quality, patient-centered care for a broad spectrum of illness, injury and disease.
Primary Care
Mount Sinai Doctors-Inwood offers primary care with physicians who speak your language. Our staff see patients of all ages, seeking pediatric to geriatric care. Our Inwood practice, in Manhattan's northernmost neighborhood, is in a convenient location, where you can receive compassionate and thorough care from one of our primary care physicians.
Whether you are visiting for your annual physical, seeking care for nutrition, or managing obesity, diabetes, high cholesterol or a heart condition, we are here for you.
Medical conditions treated include but are not limited to:
Annual physical
Allergies and asthma
Broken fingers and toes
Bronchitis
Cuts that need stitches
Earaches and eye infections
Fevers and flu
Headaches
Moderate back problems
Pre-employment physical
Sexually transmitted infection testing
Sinus infections
Skin rashes and infections
Sore throats and coughs
Sprains and strains
Stomach ailments
Urinary tract infections
Vomiting, diarrhea, or dehydration
And most other minor injuries and illnesses