Mount Sinai Doctors-Urgent Care & Multispecialty, Inwood
Don't delay your health care over concerns about safety. We're protecting patients with rigorous protocols, including continuous cleaning and disinfection, screening of patients for COVID-19, mandatory masking, and more. Learn more at the Mount Sinai Safety Hub.
Mount Sinai Doctors-Urgent Care & Multispecialty, Inwood offers personalized outpatient services for individuals seeking treatment for temporary and chronic medical conditions, in Manhattan's Inwood community (5030 Broadway).
Urgent Care
Mount Sinai Doctors-Urgent Care, located in Manhattan's northernmost neighborhood, is staffed by Mount Sinai Doctors Faculty Practice physicians. The practice provides local access to medical care when a non-emergency injury or illness occurs. No appointment is needed since our services are offered on a walk-in basis. In addition, our electronic medical records (EMR) system is fully integrated with the Mount Sinai Health System's providing our staff with secure access to each patient's complete medical history.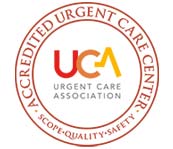 Our center has achieved accreditation and certification from the Urgent Care Association, an industry authority for ensuring the safe delivery of high-quality, patient-centered care for a broad spectrum of illness, injury and disease.
Medical conditions treated include but are not limited to:
Annual physical
Allergies and asthma
Broken fingers and toes
Bronchitis
Cuts that need stitches
Earaches and eye infections
Fevers and flu
Headaches
Moderate back problems
Pre-employment physical
Sexually transmitted infection testing
Sinus infections
Skin rashes and infections
Sore throats and coughs
Sprains and strains
Stomach ailments
Urinary tract infections
Vomiting, diarrhea, or dehydration
And most other minor injuries and illnesses
Multispecialty Physicians
In addition to Urgent Care, we also have other specialties that see patients at our site. Our physicians provide the most technologically advanced care for:
Cardiology
Vascular and Endovascular Surgery
By being a part of the Mount Sinai network, our multispecialty practice allows you to see Mount Sinai doctors and specialists in the comfort of your neighborhood. In addition, Mount Sinai Multispecialty Physicians Inwood can arrange for a wide range of treatment options by coordinating with Mount Sinai Health System hospitals across New York City.