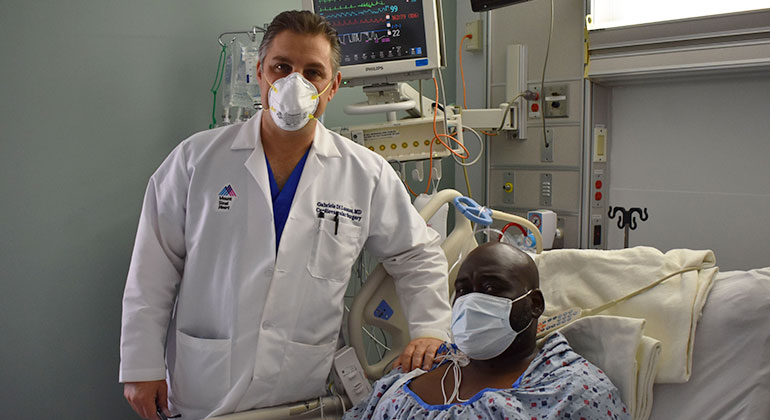 Putting COVID-19 Fear Aside, Chowean Johnson Gets Life-Saving Heart Stent and Feels "Better Than Ever"
Although Mount Sinai is currently up and running, at a time when people were afraid to go to the doctor or hospital because of the COVID-19 pandemic, 46-year-old Chowean Johnson refused to let fear stop him.
One evening in June 2019, Chowean awoke to sharp chest pains. As the pain worsened, he contacted an emergency room and was told to come in. When he arrived, he underwent an X-ray and learned his aorta, the main artery that carries blood from the heart to the rest of the body, was swollen. He was transferred to Mount Sinai Morningside, where he was diagnosed with an aortic dissection. An aortic dissection occurs when the inner lining of the aorta tears and blood flows between the layers. This can cause the artery to swell and even lead to death.
"It is one of the most severe pains that one can tolerate, aortic dissection," said Gabriele Di Luozzo, MD, Director of Thoracic Aortic Surgery at Mount Sinai Morningside. "He had come in with the common symptoms, which are chest and back pain."
Aortic dissection often develops due to high blood pressure. Chowean was not surprised at his diagnosis. "I was really overweight. I wasn't eating properly. I wasn't exercising properly. It was bound to happen," he explained. Chowean had surgery and lost 30 pounds. But it was not enough. During a follow-up visit, he learned his aorta was still swollen and he would need another stent.
However, COVID-19 was at its height, and the surgery center was closed. While his surgery was postponed, Chowean had weekly telemedicine videos to ensure that he wasn't developing any new symptoms. The virtual videos helped his doctors and nurses keep him healthy while managing his condition.
As soon as it was safe to resume hospital procedures, Chowean received a new stent on May 20, 2020. He immediately felt better than ever. And has no regrets seeking care during a global pandemic.
"The consequences outweigh the risk. If you have a life-threatening situation and you need to have a procedure done, that is what you should do," he told Today.com. "If you have something like I had, you should have the procedure done, because at any time you might not wake up one night or you could just be walking down the street and it just could be over."
Dr. Di Luozzo recommends that heart patients continue to keep every appointment. "If any patient has a cardiac condition, those patients have to been seen," he said. "At least once a week, if not maybe a few times a week, so we have a real clear understanding that their disease is under control, at least for the time being and no new symptoms are occurring."