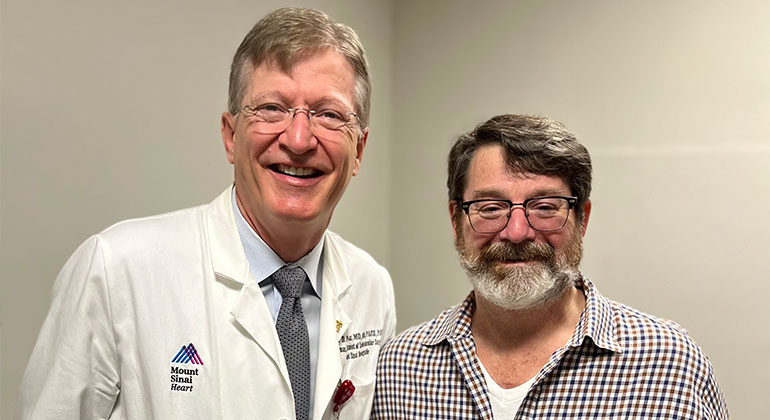 Routine Heart Check Before Hip Surgery Leads to a Life-Saving Quadruple Bypass at Mount Sinai Morningside
In November 2022, David Holland, 58, was scheduled to have a hip replacement. During a preoperative checkup, his orthopedic surgeon Vladimir Shur, MD, noticed an irregular heartbeat. David explained that he had been born with a heart murmur, but it had never caused any previous issues with his heart health. However, Dr. Shur felt they should carry out further tests, especially since there was a history of heart attacks and high cholesterol in David's family.
"The patient has to be looked at medically," Dr. Shur told Fox News Digital, in an article on David Holland's health journey. "It is very important to be sure the patient is fit for surgery before it is too late."
This routine process led to the discovery of severely blocked arteries in his heart and, within days, to David undergoing advanced "all-arterial off pump" heart bypass surgery performed by John D. Puskas, MD, Chairman of Cardiovascular Surgery at Mount Sinai Morningside.
"I went in for a hip—and instead got heart surgery," David said. "The teamwork was seamless between the doctors. During the course of all the different testing I underwent, I was also moving between various hospital locations and physicians. I didn't wait to get an appointment - I would be called and told they had availability for me immediately. That is unusual in any setting, but to have it occur in five different locations around the city was just extraordinary."
As a first step, Dr. Shur sent David to Maurice Rachko, MD, a cardiologist at Mount Sinai Beth Israel, who performed a calcium score screening heart test. This noninvasive test measures the amount of calcified plaque in the arteries. A normal calcium score test result is less than 10—David's score was 2,060.
"I took statins for high cholesterol, but other than that, I had no idea anything was wrong," David said. "It was so surreal."
The result led to his referral to John Fox, MD an interventional cardiologist at Mount Sinai Beth Israel. Dr. Fox carried out an angiogram that revealed David had four blocked coronary arteries. Of even greater concern, Dr. Fox told him that the coronary arteries were so blocked they could not be treated using stents.
Dr. Fox quickly arranged for David to see Dr. Puskas, Professor of Cardiovascular Surgery at the Icahn School of Medicine at Mount Sinai, a specialist in off-pump coronary artery bypass surgery. "The heart is not stopped during the surgery," Dr. Puskas explained. "There is no use of a heart-lung machine, and the aorta is not clamped during the procedure. By avoiding clamping the aorta during surgery, the risk of stroke is reduced."
Dr. Puskas further explained that this type of surgery rewires arteries from the patient's chest and one from the arm to help provide blood flow to the heart, instead of using veins stripped from the legs.
"We know the arteries will last longer than the veins. Arteries are designed for a high-pressure environment. Veins are designed for a low-pressure environment. When we take veins from the legs and attach them to the heart, they are now in a high pressure situation—and they don't last as long as arteries."
David was brought in for surgery five days after their initial consultation.
"I went in on Monday and was home Thursday," David said. "Within a week, I was able to walk a mile and a half without stopping."
He credits his doctors for their compassion and the extraordinary level of teamwork during his health journey at Mount Sinai, and for potentially saving his life. "Having that level of efficiency in organizing my care, and the kindness and the respect and the demeanor and bedside manner that these folks had breaking such life changing news to somebody... I have to tell you, it was an extraordinary experience."
"The safety of our patients is our first priority," Dr. Shur said. "Surgery places stress on the body and so anything, murmur or shortness of breath—I take it seriously."
David has been recovering well since his surgery. He is now fully back to work and has the all clear to proceed with the original hip surgery.
He hopes his story will raise awareness of the importance of being checked regularly for heart disease, even if there are no obvious signs or symptoms. He has learned this is particularly important—as in his case—where there is a history of cardiovascular disease and heart attacks in the family. He is also keen to highlight the role of staying fit and healthy in preventing heart disease.
"I've dropped at least 30 pounds due to the realization with less weight there is less of a heart risk and it's also going to make it easier on my hip to get that surgery. I've definitely made a lot of modifications in that regard. I go the gym and have a Peloton bike that I ride every day. I'm just trying to embrace the fact that I may not have had a long run ahead of me, but now potentially I do, if I really watch what I'm doing."