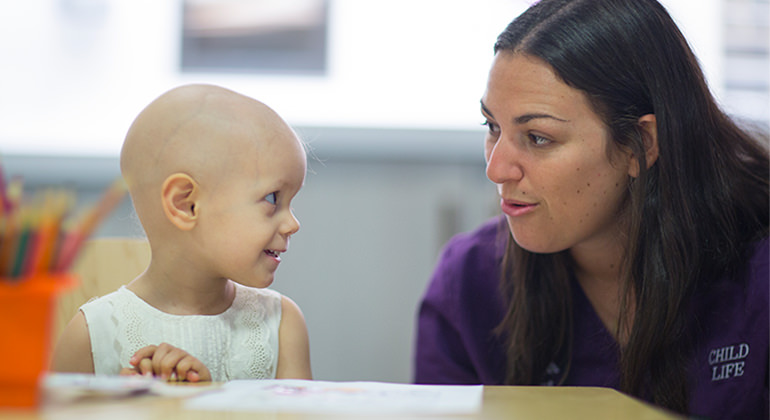 We have a long history of caring for children. Mount Sinai Kravis Children's Hospital is dedicated to improving and advancing the health and well-being of children in New York City and around the world through its innovative work in clinical care, professional education, community involvement, and clinical/translational and biomedical research.
U.S. News & World Report consistently selects Mount Sinai Kravis Children's Hospital as one of the best children's hospitals in the nation. In the 2023-2024 edition of its "Best Children's Hospitals" rankings, our most highly ranked specialties are diabetes and endocrinology, gastroenterology and GI surgery, nephrology, and neurology and neurosurgery.
Our pediatric physicians and award-winning nurses, and dedicated staff including child life professionals mix experience, compassion, and commitment to provide the highest quality of family-centered care and guidance to young patients and their families. We offer the most advanced treatment and technology available, as a children's hospital that is fully integrated within a large health system allowing for collaboration with all areas of medicine informed by ground breaking research.
What We Treat
We provide outstanding care tailored to newborns, children, adolescents, and young adults. Our family-focused services and programs are designed to meet the needs of you and your child. Specialty care we provide includes:
Our dedicated team of pediatric physicians combines the latest advances in diagnostics and treatment with a coordinated, multidisciplinary approach. Our advanced approaches to pediatric therapies, innovative research, community outreach and advocacy ensure a continuum of excellence that patients from all over the world can rely on. It is our goal to ensure that your child receives the best available care.
Leadership
The outstanding success of the Mount Sinai Kravis Children's Hospital is made possible by the continuing commitment, enthusiasm, and shared vision of our senior leadership team, which includes:
Freda Burstyn, MBA, Vice Chair of Administration
Lindsey Douglas, MD, Chief Medical Officer; Medical Director of Patient Safety and Quality
Fernando Ferrer, MD, Chief Operating Officer
Shirish S. Huprikar, MD, Chief Medical Officer, Vice President, The Mount Sinai Hospital
Peter Midulla, MD, Surgeon-in-Chief
Lisa M. Satlin, MD, Pediatrician-in-Chief
Linda M. Valentino, MSN, RN, NEA-BC, Chief Nursing Officer, Mount Sinai West; System Vice President, and Children's Services
Alfin Vicencio, MD, Vice Chair of Clinical Affairs and Strategy