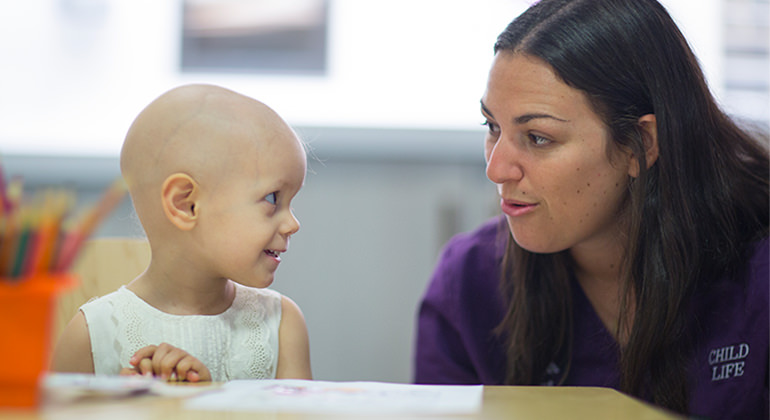 U.S. News and World Report consistently selects Mount Sinai Kravis Children's Hospital as one of the best children's hospitals in the nation. In the 2019-2020 annual edition of its "Best Children's Hospital" report, we are ranked in five pediatric specialties. The specialties are diabetes and endocrinology, gastroenterology and gastrointestinal surgery, nephrology, neurology and neurosurgery, and pulmonology.
Our pediatric physicians and award-winning nurses, and dedicated staff including child life professionals mix experience, compassion, and commitment to provide the highest quality of family-centered care and guidance to young patients and their families. We offer the most advanced treatment and technology available, as a children's hospital that is fully integrated within a large health system allowing for collaboration with all areas of medicine informed by ground breaking research.
What We Treat
We provide outstanding care tailored to newborns, children, adolescents, and young adults. Our family-focused services and programs are designed to meet the needs of you and your child. Specialty care we provide includes:
Fetal and newborn care
Heart conditions and cardiac care
Food allergies
Digestive disorders, with a focus on inflammatory bowel disease (IBD)
Asthma and other respiratory conditions
Surgery: General, Urology, Neurosurgery, Orthopedics and Spine, Ear, Nose and Throat (ENT)/Otolaryngology, Ophthalmology, Plastic Surgery
Kidney and liver disorders, including transplants
Cancer and blood diseases
Diabetes and growth disorders
Our dedicated team of pediatric physicians combines the latest advances in diagnostics and treatment with a coordinated, multidisciplinary approach. Our advanced approaches to pediatric therapies, innovative research, community outreach and advocacy ensure a continuum of excellence that patients from all over the world can rely on. It is our goal to ensure that your child receives the best available care.
Leadership
The outstanding success of the Mount Sinai Kravis Children's Hospital, and the Jack and Lucy Clark Department of Pediatrics at the Icahn School of Medicine at Mount Sinai and at the Mount Sinai Health System, is made possible by the continuing commitment, enthusiasm, and shared vision of our senior leadership team, which includes:
Lisa M. Satlin, MD, Chair and Pediatrician-in-Chief
Anne F. Reilly, MD, MPH, Chief Medical Officer
John Bucuvalas, MD, Vice Chair of Faculty Affairs
Sharon Edwards, MD, Vice Chair of Diversity
Joel Forman, MD, Vice Chair of Education
Bruce D. Gelb, MD, Director of Mindich Child Health and Development Institute
Peter Midulla, MD, Surgeon-in-Chief
Henrietta Rosenberg, MD, Radiologist-in-Chief
Alfin Vicencio, MD, Vice Chair of Clinical Affairs and Strategy
Karen Wilson, MD, MPH, Vice Chair of Clinical/Translational Research
Michael Yaker, MD, Vice Chair of Community Pediatrics
Steven Yung, MD, Director of Quality Improvement and Safety Services
Freda Burstyn, MBA, Vice Chair of Administration