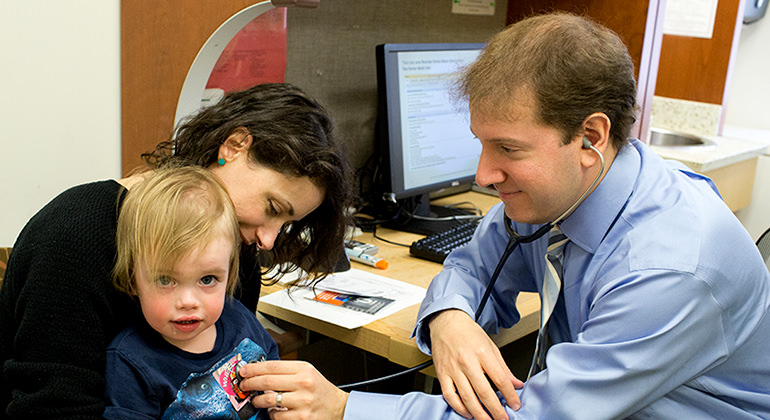 At Mount Sinai Kravis Children's Hospital, we provide advanced care for allergic disorders, many of which we have developed or refined through our relationship with the Jaffe Food Allergy Institute. Treating patients helps us see the sorts of questions that require researching and informs our studies. We use what we learn from our research to guide our clinical care.
The result is that your children receive tomorrow's medicine today. In addition, through publication of our findings in peer-reviewed medical journals, we share our findings with doctors and researchers worldwide.

Preparing for Your Child's Appointment
If you have scheduled an appointment for your child, please read our New Patient's Packet for detailed instructions on preparing for a visit to our pediatric allergy and immunology practice.
So that we can properly diagnose your child's condition, before your visit, please be sure that your child stops taking the following antihistamine medications:
Benadryl, Diphenhydramine, Chlorpheniramine, Brompheniramine
Discontinue four days prior to visit
Atarax, Zyrtec, Claritin, Clarinex, Hydroxyzine, Allegra, Rynatan, Vistaril
Discontinue one week prior to visit
Doxepin, Periactin
Discontinute 10 days prior to visit
Your child may continue taking any antibiotics, asthma medication, and nose sprays as usual. If you are unsure whether a specific medication is or contains an antihistamine, check with your pharmacist.
Please plan to arrive at our practice 15 minutes before your appointment time to complete the registration process. If you are more than 30 minutes late, you may need to reschedule your appointment. Note that if you are driving to your appointment, parking your car may require extra time and you should allow for that.
Please bring the following to your child's appointment:
Completed questionnaire from the New Patient's Packet
Pertinent medical records and test results
Insurance card
HMO/PPO authorization and doctor's referral form(s) if necessary
Name, address, and phone number of your referring doctor
Feel free to fax these materials to our office before your appointment; this will allow us to review materials in advance. Please bring copies with you on the day of your visit as well.
If you have any concerns regarding any aspect of your visit, please call 212-241-5548, and ask to speak with the practice manager.
At the Visit
When you arrive for your visit, sign in at the front desk. The front desk staff will verify your personal information and give you any additional forms we may need to have you complete.
You and your child will meet with your doctor and associates to discuss your child's medical history and our doctor will examine your child. In addition to the physical exam, we may need to perform allergy tests. If we do, we will explain them to you and your child before proceeding.
Sometimes a complete and thorough valuation may require multiple visits. Once we determine what is happening, we will speak with you about your child's diagnosis and treatment options. We can provide written and videotaped instructions about your child's treatment plan. We can also refer you for additional services that are appropriate to your child's care, if necessary.