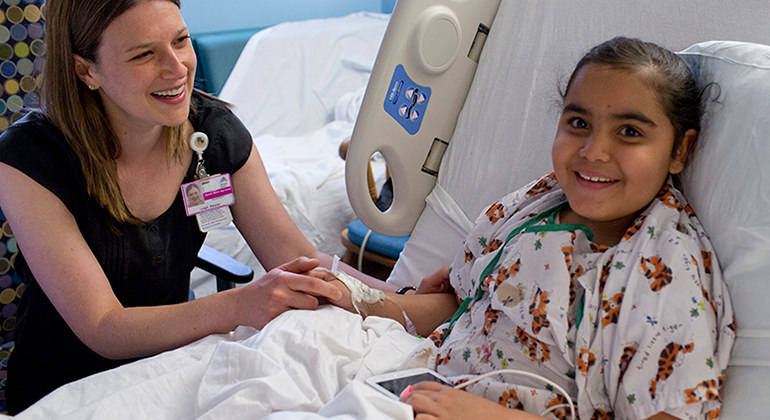 Alice Gottesman Bayer Pediatric Intensive Care Unit
The Alice Gottesman Bayer Pediatric Intensive Care Unit (PICU) at Mount Sinai Kravis Children's Hospital cares for children from infancy through age 21. Our facility contains 15 intensive care unit (ICU) beds and five telemetry (highly monitored) beds and has approximately 900 1200 admissions each year. Staff in our PICU work closely with the Mount Sinai Pediatric Cardiac Intensive Care Unit (PCICU), which is located adjacent to the PICU. We provide technologically advanced, high-quality, family-centered, compassionate care and participate actively in many quality assurance initiatives that are ongoing throughout the hospital.
Our expert medical staff includes seven nine pediatric intensivists (link to meet the team) who specialize in pediatric critical care medicine and is in charge of your child's care, working work closely with residents and fellows (doctors in specialty training), consulting specialists (such as cardiologists), and surgeons to provide comprehensive care for your child. all of your child's specialist doctors, including pediatric and cardiothoracic surgeons.
Our critical care staff includes Magnet-recognized nurses who are acknowledged for their excellence in nursing and who specialize in critical care, as well as pediatric pharmacists, rehabilitation specialists, social workers, nutritionists, respiratory therapists, and child-life specialists.
A team of doctors takes care of each child admitted to the PICU. The attending physician specializes in pediatric critical care and is in charge of your child's care. Your child's attending doctor works with residents and fellows (doctors in specialty training), consulting specialists (such as cardiologists), and surgeons to provide comprehensive care for your child.
Our interdisciplinary team is trained and equipped to provide advanced renal replacement therapies (including dialysis and continuous venovenous hemofiltration), therapeutic hypothermia, and advanced ventilation modes (including nitric oxide therapy and high frequency oscillatory ventilation). In conjunction with the PCICU, we offer extracorporeal membrane oxygenation and ventricular assist device support for the treatment of severe cardiac failure.
The PICU unit is essential to the care of renal, liver, small bowel, and cardiac transplant patients. We also participate in pediatric palliative care, and our pain team consults with you throughout your child's hospitalization.
Family Focus
Family support is a priority in the PICU. We do everything possible to support your family's visiting and staying with child in the PICU. To help you feel at home, we have a family pantry with a refrigerator located within the PICU. To make it easy for you to breastfeed your sick child, we provide breast pumps for nursing mothers; just ask your child's nurse for what you need. We will store your breast milk in a specially designated refrigerator. We also can provide a lactation consultant to help you during your child's stay in the PICU.
Children in the PICU can rarely attend programs in the Child Life Zone, a therapeutic and educational play area for patients and their families, because they are connected to monitoring machines. However, Child Life therapists can supply age-appropriate toys or activities to the room if your child is feeling well enough to play. We also offer music therapy and pet therapy to soothe and entertain your child in the PICU.
Family-and-Patient Activated Pediatric Rapid Response Team
"We encourage you to be a part of your child's care team at Mount Sinai Kravis Children's Hospital. While we are responsible for providing your child's medical care, no one knows your child as well as you do.
The Rapid Response Team is a special team of trained clinicians that can be called by your child's nurse if your child's condition changes or if urgent medical help is needed. They will arrive quickly to check on your child.
If you believe something is not right with your child, or if you have medical concerns, the Pediatric Rapid Response Team is a call away. The Rapid Response team is made up of specially trained staff members dedicated to responding quickly when urgent medical help is needed.
You play an important role in your child's medical care. If you want this team called to your child's bedside, please tell your nurse."
Visiting Policy
We encourage you as a parent or guardian to stay with your child. Both parents and guardians can stay for 24 hours, and one parent or guardian may sleep at your child's bedside. There is a family lounge and additional sleep space, as well as a private family meeting room, located adjacent to the PICU.
Visiting hours are 9 am to 9 pm for everyone besides parents or guardians.
An adult must accompany children under 14 who wish to visit PICU.
Children under 18, including siblings of a child in PICU, cannot stay overnight.
Visiting is limited to two visitors at a time (excluding the parents/guardian).
You may call 212-241-8132 at any time, 24 hours/day, to check on your child.
Visitors with an infectious respiratory illness should not enter a patient room.
Epilepsy Monitoring Unit
We offer an Epilepsy Monitoring Unit (EMU) within the telemetry area where nurses constantly monitor your child. The EMU is located on the fourth floor of Mount Sinai Kravis Children's Hospital. In the EMU, our specialists treat children with critical care needs and who require epilepsy monitoring in the fully equipped monitored rooms within the PICU.
This state-of-the-art unit serves patients from newborn to 21 year olds in a family-friendly teaching facility with Magnet-credentialed nursing, and integration of world-renowned neurologists, epileptologists, advanced practice nurses, and neurosurgeons.
Mount Sinai's EMU is one of the leading programs in the New York City area. The National Association of Epilepsy Centers recognizes our EMU with the highest level of accreditation. We provide advanced pediatric programs and epilepsy surgery as well as Centers for Disease Control- and National Institutes of Health-funded research studies.
Inter-Hospital Transport Services
Our primary goal for inter-hospital transport services is to improve the quality of care for critically ill infants and children. Whether we are transporting a pediatric or neonatal patient to one of our ICUs, or providing transport back to a referring facility after stabilization and treatment, we believe the transport process should be an extension of ICU care. A physician will accompany the team if clinically indicated. We aim for professional expertise and advancement through advanced education and certification, quality improvement activities, and peer review and provide safe, efficient services 24 hours a day, 7 days a week. Our goal is to provide family-centered care and improve patient and family satisfaction during the transport process by maintaining the highest degree of professionalism
Mount Sinai's Pediatric Critical Care Transport Team is comprised of specially trained registered nurses, respiratory therapists, and physicians. Our transport professionals are skilled in airway management, obtaining venous access, and pediatric and neonatal resuscitation and stabilization. We are one of the few critical care transport teams in the metropolitan area that can initiate and transport patients requiring nitric oxide or high frequency oscillatory ventilation. Our transport respiratory therapists have neonatal and pediatric specialty credentialing from the National Board of Respiratory Care. In collaboration with transport teams across the country, we report outcomes to the Neonatal/Pediatric Quality Metrics Project. We complete more than 300 pediatric critical transports each year for patients who require a higher level of care or a subspecialty evaluation.
To arrange for a Pediatric Critical Care inter-hospital transport, call 1-800-TO-SINAI (800-867-4624) for immediate assistance.