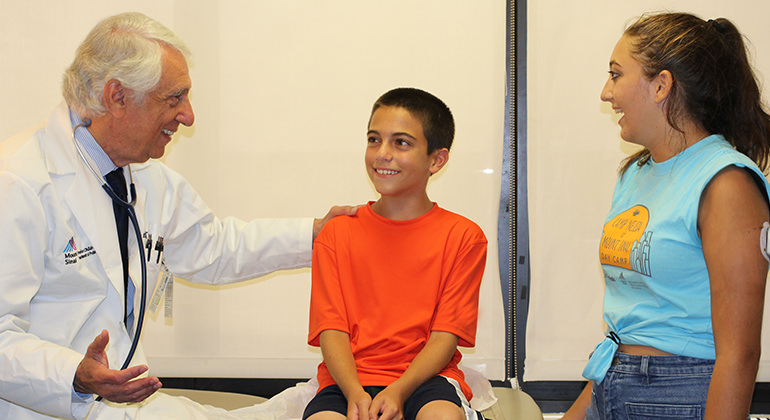 Pediatric Endocrinology and Diabetes
The Division of Pediatric Endocrinology and Diabetes at Mount Sinai Kravis Children's Hospital is at the forefront of clinical care, education, and research for endocrine disorders and diabetes. Listed among the country's top children's hospitals for Pediatric Diabetes and Endocrinology in U.S. News & World Report's 2021-2022 "Best Children's Hospitals" rankings, we diagnose and treat a wide variety of conditions at The Hall Family Center for Pediatric Endocrinology and Diabetes. Our doctors are available by phone, 24 hours per day, 7 days per week to answer urgent questions from patients, families, and referring physicians.
We are a designated site for the New York State Newborn Screening Program for thyroid disease and congenital adrenal hyperplasia.
Our multidisciplinary team includes physicians, psychologists, nurse practitioners, a nutritionist, and a social worker. In addition, we routinely collaborate with Mount Sinai specialists in surgery, nuclear medicine, neuroradiology, radiology, genetics, reproductive medicine, and other pediatric subspecialists. We see patients in the Mount Sinai Kravis Children's Hospital, in our pediatric endocrinology office in the Annenberg building, and in our doctors' practice through the Mount Sinai Downtown Network.
As part of a major health care system, Mount Sinai Health System, we are a teaching and researching facility as well. Our pediatric endocrinology specialists conduct research to offer to new ways to help our young patients. We focus on growth, thyroid disease, diabetes and metabolism, and adrenal steroid disorders. Our physicians regularly contribute to peer-reviewed publications and present findings at national and international meetings.
We are also training tomorrow's pediatric specialists. Graduates of our Accreditation Council for Graduate Medical Education-approved fellowship program are eligible to apply for board certification in pediatric endocrinology.
Conditions We Treat
Our experts are committed to providing the highest quality care for childhood endocrine conditions. We diagnose and treat children of all ages from newborn to young adults who are experiencing growth, abnormalities of carbohydrate metabolism including low and high blood sugar, thyroid, pubertal, and adrenal disorders; bone disease and calcium metabolism conditions; and endocrine tumors and syndromes.
How You Can Help
The Hall Family Center at Mount Sinai Kravis Children's Hospital began through generous gifts from George E. Hall, inspired by his niece, Emma, a patient at our Center of Pediatric Endocrinology and Diabetes. Hall established the George E. Hall Childhood Diabetes Foundation for the benefit of Mount Sinai's Division of Pediatric Endocrinology and Diabetes.
You can help, too.
Your charitable gift will support the Hall Family Center and ensure continued excellence in pediatric endocrinology and diabetes care. Please contact the Mount Sinai Development Office to learn how you can help, or make your tax-deductible gift by check, payable to Mount Sinai for the Hall Center, and mail it to the Development Office, Mount Sinai Health System, One Gustave L. Levy Place, Box 1049, New York, NY 10029-6574. Funding needs include:
Fellowship Program: Support a three-year fellowship for physicians who have completed pediatric training and want to specialize in endocrinology and diabetes.
Research Fund: Help fund start-up research to provide "bridge" funding until government grants are secured.
Equipment and Facility Maintenance: Help us purchase new equipment (e.g., glucose monitoring devices) to offer the latest advances in medical technology, and ensure a child-friendly, comfortable environment.
Patient and Family Education Fund: Provide educational forums and materials for patients and families on the latest trends in pediatric endocrinology and diabetes.
Medical Education Fund: Support staff professional development activities to broaden academic knowledge and share information with colleagues in the field.