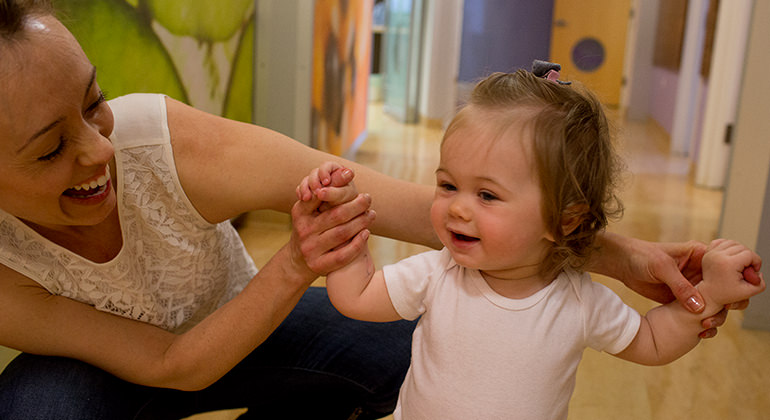 Kravis Child and Family Support Programs
The Child Life and Creative Arts Therapy Department at Mount Sinai Kravis Children's Hospital offers a wide range of programs to make the hospital experience easier, more familiar, and more comfortable for your child and your family.
Our staff of certified child life specialists includes experts in child life development, creative arts therapy, and therapeutic play. We use a combination of play, art, educational services, and socializing with peers to help children express their creativity, and build their self-esteem and independence.
Child life specialists are an integral part of your child's health care team. Our specialists collaborate with you as well as our nurses, physicians, and social workers to provide your child the highest quality care. Our child life specialists implement our support programs, providing you and your child with developmentally appropriate information and instruction related to his or her illness or upcoming procedures. We offer bedside and playroom activities designed to make your child's time in the hospital as pleasant as possible.
Support services available for your child and your family at Kravis Children's Hospital range from age appropriate medical and diagnosis education to individual and group activities.
Arts and Creativity
At Kravis, we have a created special place for children's activities, The Child Life Zone (also called The Zone), where we offer the following arts and creative opportunities:
Child Life and Creative Arts Therapy Department consists of professional staff helping patients and their families cope with the hospital experience.
The Child Life Zone is a state-of-the-art environment offering a range of activities and opportunities to meet the special needs of children and families coping with illness and hospitalization.
KidZone TV Studio is a live, interactive Broadcast Studio, located in our Child Life Zone, producing live and taped programming to broadcast pediatric patients who are restricted to their hospital rooms, clinics and other areas of the hospital. The studio also provides patients and families with a chance to participate in various in-studio activities such as hosting live shows or joining a studio audience.
Through Our Eyes Productions is an innovative video production group in which young patients document their own experiences dealing with chronic illness and various medical interventions, including hospitalization.
Inpatient Activities
We encourage your child admitted to Kravis to participate in the following activities offered by our Child Life Therapy and Creative Arts Program:
Preparatory play uses hands-on experience, educational play, and relaxation techniques to instruct and reassure young patients about different aspects of their hospitalization, including upcoming treatments and procedures.
Group activities enable your child to socialize with other children, serving to normalize your child's hospital experience. We offer activity groups every weekday in our activity rooms.
Bedside activities are a way for our child life specialists to assess your child's needs and select appropriate activities and experiences, and design programs to meet those needs.
Other inpatient activities include:
Art therapy
Music therapy
Paws & Play program
Creative writing
Meditation
Special activities/events/entertainers
Digital movie channels
Educational Services
We offer the following educational services for children who are staying at the hospital or receive care here.
School instruction, provided by a certified NYC DOE teacher, is available for patients in grades K-12 who are staying at the hospital.
The Family Corner at The Child Life Zone provides easy access to online information about health and parenting. It is also a quiet place, where family members can relax and enjoy complimentary coffee and tea.
Reach Out and Read is an early childhood literacy program based in Mount Sinai's pediatric outpatient clinic. We modelled our program after a national program of the same name, created by pediatricians and educators at Boston City Hospital in 1989. The Reach Out and Read program is designed to enhance the literacy development of young children by reaching them at an early age and providing parents with the information, support, and materials you need to make books a treasured part of your child's life.
The reading program integrates early literacy development into pediatric primary care by building on the power of the parent/doctor relationship as well as the consistent nature of pediatric health supervision. We offer reading support in several ways:

In the clinic reception area, volunteers read aloud to children as they wait for their appointments, demonstrating to parents and children the pleasures and techniques of looking at books together.
In exam rooms, pediatricians counsel parents about the significance of reading with young children, offering age-appropriate tips and encouragement to read.
At every routine check-up between the ages of six months and six years, we give our patients a brand new, developmentally and culturally appropriate book to take home.
Contact Leora Mogilner, MD, Director, to learn more about the Mount Sinai Reach Out and Read Program, at 212-241-5918.
Support Services
In addition to our creative arts and educational services at Kravis Children's Hospital, we strive to create a comfortable and safe environment with a range of support services for your child and your family, including:
Meet Me at Mount Sinai is a pre-operative program designed to prepare pediatric patients and their families for ambulatory and inpatient surgery.
Parent Sharing provides support programs and activities for parents of newborns in the Neonatal Intensive Care Unit.
Pediatric Chaplaincy Program offers a pediatric chaplain, who is available to meet with any patient or family member, regardless of faith or religious background.
Pediatric Social Work Services works collaboratively with related Mount Sinai program professionals coordinating inpatient and outpatient services for pediatric patients and their families