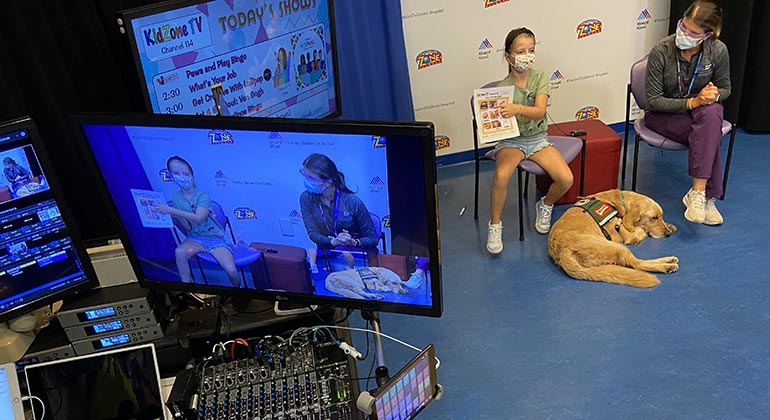 KidZone TV
KidZone TV is a state-of-the-art, in-house interactive production and internal broadcast studio within the Mount Sinai Kravis Children's Hospital. KidZone TV produces four live shows a day, seven days a week, for pediatric patients and families. KidZone TV shows are broadcast throughout the Mount Sinai Kravis Children's Hospital on a dedicated channel. Dynamic pre-produced programming compliments our live shows, providing 24/7 viewing. KidZone TV is a world-wide model for successful pediatric hospital CCTV services, offering yearly training workshops to related pediatric staff.
Our KidZone TV goals are to:
Educate children and families about the hospital environment
Encourage your child's self-expression and creativity
Increase socialization opportunities for children and families
Create a therapeutic diversion for patients and families experiencing stresses of hospitalization and illness
Patients are encouraged to participate as camera operators, story writers, or hosts of a show. Patients who are in their rooms have the opportunity to view the program and participate by calling in and answering a question, creating a story, or winning prizes.
Live entertainment includes shows hosted by our own art and music therapists, Paws & Play clinicians, video and technology/gaming specialists, and more from our Mount Sinai community. We promote learning, socialization, and creativity through popular interactive games like Bingo, Trivia, Name That Tune, and gaming and technology based shows. In addition, KidZone TV features popular entertainers and celebrities who lend excitement to daily programming for our hospitalized young patients.
Follow KidZone TV on Instagram for the latest updates @KZTVlive