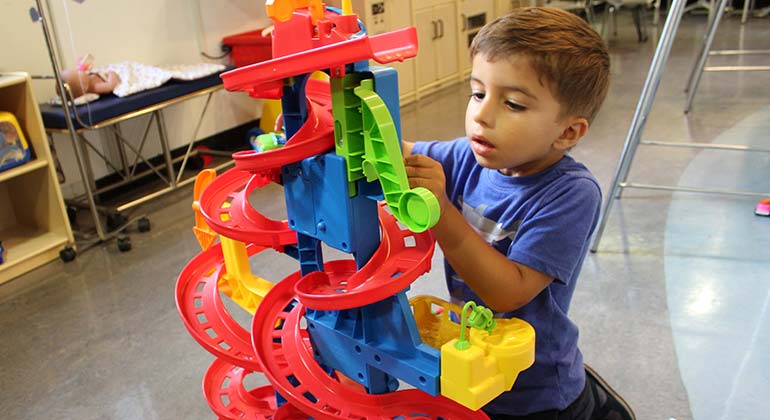 The Child Life and Creative Arts Therapy Department is always hard at work making sure our young patients' experiences at Mount Sinai Kravis Children's Hospital are as fun, playful, and therapeutic as possible. We use play and art projects to meet our patients' developmental, psychosocial, emotional, and educational needs.
Toys are a vital part of how we play with children. You can make an important difference by donating infant toys, books, puzzles, video games, and other items that we can give to our patients. They help us bring pleasure and laughter to our patients. Being in the hospital can be very difficult at any time of year, and even more challenging around a holiday. We strive to provide comfort and care during a child's hospital visit or stay. Your generosity allows us to spread happiness and warmth to our patients and families and help brighten their day. It helps alleviate some of the anxiety and distress that children and their families often face when dealing with illness. Joy, delight, and excitement during these difficult times are known to be therapeutic. Receiving a donated toy can significantly improve the hospital experience for the entire family.
There are two ways to donate:
Order directly through Amazon and have the donation delivered right to us, selecting from our official Amazon.com wish list Amazon.com wish list.
You can inquire about check donations and donating gift cards by contacting Morgan Stojanowski, Director, Child Life and Creative Arts Therapy Department, at morgan.stojanowski@mountsinai.org or 212-241-2939.
Thank you for your interest in donating toys!