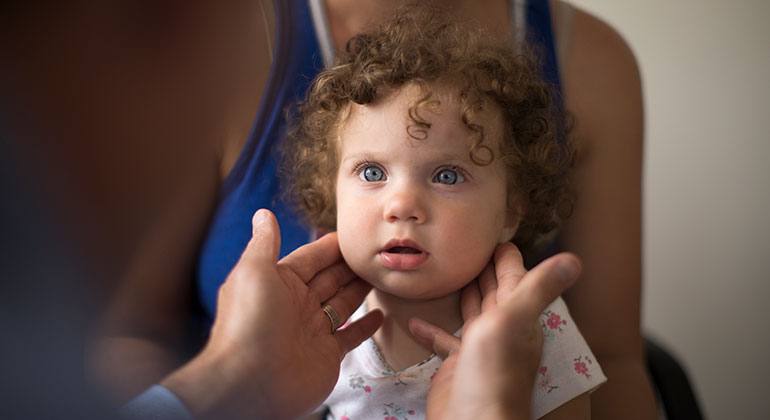 At Mount Sinai, our pediatric gastroenterology specialists are dedicated to providing compassionate and comprehensive family-centered care to infants, children, and teens with digestive problems. Listed among the country's top children's hospitals for Pediatric Gastroenterology and GI Surgery in U.S. News & World Report's 2023-2024 "Best Children's Hospitals" rankings, our team has expertise in a wide variety of digestive nutritional disorders including inflammatory bowel disease (Crohn's disease and ulcerative colitis), celiac disease, abdominal pain, constipation, gastroesophageal reflux disease, and feeding problems.
As our patients become young adults, we also work closely with our colleagues in adult gastroenterology to facilitate transition of care to our adult programs.
Special Programs
We offer several special programs to diagnose and treat common gastroenterological conditions in children.
The Pediatric Inflammatory Bowel Disease (IBD) Program aims to optimize care for young children and teens who struggle with IBD (including Crohn's disease and ulcerative colitis). Our program is one of the largest in the country. We provide diagnostic evaluations, second opinions, and ongoing services to help families support children living with IBD.
At The Susan and Leonard Feinstein Inflammatory Bowel Disease (IBD) Clinical Center, we provide the full gamut of IBD services. Our multidisciplinary team includes pediatric gastroenterologists, nurse practitioners, social workers, nutritionists, and a clinical psychologist. We develop a personalized treatment plan for your child with IBD, to help him or her lead a normal, productive life. With the adult and pediatric programs under one roof, we have an important opportunity to conduct comprehensive research and collaborate to offer the most advanced treatments to help your child. We can also seamlessly transition your child into our adult IBD program at the appropriate time.
The Henry and Elaine Kaufman Intestinal Ultrasound Program is the first of its kind in the United States to offer non-invasive, point-of-care, monitoring for children with IBD. By eliminating the need for bowel preparation, fasting, and the use of oral or intravenous contrast agents, we can monitor inflammation and healing of the intestines with ultrasound in a highly accurate way which does not cause any pain or harm to your child. We believe this will become the standard of care for IBD monitoring, and as such, have become global leaders in both translational research and the educational training of pediatric gastroenterologists from outside hospitals to improve care for all children with IBD.
The Pediatric Small Intestinal Rehabilitation and Transplant Program works closely with our small intestinal surgeons to provide comprehensive medical and surgical management for a wide variety of diseases including short gut and intestinal failure.
Program for Upper Gastrointestinal Tract Disorders and Diseases includes comprehensive programs that optimize the treatment of disorders and diseases affecting the esophagus, stomach and small bowel:
The Pediatric Celiac Disease Program offers medical and nutritional management along with psychosocial support for patients with celiac disease and their families.
Pediatric Aerodigestive Program is an interdisciplinary program including GI, ENT, pulmonary, complex care pediatricians, speech language pathologists, dieticians and nurses to provide comprehensive coordinated care for children with complex conditions of the upper airway, GI, and pulmonary systems.
Pediatric Eosinophilic Disorder Program offers medical and nutritional management of eosinophilic esophagitis and eosinophilic gastroenteritis. We work in close coordination with our world-class food allergists to provide optimal care for children with these disorders.
Pediatric Esophageal Motility Disorder Program offers motility studies of the upper gastrointestinal tract including ph and impedance monitoring.
Pediatric Gastroenterology Services provides complete diagnostic and treatment services to our young patients.
Visiting Us
Please plan to arrive at our practice 30 minutes before your appointment time to complete the registration process. If you are more than 15 minutes late, the doctor may not be able to accommodate you.
Please have your insurance card and referrals, if necessary.
We would like to see any pertinent prior medical records for your child at least four days before your scheduled appointment. Please fax these to: 212-241-1597 or, for Dr. Dubinsky's patients, to: 646-537-8924.
If you have to cancel your appointment, please do so at least 48 hours in advance. You may incur a cancellation fee of $75 if you cancel within 48 hours.
If you have a question about your child's condition or treatment, you can call the office at 212-241-5415 between the hours of 9 am and 5 pm, Monday to Friday. Our doctors do their best to return your call on the same day. If the matter is urgent, please advise our team. If your child is having an emergency, please call 911. We have a doctor on call 24 hours a day/7 days a week for urgent medical matters only. Please call during regular business hours with any questions about appointments and refills.
Our doctors see patients at multiple locations. If you have questions regarding where your child's appointment is, please contact us at 212-241-5415.
Our Locations
In addition to the Mount Sinai Kravis Children's Hospital's Division of Gastroenterology on the Upper East Side of Manhattan, we have several locations around the New York metropolitan area, including the following.
Mount Sinai Doctors Faculty Practice
5 East 98th Street, 10th Floor
New York, NY 10029
The Susan and Leonard Feinstein IBD Clinical Center
17 East 102nd Street, 5th Floor
New York, NY 10029
Scarsdale
495 Central Park Ave, 3rd Floor, Suite 305
Scarsdale, NY 10583
Mount Sinai Doctors Brooklyn Heights
300 Cadman Plaza West, 17th Floor
Brooklyn, NY 11201
Mount Sinai-Union Square
10 Union Square East, Suite 5M
New York, NY 10003
Phone: 212-844-8300
Elmhurst Hospital Center
79-01 Broadway
Elmhurst, NY 11373
Phone: 718-334-1991
The Valley Hospital
140 E. Ridgewood Avenue, 4th Floor
Paramus, NJ 07652
Phone: 201-614-6118
Mount Sinai Doctors Five Towns
1436 Broadway
Hewlett, NY 11557
Phone: 212-241-5415
Mount Sinai Doctors Long Island
5 Cuba Hill Road
Greenlawn, NY 11740
Phone: 631-628-5000
Supporting Team IBDkids: The New York City Marathon
Every November, our Children's IBD Program fields a team of runners in the TCS New York City Marathon, one of the world's most-attended marathons, to increase awareness about pediatric IBD and raise money to support our program's research and family-centered, comprehensive care. Our runners have included parents of patients, siblings of patients, and family friends as well as physicians, medical students, and biomedical research scientists. Some runners have IBD themselves. We have even had a few patients, who were treated in our program as children or teens, run the marathon to support Team IBDkids.
Team IBDkids is able to guarantee entry for a limited number of runner-fundraisers. For more information on running with Team IBDkids, contact PEDSGI@mssm.edu.
If you want to help but you do not want to run 26.2 miles, you can help by becoming an event sponsor, sponsoring a runner, or coming out to cheer on Team IBDkids. E-mail PEDSGI@mssm.edu for more information.