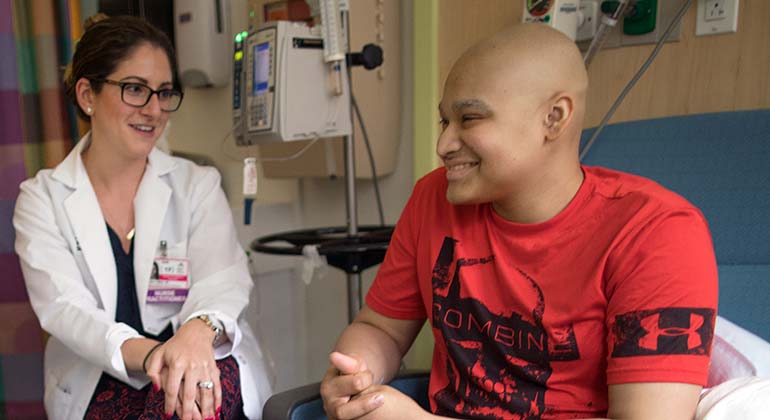 Jack Martin Division of Pediatric Hematology-Oncology
Mount Sinai Kravis Children's Hospital's Jack Martin Division of Pediatric Hematology-Oncology is dedicated to providing family-centered care to all of our pediatric, adolescent, and young adult patients. Our experienced, child-focused staff strives to cure pediatric cancers and to provide effective, life-sustaining treatment for children with blood diseases so that they can grow up healthy and strong. Through the Mount Sinai Kravis Children's Hospital's Children's Cancer Program, we pride ourselves on providing exemplary medical care using the most advanced standards while maintaining a caring, human touch. We take the time to get to know each of our young patients and take an individualized approach to your child's specific needs.
Our multi-disciplinary team includes pediatric oncologists, nurse practitioners, social workers, and child life specialists. In addition, we work closely with psychology, pediatric surgery, orthopedic oncology, pediatric radiation oncology, pediatric pathology, and pediatric radiology specialists in the Mount Sinai Health System. All of our physicians are board certified in pediatric hematology and oncology.
To provide multifaceted care, we use state-of-the-art pathology, radiology, and radiation oncology services, which allow us to limit radiation exposure while performing the most sophisticated radiological studies. Our pathology department, together with our genetic and genomics programs, offers access to the newest molecular tests, including tumor sequencing. We help you set up these appointments and are in constant communication with our families.
Several of our faculty members actively perform and lead research efforts in bone marrow, cellular therapy, lymphoma, and Langerhans cell histiocytosis, among others. The Jack Martin Division of Pediatric Hematology-Oncology is a member of the Children's Oncology Group, the Pediatric Blood and Marrow Transplant Consortium, and the North American Consortium of Histiocytic Disorders.
Blau Center for Children with Cancer and Blood Disorders
The Blau Center for Children's Cancer and Blood Disease at Mount Sinai Kravis Children's Hospital is a newly renovated space that provides a warm, supportive environment, designed specifically to enable our physicians and staff to provide family-centered medical care to children diagnosed with cancer and blood diseases.
Most of our patients come to our practice at the request of their primary care physician. Our specialists review the medical records and test results from your child's doctor before your visit. Please bring your insurance card, your child's social security number, and any other important medical documents about your child's condition. A member of our nursing staff will check your child's vital signs and may draw a sample of your child's blood if indicated. Blood tests in our clinic do not require fasting beforehand unless the doctor or nurse specifically tells you so. If you or your child feels anxious about having blood drawn, please let us know. Our child life specialists can help you prepare for the needle stick and help your child feel more comfortable. Sometimes we use an anesthetic cream to numb the area near the vein.
If a longer review of lab results or discussion of potential diagnosis and treatment plan is necessary with the parents, our child life specialists are available to play with your child during that time. After your child sees the doctor, we will provide follow-up instructions and answer any questions you may have.
Insurance
We accept most forms of commercial health insurance and Medicaid managed care plans. Our patient coordinators and social workers are very skilled and experienced at working with insurance companies and obtaining authorizations for our patients. We collect all co-payments from you at the time of your child's visit.
In addition to our expertise with insurance companies, our social work team is very knowledgeable about support programs that provide various forms of assistance to help you get the care and support you and your family needs. If you have specific concerns, do not hesitate to call us at 212-241-7022.