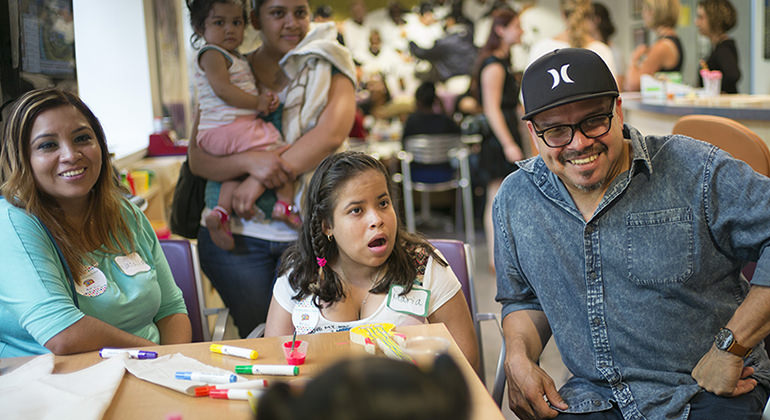 Child and Family Social Work Services
Mount Sinai's Children and Family Social Work Services offers a wide range of pediatric social work services to children and their families to promote adaptation to illness or chronic medical conditions, promote wellness, and encourage all children and their family members to reach their full potential through promotion of both mental and physical health. Our professionally licensed clinical social workers are members of medical specialty and general pediatric multidisciplinary care teams and children and families with the management of the social and psychological dimensions of chronic and acute illness and medical conditions. Social workers provide assistance with complex care management, family adaptation to chronic illnesses during childhood, mental health and supportive counseling, and strategies to promote adherence to care within the context of a family's own social circumstances.
Specialized social work services include:
Mental health and supportive counseling
Peer-to-peer support programs
Resource guidance and care coordination
Pediatric palliative care
Bereavement counseling for families that have suffered a perinatal loss or child death
Support groups for parents of children with special needs
Family violence and child protection programs
Specialized pediatric programs include:
Preoperative preparation programs for children and caretakers
Parents Sharing, geared to parents of infants in the Neonatal Intensive Care Unit
Asthma Counselor Program
Pediatric Visiting Doctors Program including the provision of home-based social work services
Mental Health Evaluation and Screening Program through Pediatric Associates
Five East Harlem School Based Health Clinics
Social Workers receive referrals and consultations from a variety of sources including physicians and medical care team members, child protection services, community organizations, and patients and families themselves. Some specialty programs and services include the provision of social work for all of their patients/families receiving care through; pediatric oncology, and in the neonatal intensive care unit and pediatric intensive care unit.