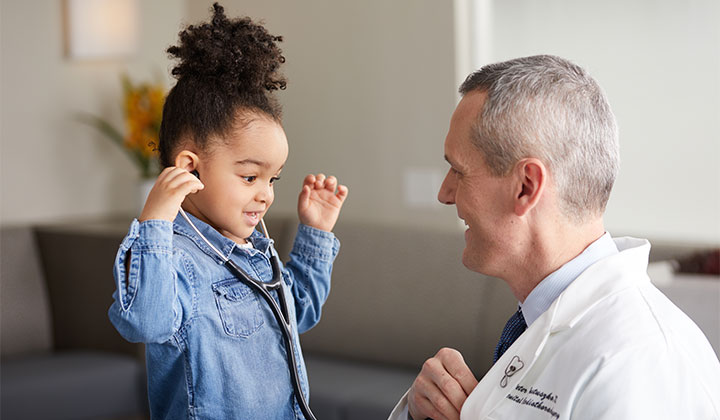 When you first find out that your child has a heart condition that requires heart surgery, it is a very scary and overwhelming time. We understand that you will have concerns and worries. You want to have compassionate, expert professionals caring for your child. At the Mount Sinai Kravis Children's Heart Center, our entire team is dedicated to providing the best possible care for your child. We are here to meet your child's unique needs and the needs of your family.
Dr. Peter Pastuszko is the Chief of Pediatric Cardiac Surgery and Director of Pediatric Cardiovascular Services at Children's Heart Center. "Dr. P," as he is affectionately known, has extensive surgical experience and excellent results in treating patients from newborns to adults with a cardiac diagnosis.
Dr. Raghav A. Murthy is the Assistant Director of the Pediatric Heart Transplantation Program. He has extensive experience treating congenital heart disease in all age groups. He has special expertise in pediatric airway surgery and complex lung surgery.
The Children's Heart Center team of professionals has the specific training to treat pediatric heart conditions. Caring for your child are world-class surgeons, cardiologists, cardiac anesthesiologists, cardiovascular nurses, physician assistants, and intensive care doctors. Together with other expert professionals at Kravis Children's Hospital, we provide a comprehensive plan of care to meet all your child's needs.
Surgeries We Perform
Just as each child is unique, so is each heart condition. Our Children's Heart Center team has the expertise in caring for children (and adults) with all forms of congenital and acquired heart disease.
Single ventricle reconstruction for single ventricle heart defects, including:

Double inlet left ventricle
Tricuspid atresia

New born (neonatal) repairs of complex defects, including:
Complex biventricular repairs of abnormal structures (lesions), including:

Double outlet right ventricle
Unbalanced atrioventricular canal

All congenital heart repairs for all abnormal structures (lesions), including:

Congenitally corrected transposition of the great arteries
Pulmonary atresia with intact ventricular septum
Vascular ring

Arrhythmia and pacemaker surgery
Mechanical circulatory support, using:

Extracorporeal membrane oxygenator (ECMO)
Ventricular assist device (VAD)
An Innovative Collaborative Approach
To decide on the best surgery for your child, we start with advanced cardiac imaging to examine your child's heart. This gives us the detailed information to decide on the best treatment option. Often, we can make the diagnosis of a heart defect through our Fetal Heart Program before your baby is born so we can start planning even before delivery.
You first meet your surgeon and surgical team to go over the planned procedure. And, we care for your child from that moment throughout the entire operation and recovery. Your child's care is the top priority of our expert pediatric cardiac anesthesiologists in the operating room and our dedicated pediatric cardiac intensive care unit following the operation.
Children's Heart Center is a pioneer in innovative developments in pediatric cardiac surgery, including:
Rapid recovery from heart surgery (fast-tracking) preparing your child to return home sooner
Post-operative care in a dedicated pediatric cardiac intensive care unit providing your child the most dedicated individual care
In addition to the physical needs of your child, we respect and offer help for the emotional side of the experience for your child and your family. Our team of social workers, music and art therapists and child life professionals will support you and your child. Together we offer the type of holistic care that every child deserves.
At Children's Heart Center, Dr Pastuszko and our team of professionals make communication with families among our highest priorities. We answer all your questions in a caring and respectful manner. From our first meetings to during hospitalization and when your child goes home, we keep the lines of communication with you open.
Why Choose Children's Heart Center?
At Children's Heart Center, our team is here to treat your child born with a congenital heart defect or other serious heart disease. From surgeon to nurse and everyone in between, your child has a team of specialists who are dedicated to you and your family.
We understand the effect of heart surgery on your child and your family. We are here to offer compassionate support. At Children's Heart Center, it is our mission to take the best possible care of your child using the most advanced and appropriate treatment for the best possible outcome.