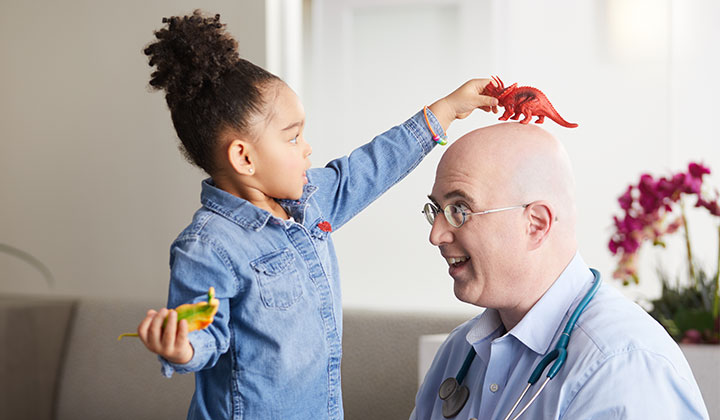 Interventional Cardiology
Children's Heart Center—an alliance between Mount Sinai and Children's Hospital of Philadelphia (CHOP)—is dedicated to providing you and your child with outstanding interventional cardiology care.
To treat pediatric and congenital heart disease, we use the most technologically advanced procedures. We do so in a caring, compassionate environment that places your child at the center of everything we do.
Our interventional cardiologists are experts in treating structural heart conditions with catheterization. In catheterization, we insert a flexible tube called a catheter into a blood vessel, usually in the groin. The catheter is then moved through the blood vessels to the heart. We perform catheterization to obtain information about the structure, pressure, and blood flow in the heart. We can also perform interventions that may prevent the need for heart surgery and leaves little to no scarring.
Please call or reach us online to speak with our staff or schedule a timely appointment.
Treatments We Provide

The interventional cardiology team at Children's Heart Center offers various treatments for many of heart conditions, including, but not limited to:
Aortic valve stenosis
Atrial septal defect
Narrowed or leaky conduits
Patent ductus arteriosus
Pulmonary artery stenosis
Pulmonary valve stenosis
Surgical baffle leaks or obstructions
Systemic and pulmonary vein stenosis or obstruction
Ventricular septal defect
We can perform the following procedures:
Balloon angioplasty: We perform this procedure to open up narrowed veins or arteries. Balloon angioplasty can be performed for systemic or pulmonary veins, pulmonary arteries, and the aorta
Balloon atrial septostomy: In certain situations, creating a hole between the top chambers of the heart can be a lifesaving procedure in newborns, in particular for transposition of the great arteries and hypoplastic left heart syndrome with an intact or restrictive atrial septum
Balloon valvuloplasty: This interventional method opens up obstructed heart valves, often the pulmonary or aortic valve
Closure of patent ductus arteriosus (PDA): The PDA is a blood vessel between the aorta and pulmonary artery. This blood vessel usually closes after birth. If the PDA doesn't close, our doctors can place a device or coil to close it during a catheterization
Device closure of atrial septal defects (ASDs) An ASD is a hole located between the top chambers of the heart. Our cardiologists can close the hole using a device.
Device closure of ventricular septal defects (VSD): In some patients, we use catheterization to fix a hole between the bottom chambers of the heart (VSD)
Stenting: Stents are small metal cylinders that open narrowed blood vessels. These stents can be used to open narrowed veins or arteries
Transcatheter pulmonary valve replacement: This is a catheter-based procedure to replace the pulmonary valve. Patients who have had surgeries for tetralogy of Fallot or truncus arteriosus with a right ventricle to pulmonary artery conduit may need the procedure
Our Alliance with Children's Hospital of Philadelphia (CHOP)
Our alliance with the CHOP gives us the opportunity to consult with their interventional cardiologists about the best care for your child. CHOP are also experts in catheterization.
If you would like a second opinion on your child's treatment plan, we can arrange for you to speak with the interventional cardiologists at CHOP. Your peace of mind is our mission.
Why Choose Children's Heart Center?
At Children's Heart Center, we offer your child excellent care thanks to our depth of experience. For the last 25 years, our interventional cardiologists have performed thousands of procedures to help children return to a normal life.
At the Children's Heart Center, you can be sure that your child will receive world-class catheter-based treatment for pediatric heart conditions. When you meet with us, we will discuss all treatment options available for your child. Children's Heart Center is committed to providing comprehensive and seamless care to treat all of your child's heart-related needs.