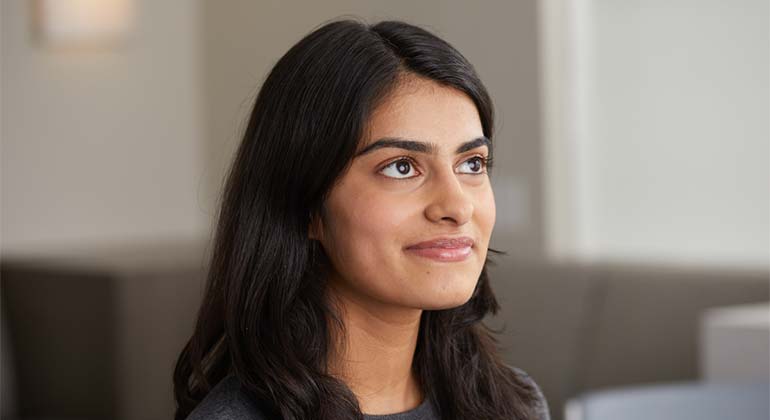 Adult Congenital Heart Disease
Having a heart defect is a lifelong challenge. Living with Adult Congenital Heart Disease (ACHD) will require you to become your own healthcare advocate. Having adult congenital heart disease is different from the other acquired heart issues that adults may develop. It is important to know and understand what living with your particular defect means for managing your life.
Congenital heart disease is extremely common. Each year nearly one out of 100 babies are born with some form of congenital heart disease. Scientific advancements over the last 40 years has led to more than 90% of CHD patients living well into adulthood. The Mount Sinai Adult Congenital Heart Disease Center was created to serve the medical and surgical needs of this growing population of adolescents and adults with all forms of congenital heart disease.
The Mount Sinai Adult Congenital Heart Disease Center offers a variety of dedicated programs to treat and serve patients with all forms of congenital heart disease:
Adult Congenital Heart Disease Clinic: six clinics every week
Adolescent and Adult Fontan Clinic: one clinic every six weeks
Congenital Heart Disease Transition Clinic: one clinic every month
Pregnancy and Reproductive Health: one clinic every six weeks combined with Maternal Fetal Medicine (MFM)
Pulmonary Hypertension: one clinic every two weeks
We provide a variety of unique services to serve the adolescent and adult congenital heart disease patients including:
Comprehensive multimodality Congenital Cardiac Imaging: TTE, TEE, CTA, Cardiac MRI/MRA
Diagnostic and Interventional Congenital Cardiac Catheterization
Electrophysiology and Pacing
Heart Failure and Transplantation
Cardiopulmonary Exercise Testing
Pulmonary Hypertension / Eisenmenger's Syndrome
Pregnancy and Reproductive Health
Cardiogenetics assessment
Pulmonary and Sleep Medicine
Gastroenterology, Liver evaluation and Transplantation
When a Child with Congenital Heart Disease Becomes an Adult: The Road to Transition of Care
The teen years are a time of multiple transitions: from child to adult, learner to teacher, dependence to independence. Without much thought, teens are learning the life skills necessary to transition to a functioning adult.
As you grow up, you may develop new problems and need to continue consulting with a congenital heart specialist. We begin transitioning care from a pediatric cardiologist to an ACHD specialist. Adolescents with congenital heart disease face different challenges than adults. We have a dedicated Transition of Care program that provides education on Transition to all patients who are at least 15 years old and have a congenital heart defect. This education can be provided by a one-on-one visit with a transition nurse, through written material (Transition Education Booklet), or both. We begin the transition process while our patients are still seeing their pediatric cardiologists at the Children's Heart Center at the Kravis Children's Hospital at Mount Sinai. With the help from our ACHD transition nurse, we begin assessing the patient's cardiac education level. Along with our healthcare team, we create a personalized plan to prepare each patient to take control of their healthcare decisions as they begin to enter adulthood. The transition process can take several visits and is flexible to the needs of each patient.
We encourage our patients and families to discuss the transition process with their medical providers. The care will shift from parents to the young adult for discussions, symptoms, medical decisions, and signing consent for the treatment for all medical care. At that time, permission must be obtained from the young adult to speak with the parent about their medical care. Insurance companies will also need to obtain permission from the young adult to speak with a parent, even if the parent is the policy holder or paying the bills.
We will work closely with you and your family to help you navigate the changes that come with transitioning from pediatric to adult congenital heart disease. Mount Sinai provides more than treatment; we offer dedicated education and support to give you the best healthcare possible throughout your life.
Adults with Congenital Heart Disease and Pulmonary Hypertension
Adults with Congenital Heart Disease may present with either early or late onset Pulmonary Hypertension. Rarely patients may develop Eisenmenger's Syndrome which is often diagnosed in young adulthood. The Mount Sinai Adult Congenital Heart Disease Center is fully equipped in providing a full range of therapies for ACHD patients with Pulmonary Hypertension working in close collaboration with the Mount Sinai Pulmonary Hypertension Program. We offer state-of-the art diagnostics including full cardiopulmonary exercise testing, right heart catheterization with vasoreactivity testing, advanced cardiovascular imaging and a full range of therapies including oral, inhaled, intravenous and subcutaneous drug alternatives. We also offer multiple opportunities to participate in cutting edge clinical research aimed at improving the diagnosis and treatment of Pulmonary Hypertension in Congenital Heart Disease.
Pregnancy and Congenital Heart Disease
Before planning a pregnancy, our patients should consult with their ACHD doctor, OBGYN or High Risk maternal fetal medicine consultant and primary care doctor to discuss reproductive health care and pregnancy. While women with CHD carry additional risks for the mother and child, the majority of women with CHD can have a healthy pregnancy. However, every heart defect carries a different level of risk. Complex CHD patients are more likely to have complications than those with simple heart defects. If the congenital heart disease defect is significant enough, pregnancy is not recommended.
Preparing for the birth of a child is perhaps one of the most challenging yet satisfying decisions in life. We encourage our patients to follow your doctor's recommendations and continue a healthy lifestyle. Pregnant women with congenital heart disease must continue to visit their high risk OBGYN / MFM specialists and Adult Congenital Cardiologist regularly during their pregnancy. These important steps are vital essential for the mother and the baby's growth and development.
Tips for a healthy pregnancy with CHD include:
Follow your doctor's direct orders
Make sure to get adequate rest
Eat healthy
Take any prescribed medications
Avoid alcohol, drugs, and tobacco products
Managing a pregnancy with CHD can be extremely challenging. Today, we expect that most children treated for congenital heart disease will survive to adulthood and lead a full adult life. We provide comprehensive and state-of-the-art care to women with CHD. We manage the health of our CHD patients and developing fetus pre-pregnancy, during pregnancy and post-partum.
Our Alliance with Children's Hospital of Philadelphia
Children's Heart Center is an alliance between Mount Sinai and Children's Hospital of Philadelphia (CHOP). This innovative alliance brings together the expertise of two world-leading institutions for the best possible outcomes. Together, we offer the most effective treatment and compassionate cardiac care for your child here in New York City.
Why Choose Children's Heart Center, Kravis Children's Hospital at Mount Sinai?
At Children's Heart Center, we use a team-based approach to medicine. Our cardiologists work with a variety of cardiac specialists to address complex medical issues. These specialties include:
Congenital Electrophysiologists
Adult congenital cardiologists
Pulmonary hypertension specialist
Our cardiologists work closely with Mount Sinai's Adult Cardiovascular Institute which consistently ranked as one of the top cardiovascular institutes in the United States. Because of our relationship with Mount Sinai's surgical and interventional doctors, we can consult with world-class specialists immediately and provide care with outstanding results.
Children's Heart Center offers exceptional support services for you and your family. Our social workers and counselors provide emotional support and tips for healthy living. In addition, our staff and doctors are always available to answer your questions.
At Children's Heart Center, we are with you for life.