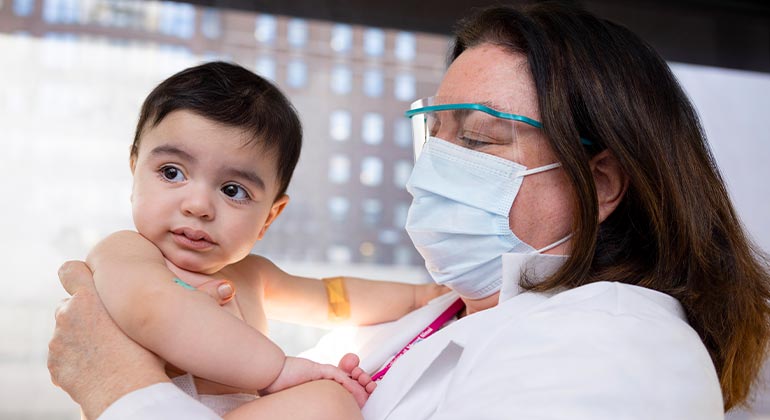 When your child has a heart transplant at Mount Sinai Kravis Children's Heart Center your family becomes a part of ours. Our heart transplant program offers personalized care before, during, and after your child's heart transplant. We are here for your child throughout childhood and adolescence.
For hearts that are failing and we cannot repair surgically or manage long-term with medications, a transplant is often the best choice. The compassion of our pediatric cardiology specialists who work with your child facing a heart transplant is matched only by our skill in performing heart transplants.
About Heart Transplant
A heart transplant is surgery that replaces your child's failing heart with a healthy heart from a donor.
If a young heart becomes too weak or sick, the best treatment may be a heart transplant such as in severe cases of:
Our team of doctors and nurses prepare your child to receive a new heart. Getting the right donor heart for your child takes time, patience, and care. We continue to treat your child while waiting for a donor heart. And our social worker helps your family and your child make a healthy adjustment to a heart transplant.
Before transplant surgery
The process of finding a donor heart starts when we add your child's name to the Network for Organ Sharing (UNOS) donor list. Based on a number of traits, the donor heart must be a match for your child. Once UNOS finds a matching heart, we will schedule your child's transplant right away. You will need to be ready, and we will help you prepare.
While waiting for a heart donor, your child may be able to be at home. However, many children need to stay in the hospital. We will do what's best for you child. Our team has expertise in caring for the sickest patient while waiting for a new heart.
We may be able to support your child's failing heart with medications. However, in some cases, your child may need mechanical circulatory support, such as one of the following:
Extracorporeal membrane oxygenation (ECMO)—an advanced life support technique that provides breathing and heart support
Ventricular assist device (VAD)—a long-term device that supports the heart and improves blood flow to the body.
During transplant surgery
As any heart surgery, a heart transplant is a delicate procedure. Your child will be in surgery for several hours. During the operation, we will let you know how the procedure is going and how your child is doing.
After transplant surgery
After surgery, our specially trained nurses and doctors will be monitoring your child closely in our pediatric intensive care unit (PICU). And the transplant team will teach you how to care for your child at home.
Your doctors will want to see your child frequently for follow up care. We will also continue to answer your questions and support you as you learn to take care of your child.
We may prescribe certain types of medication to suppress the immune system and that prevent your child's body from rejecting the new heart. Your child will need lifelong follow-up to manage these medications and to monitor their health, and the health of their new heart.
Why Choose Children's Heart Center?
At Children's Heart Center, our surgeons have performed over 100 heart transplants. Our specialists fully evaluate your child's health. Using a team approach, we diagnose your child's need for and ability to accept a new heart.
Innovative and improving how we do things, our doctors participate in heart failure clinical trials. If you are interested in learning more and possibly enrolling your child, we can help. Mount Sinai is also a recognized leader in the use of mechanical heart assistance devices for young and small children to improve blood flow while waiting for a new heart.
In addition to pediatric cardiologists and surgeons, your child's transplant team also includes a dedicated nurse practitioner who is available at all times to help explain your child's condition and the transplant procedure.
We will always be here for your child—before, during, and after getting a healthy new heart.
How to Reach Us
To make an appointment or learn more, you can call us 24-hours a day. To reach Children's Heart Center, call us at 1-844-733-7692. To reach the Fetal Heart Program, call us at 1-844-692-3382.