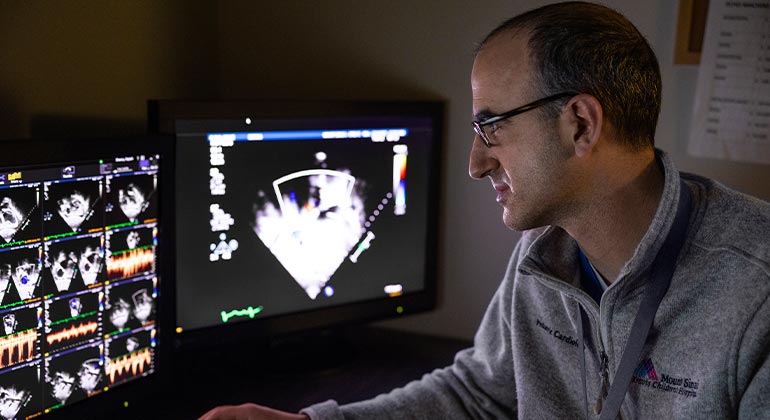 The Mount Sinai Children's Heart Center, in partnership with Mount Sinai Heart, provides the highest level of pediatric cardiac care in New York City.
We offer expert prenatal, neonatal, pediatric, and adult care through a variety of programs and services including:
At Children's Heart Center, our interdisciplinary team will work closely with you to ensure the best outcomes for your patients. We place an emphasis on offering timely appointments. Once a family meets with one of our specialists and begins to receive care, we also provide the family with a hospital liaison. This liaison, known as a personal clinical program manager, will support the whole family at every point in their child's journey. This support includes:
Answering insurance questions
Arranging mental health therapy for patients
Handling electronic patient records
Planning post-hospitalization care
Outstanding Care
Children's Heart Center is your partner for expert cardiac care from before birth and beyond. We offer a wide range of programs and services to fit every patient's needs including, but not limited to:
Delivery and neonatal surgery: Babies who require surgery will be delivered at Mount Sinai. If surgery is not required delivery can take place at the patient's local hospital.
Diagnostic expertise: Our sonographers and physicians perform and evaluate about 2,400 fetal echocardiograms each year. In addition, we are dedicated to pioneering new forms of advanced cardiac imaging such as the 3D Model Prototype Program which assists in surgical decision making.
Family-centered care: We provide a dedicated clinical program manager to support families through counseling and other support services
Fetal Heart Program: Fetal echocardiograms are performed as soon as possible after a referral is requested. Surgery or other treatment will be scheduled soon after. Post-operative care for our most needy patients is provided in our Pediatric Cardiac/Cardiothoracic Intensive Care Unit (PCICU)
Surgical Procedures: We provide top-notch surgical care at The Mount Sinai Hospital.
Valuing community: When clinically appropriate, we fully support working with a cardiologist in the child's local community. As patients age, they are welcomed to join the adult cardiology program at Mount Sinai to receive care
Referring a Patient
At Children's Heart Center, our nurse coordinators will help you make a referral. As experienced cardiac intensive care nurse practitioners, nurse coordinators are dedicated to helping referring physicians connect with one another.
Our nurse coordinators perform a variety of services including:
Arrange for second opinions and transfers
Expedite and facilitate communication for patient consultations
Provide referring physicians and surgeons with updates and pertinent medical information
Serve as a primary point of contact with referring physicians and surgeons
Every specialist at Children's Heart Center is committed to open and timely communication with the patient and referring physician. As a referring physician, you will receive updates via Epic, fax, and phone calls. When the patient is ready, he or she will return to your care as we continue to collaborate when necessary.
We take most insurance plans, including Medicaid, and our staff will help navigate the process of ensuring coverage. For more information or to refer a patient, call
1-844-733-7692.
Why Choose Children's Heart Center?
At Children Heart's Center, we are dedicated to providing world-class treatment and counseling for pediatric heart conditions. We involve families in treatment planning so that parents can be their child's best advocate for excellent care.