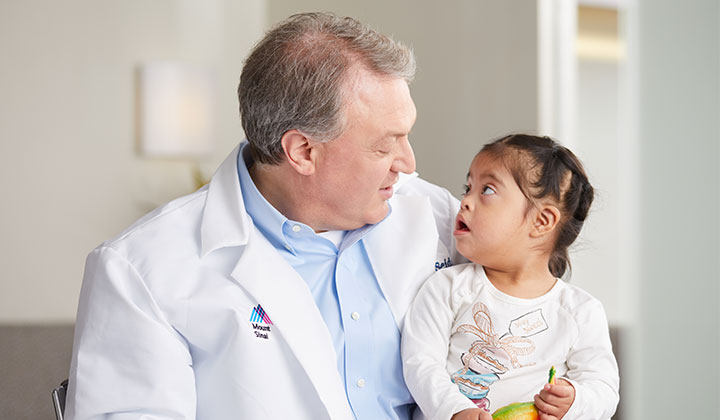 Cardiac Neurodevelopmental Follow-up Program
Infants who undergo surgery for a congenital heart defect have a higher risk of neurodevelopmental delay than their peers without congenital heart disease. At Children's Heart Center—an alliance between Mount Sinai and Children's Hospital of Philadelphia (CHOP)—our Cardiac Neurodevelopmental Follow-up Program helps these children reach their potential to lead productive and happy lives.
We provide screening and multidisciplinary evaluation for all infants at risk. If we identify concerns in your child, we will coordinate a treatment plan with your pediatrician. In addition, we will assess community resources to develop an individualized treatment plan.
The Cardiac Neurodevelopmental Follow-up Program is comprised of a multidisciplinary team that includes:
Pediatric cardiologists
Neonatologists
Developmental pediatricians
Psychologists
Pediatric social workers
Pediatric therapists
Pediatric nutritionists
The Program uses a compassionate approach to screen and identify neurodevelopmental disorders. We strive to identify challenges your child may face as early as possible. Therefore, we can proactively provide therapy and support to best enhance your child's development.
Conditions We Treat
Many children with congenital heart disease benefit from developmental screening through childhood. We recommend enrollment in the Cardiac Neurodevelopmental Follow-up Program for all children treated with:
Open heart surgery in the first year of life
Palliative heart surgery (surgery that is done in stages)
Heart transplant
ECMO
And for all children with:
Genetic disorders associated with developmental issues (e.g., Trisomy 21, 22Q11 deletion)
Other risk factors, such as prematurity, prolonged hospital stay, or neurologic disorder
Tests We Offer
Our Program provides comprehensive screening to determine if your child has or is at risk for neurodevelopmental delays. Using a wide array of tests, we pay close attention to your child's performance in areas such as:
Speech
Movement
Cognition
Socio-emotional
Growth and nutrition
These tests may be as simple as surveys that you complete to describe which developmental milestones and behaviors you've observed at home to more comprehensive testing that is administered by a child development specialist.
Our Alliance with Children's Hospital of Philadelphia (CHOP)
Children's Heart Center is an alliance between Mount Sinai and Children's Hospital of Philadelphia (CHOP). This innovative alliance brings together the expertise of two world-leading institutions for the best possible outcomes. Together, we offer the most effective treatment and compassionate cardiac care for your child here in New York City.
Why Choose Children's Heart Center?
The Children's Heart Center team of highly trained and experienced specialists is committed to improving your child's long-term health. We focus on early identification and treatment of neurodevelopmental delays. Our treatment plans emphasize individualized and family-centered care, so that your child can reach his or her full potential.
Family involvement is critical to each child's success. Our family-centered model allows us to partner with parents. Together, we identify strengths and weaknesses to tailor educational and training opportunities. By working together, we can empower your family to help your child to succeed.