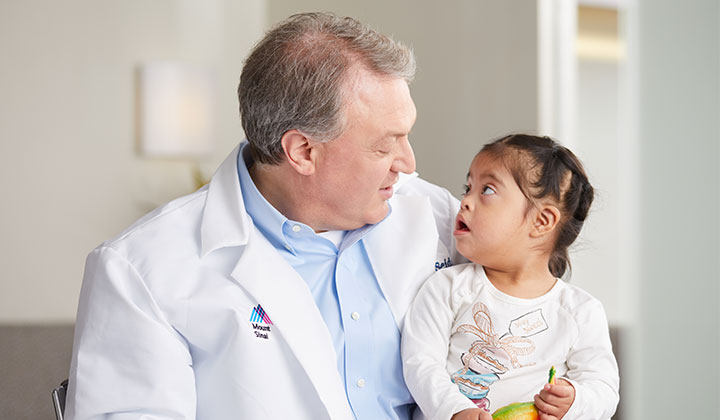 Cardiac Neurodevelopmental Follow-up Program
Infants who undergo surgery for a congenital heart defect have a greater risk of neurodevelopmental delays than other infants without congenital heart disease. At Mount Sinai Kravis Children's Heart Center, our Cardiac Neurodevelopmental Follow-Up Program helps these children lead happy and productive lives.
We provide screenings and evaluations for all infants at risk. Our Cardiac Neurodevelopmental Follow-Up Program includes pediatric cardiologists, neonatologists, pediatricians, psychologists, social workers, therapists, and nutritionists. If we detect an issue with your child's heart, we will coordinate a treatment plan with your pediatrician.
Our program's compassionate approach helps to screen and identify neurodevelopmental disorders. We strive to identify the challenges your child may face as early as possible. We provide therapy and support to improve your child's development.
Conditions
Children with congenital heart disease benefit from consistent developmental screening throughout childhood. We recommend that all children with congenital heart disease enroll in the Cardiac Neurodevelopmental Follow-Up Program.
The program is for all children who have experienced the following:
Open heart surgery in the first year of life
Palliative heart surgery (surgery that is done in stages)
Heart transplant
ECMO (extracorporeal membrane oxygenation)
Or
Children with genetic disorders associated with developmental issues
Children with risk factors such as prematurity, neurologic disorders, and long hospital stays
Testing
We provide comprehensive screening to determine if your child has or is at risk for neurodevelopmental delays. During testing, we observe your child's performance in several areas, including speech, movement, cognition, socio-emotional, growth, and nutrition.
Our tests may be as simple as completing observational surveys of your child that describe developmental milestones and behaviors you have observed at home. Your child may also complete comprehensive testing administered by a child development specialist.
Why Choose Children's Heart Center?
The Children's Heart Center staff of experienced specialists is dedicated to helping improve your child's health. We focus on the identification and treatment of neurodevelopmental delays. Our treatment plans emphasize personalized and family-centered care to help your child live a happy and healthy life.
A family's involvement with a child's treatment is critical to his or her success. We collaborate with you to identify your child's strengths and weaknesses. Together with your family, we will help your child succeed.