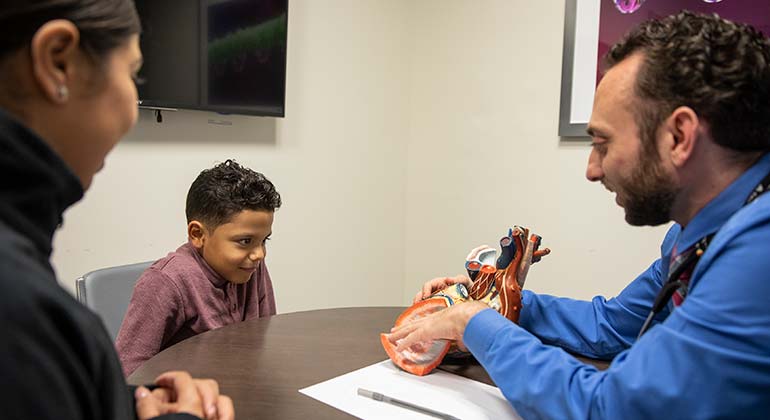 You and your child are our priority from the first moment you call us to ask a question and make an appointment at Mount Sinai Children's Heart Center, in partnership with Mount Sinai Heart.
Once you are here, you will find our staff and doctors warm and welcoming. And your child will get the expert and compassionate care every child deserves.
Making an Appointment for Your Child
You can ask questions or make an appointment for your child with a diagnosed or suspected heart condition.
Call Children's Heart Center any time at 1-844-733-7692.
We use the latest diagnostic techniques to make an accurate diagnosis. And if treatment is needed, we can take care of your child and explain everything, step-by-step.
When you make an appointment, it will take place in two parts.
First, is usually testing, often an "echo" or echocardiogram, EKG or ECG. These imaging tests help us make the most accurate diagnosis and create the right treatment plan for your child.
Next, is usually meeting with one of our cardiologists. Our doctors will explain the results of the test and next steps.
You may need to schedule your next appointment before you leave.
For Expectant Parents Making an Appointment
To ask a question or get a diagnosis related to a heart condition in your unborn baby, we have our outstanding Fetal Heart Program.
Call our Fetal Heart Program at 1-844-692-3382.
Through this program, we take care of you and your unborn baby. We will provide care as needed, now and in the future.
You will meet with our specialists who walk you through your options and answer all of your questions and concerns.
Preparing for Your Child's Visit
If you're coming to Children's Heart Center, you have gotten information from your doctor that your child has or may have a heart condition. We can assure you that you're coming to the right place for an accurate diagnosis and the best pediatric heart care. Our specialists care about children, and we know children's hearts.
To prepare your child who is old enough to understand, you may want to explain that you are coming to get help from our doctors and nurses who are friendly and kind.
Please arrive on time for your appointment. We will try to have you seen as quickly as possible. You should plan to be here for one to two hours.
For babies, you will want to bring an extra bottle and diapers. For older children, we have a treasure box of things to play with, but you may want to bring a favorite toy. We don't encourage eating in the waiting area, but water or juice is okay. Downstairs we have a café where you can get a light snack. Just let us know if you are leaving the waiting area for any reason. That way we can give you directions and know where you are.
How to Get Here
Children's Heart Center and the Fetal Heart Program are on the third floor at 1468 Madison Avenue near East 100 Street in Manhattan.
Depending on where you're coming from you may drive or take public transportation.
If you drive, while there is some street parking, you may need to park in a garage. There are several parking garages in the area.
It may be more convenient for you to take public transportation or a car service so you don't have to worry about parking. You have several options.
Directions to 1468 Madison Avenue
By Subway:
Take the 6 Train to the 96th Street station. The Children's Heart Center is a 10 minute walk from the subway.
By Bus:
Take the M96 bus to the Madison Avenue/E 96 Street stop going East or West.
Take the M1, M2, M3, M4, or M106 to the Madison Avenue/East 101Street stop going north or the 5th Avenue/East 102nd Street stop going south.
Take the BxM2, BxM3, BxM4, or BxM11 to Madison Avenue/East 99 Street stop going north or the 5th Ave/East 98th Street and 5Ave/East 98th Street stops going south.
By Taxi, Car Services, or Private Car:
The best Children's Heart Center entrance for car drop off is 1468 Madison Avenue (Madison Avenue and East 100th Street).
Parking:
There is metered street parking available in the area surrounding the Children's Heart Center.
You can also park in the Mount Sinai Hospital Garage at 1292 Park Avenue, New York, NY 10029. The entrance is located on East 99 Street.
Children's Heart Center at 1468 Madison Avenue is a 5 minute walk from the garage.
Other locations for appointments:
Directions to Mount Sinai Doctors – Brooklyn Heights
By Subway: Take the R train to the Court Street stop. Then head east to Mount Sinai. Take the 2, 3, 4, or 5 trains to Borough Hall and walk north on Court street to Mount Sinai. The A, C and F trains also have stops nearby.
By Bus: The B102, B62, BXM18, M20 and SIM1C are bus routes with stops nearby.
By Car: One nearby garage is located at Montague Street between Clinton and Cadman Plaza West. There may also be metered parking nearby.
Directions to Mount Sinai – Union Square
By Subway: The N, Q, R, W, L trains as well as the 4, 5, 6 lines stop at the Union Square station. Mount Sinai Union Square is a few feet away from the train station on Union Square East.
By Bus: The M1, M101, M102 and SIM33C have bus routes that stop near Mount Sinai – Union Square.
By Car: There are multiple parking garages surrounding Union Square Park. One nearby parking garage is located on 15th street between Union Square East and Irving Pl. There may also be metered parking nearby.
When You Arrive
Welcome!
When you enter 1468 Madison Avenue entrance, ask security to direct you to the elevators that will take you to the Children's Heart Center and the Fetal Heart Program that are located on the third floor.
Step up to the reception desk. We will ask you basic information like your name, appointment time, and your child's name. We will want to see your photo ID and insurance card.
If you have records or information from your referring doctor, please bring that as well. Our doctors may want to review it.
Be prepared to provide information about your child, emergency contacts, insurance, other doctors, payment guarantors, and your preferred pharmacy. And as with all doctor's visits, we share our privacy practices with you and ask you to sign a form that states that you received that information. You only fill out those documents once.
However, each time you come for an appointment, we will ask you to fill out a single form about your child's current health and health history. We need to know if anything has changed about your child's condition or your family's medical history.
We Are Here for You
Thank you for choosing Children's Heart Center. We look forward to caring for your child and getting to know and support your family as you become part of ours.
Please know that no question is too small for us to answer. Call us and ask. Anytime.
How to Reach Us
To make an appointment or learn more, you can call us 24-hours a day. To reach Children's Heart Center, call us at 1-844-733-7692. To reach the Fetal Heart Program, call us at 1-844-692-3382.