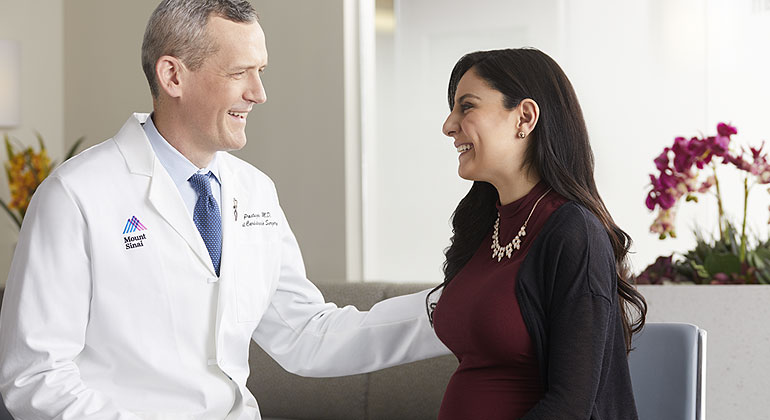 The Fetal Heart Program at Mount Sinai Kravis Children's Heart Center identifies and diagnoses the problems and conditions that may affect your unborn child's heart.
Our team of doctors and specialists in fetal cardiology, obstetrics, maternal fetal medicine, neonatology, pediatric surgery, cardiovascular genetics, and cardiothoracic surgery work together to provide the best possible outcome for your baby. We provide accurate diagnosis and care during your pregnancy and after delivery. The Fetal Heart Program is often the beginning of an ongoing, supportive relationship between you, your doctor, and the Children's Heart Center. We are here to treat, care for, and support you and your child every step of the way.
Conditions We Treat
The Children's Heart Center cares for mothers expecting children with a wide range of congenital heart conditions including:
Screening
At the Children's Heart Center, we often observe patients who have an increased risk of a fetal cardiac defect or anomaly. This risk may be the result of a family history of heart defects, maternal or fetal risk factors, or findings from a prenatal ultrasound.
We offer at-risk patients testing or referrals for the following exams:
Fetal echocardiography: an ultrasound exam that gives your doctor a closer look at your unborn child's heart
Fetal MRI: a noninvasive test that provides detailed images of non-cardiac abnormalities
Genetic testing: a blood test that can confirm or rule out inherited heart conditions
Maternal hyperoxygenation testing: detects lung disease or abnormality in the blood flow of a fetus
What to Expect
During your visit, you will undergo a comprehensive fetal echocardiogram. This noninvasive exam uses ultrasound to capture images of the structure and function of your unborn child's heart. A fetal cardiac sonographer or physician will perform the exam. The exam can last from 20 minutes to an hour, or more. An attending fetal cardiologist will review your results and discuss the findings with you.
If we discover any abnormalities, we will advise you about the condition and what it means for you and your baby. We will discuss any surgeries or procedures that may be a part of your child's treatment. We will also discuss follow-up care. We will be the link between you and our pediatric cardiac surgeon or specialist who may be involved in your baby's care.
Our fetal heart team will discuss recommendations for pregnancy and delivery. There are certain fetal lesions we recommend treating soon after birth at the Mount Sinai Kravis Children's Hospital. We will work with you and your obstetrician to decide the best course of action for your pregnancy and delivery care plan. From your initial diagnosis to after delivery, our Fetal Heart Program nurse practitioner is there to provide counseling and support. We will also help you establish a connection with support services and consultation necessary for you and your family.
Why Choose Children's Heart Center?
The Children's Heart Center pediatric cardiologists can detect heart conditions as early as 12 weeks into your pregnancy. We provide an early diagnosis so that you can make an informed decision about your pregnancy. We offer counseling and social work services to provide you with emotional support.
At the Fetal Heart Program, we have all the resources necessary to treat the most sensitive fetal heart disorders. With advanced technology, private conference rooms, and a dedicated delivery department, we are fully equipped to take care of newborns.