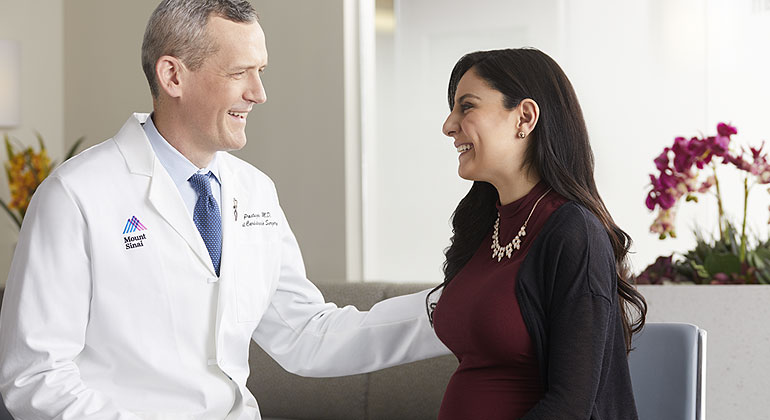 The Fetal Heart Program at Children's Heart Center—an alliance between Mount Sinai and Children's Hospital of Philadelphia (CHOP)—diagnoses all types of problems that may affect your unborn child's heart.
Our team of doctors includes specialists who work together to provide the best possible outcomes. We have experts in fetal cardiology, obstetrics, maternal fetal medicine, neonatology, pediatric surgery, cardiovascular genetics, and cardiothoracic surgery.
Our expert staff provides an accurate diagnosis and coordinates care during your pregnancy and after delivery. For many patients, the Fetal Heart Program is the start of an ongoing, nurturing relationship with you, your doctor, and Children's Heart Center. We care for your child every step of the way.
Conditions We Treat
At Children's Heart Center, we care for mothers expecting children with a variety of congenital heart defects as part of the Fetal Heart Program, including:
Complex single ventricles and heterotaxy syndromes
Double outlet right ventricle
Pulmonary atresia
Shone's complex
Tricuspid atresia
Vascular rings
We also evaluate and treat other fetal issues that affect the heart, including:
Fetal cardiac arrhythmia: We are able to diagnose and treat abnormal fetal heart rhythms (or arrhythmias. These include when the baby's heart beats too fast (tachycardia) or too slow (bradycardia). Sometimes we will closely monitor babies with such conditions, other times we can administer medication to the mother in order to treat the unborn baby.
Fetal cardiomyopathies: We can diagnose fetal cardiomyopathies and consult with our cardiomyopathy team.
Other fetal cardiac and non-cardiac lesions: We care for a wide range of conditionssuch as fetal twin-to-twin transfusion syndrome, Vein of Galen malformations, congenital diaphragmatic hernias through maintaining close relationships and co-managing with maternal fetal medicine physicians, interventional radiologists, and pediatric cardiac surgeons.
Screening
We see many patients who are at increased risk of a fetal cardiac defect or anomaly. The risk may be the result of a family history of heart defects, findings from a prenatal ultrasound, or other maternal or fetal risk factors.
Our Fetal Heart Program offers at-risk patients screening tests or referrals for the following, including:
Fetal echocardiography: Using ultrasound waves to take pictures of the heart of a fetus
Fetal MRI: A scan using powerful magnets that helps evaluate certain non-cardiac abnormalities in detail
Genetic testing: A blood test to determine if there is a genetic reason for a heart condition
Maternal hyperoxygenation testing: A test to detect lung disease or a blood flow abnormality in a fetus
What to Expect
On the day of your visit, you will undergo a comprehensive fetal echocardiogram. This non-invasive examination uses ultrasound to image the developing fetal heart structures. This is the same technology used for obstetric ultrasounds and is proven safe for you and your developing baby. Either a fetal cardiac sonographer or physician will perform the examination.
The scan can last anywhere from 20 to 30 minutes, up to an hour, or more. An attending fetal cardiologist will review your study and meet with you to discuss the findings.
For any abnormal findings, we will counsel you thoroughly about the condition (lesion), and what it means for your baby, both in the short- and long-term. We will review with you any interventions or surgeries that may be part of the treatment, as well as anticipated follow-up care. We can arrange for a meeting with our pediatric cardiac surgeon or any other specialist we expect to be involved in your baby's care.
We will discuss recommendations for pregnancy and delivery. Certain lesions are best treated soon after birth at the Kravis Children's Hospital. Our Fetal Heart team will work with you and your obstetrician to determine the best pregnancy and delivery care plan.
Our Fetal Heart Program nurse practitioner will be present for the counseling and serve as your primary point of contact along every step of your journey—from diagnosis, to delivery, and beyond. We can also put you in touch with a variety of support services and consultations as needed to help you, your family, and your baby.
Our Alliance with Children's Hospital of Philadelphia
Children's Heart Center is an alliance between Mount Sinai and Children's Hospital of Philadelphia (CHOP). This innovative alliance brings together the expertise of two world-leading institutions for the best possible outcomes. Together, we offer the most effective treatment and compassionate cardiac care for your child here in New York City.
Why Choose Children's Heart Center?
The pediatric cardiologists at Children's Heart Center can evaluate heart conditions as early as 12 weeks into your pregnancy. Our team cares for you and your family by offering you counseling and social work services. We provide emotional support and answer all your questions.
The Fetal Heart Program features state-of-the-art technology, private conference rooms, and a dedicated delivery department that takes care of newborns. We have all the resources needed to treat the most sensitive fetal heart disorders.
Our goal is to provide an early diagnosis so that you can make an informed decision about your pregnancy.
How to Reach Us
To make an appointment or learn more, you can call us 24-hours a day. To reach Children's Heart Center, call us at 1-844-733-7692 (1-844-PEDS-NYC). To reach the Fetal Heart Program, call us at 1-844-692-3382 (1-844-NYC-FETAL).