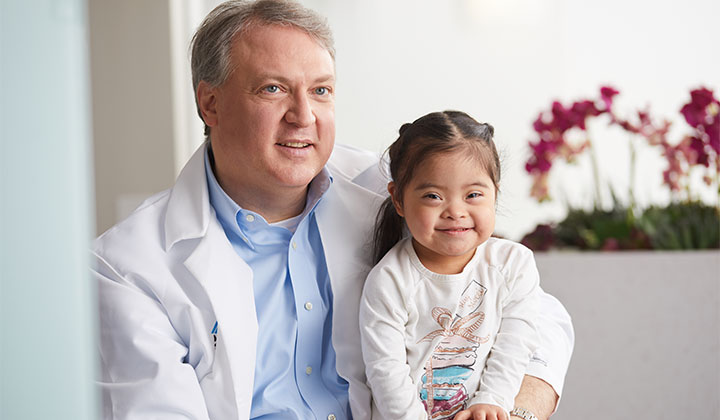 General Outpatient Pediatric Cardiology
The pediatric cardiologists at Mount Sinai Kravis Children's Heart Center will provide you and your child with world-class, compassionate care. We often see children soon after they experience symptoms such as:
Chest pain
Fainting
Palpitations (extra fast heart beat)
Shortness of breath or low oxygen levels
We understand that seeing a doctor immediately for a heart condition is vital to the health of your child. That is why we make appointment scheduling easy. When booking an appointment, we will be certain to have one of our doctors see you as soon as possible.
Testing
Children's Heart Center will use a variety of tests to find the cause of your child's heart condition. These tests include:
Ambulatory blood pressure monitoring: A non-invasive, 24-hour blood pressure test
Ambulatory heart rhythm monitoring: A 24-hour test to study the heartbeat's rhythm
Echocardiography: Using ultrasound waves to take pictures of your heart
Electrocardiography (EKG's): Placing electrodes on the body to measure electrical activity in the heart
Exercise stress testing: An exercise test that shows how your heart performs during exercise
When you arrive at Children's Heart Center, we will introduce you to a pediatric cardiologist who will oversee your child's treatment plan for such conditions as:
Programs and Services
Your child's cardiologist may connect you with a specialist in one of several fields including:
Electrophysiology
Exercise physiology
Pulmonary hypertension
Why Choose Children's Heart Center?
At Children's Heart Center, we use a team approach in order to decide the best treatment plan possible for your child.
At Children's Heart Center, we are also proud of our excellent support staff. Our nurse practitioners, sonographers, and registered nurses specialize in pediatric cardiology. In addition, our team of counselors and social workers are experts in helping children and their families handle everything from insurance questions to providing emotional support, too.
Come see how Children's Heart Center is helping children with cardiac conditions live happy, active, and productive lives.