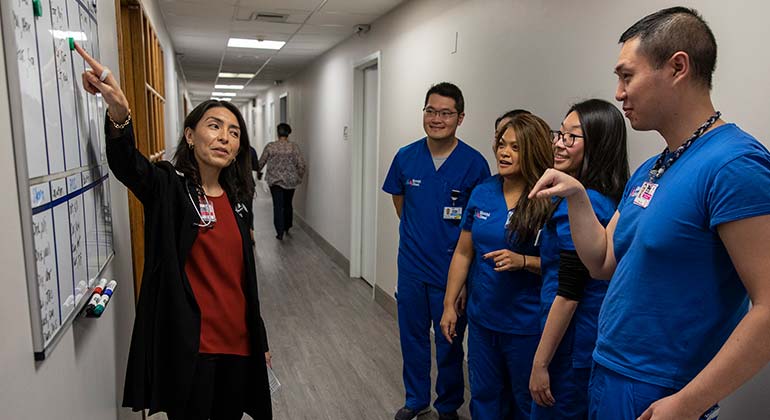 Our pediatric cardiologists and support staff at Mount Sinai Children's Heart Center, in partnership with Mount Sinai Fuster Heart Hospital, have the expertise to heal children's hearts. Through a uniquely personal and compassionate approach, we nurture the babies, children, and adults who are our patients.
We also have a special place for expectant parents of babies with heart conditions. Our Fetal Heart Program diagnoses fetal heart conditions. We do this while offering ongoing care to mothers through pregnancy and beyond birth.
We are your trusted partner for care. Our community of experts connects you with unique support services through our child and family support programs. We are family-centered, offering your whole family counseling and support services. Our patients and families return each year to celebrate and reconnect with our doctors and each other at a special Valentine's Day event.
Outstanding Care
The services and programs we offer include advanced cardiac imaging. Children's Heart Center performs over 2,400 fetal echocardiograms each year. We also offer genetic testing as well as outpatient cardiology services and cardiovascular surgery.
We treat all types of pediatric heart conditions and congenital heart defects. And when necessary, we perform heart transplants. Our team of doctors and support staff care for your child before, during and after each treatment and operation.
Convenient NYC Location
Mount Sinai Kravis Children's Hospital is directly next to Children's Heart Center. Here, we are able to offer a full range of care for your child. Your child's overall health and well-being is our mission. Conveniently located in New York City across from Central Park, we are home to world-renowned pediatric cardiac specialists. We welcome you warmly when you visit us.
How to Reach Us
To make an appointment or learn more, you can call us 24-hours a day. To reach Children's Heart Center, call us at 1-844-733-7692. To reach the Fetal Heart Program, call us at 1-844-692-3382.