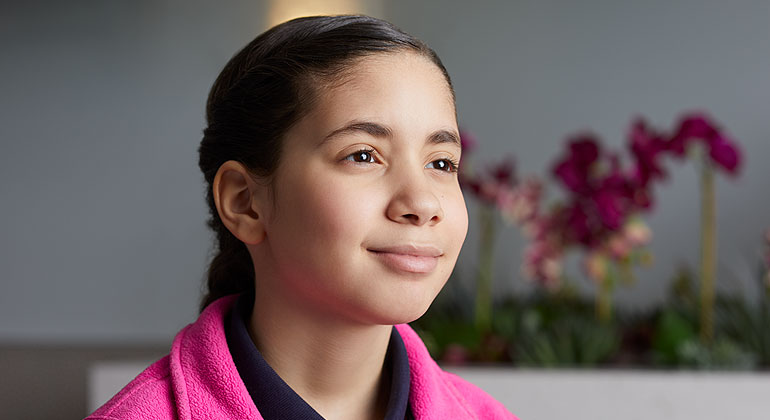 At Mount Sinai Kravis Children's Heart Center we offer a world-class cardiovascular genetics program for children of all ages and adults.
Our doctors and clinicians can help determine if there is a genetic reason for a certain heart condition, be it a structural heart defect, a connective tissue disorder, or a heart rhythm problem.
We make appointment scheduling easy. Call us today to meet with our team.
What You Can Expect On Your Visit
At Children's Heart Center, our cardiovascular genetics team consists of physician experts in pediatric and adult cardiology and clinical genetics, as well as genetic counselors.
You will be asked questions about any family history of heart, connective tissue or genetic conditions. Your provider will perform a careful physical examination and review diagnostic testing, which may include electrocardiography (EKG) or other heart rhythm testing, echocardiography (ultrasound imaging of the heart) and sometimes cardiac MRIs or CTs.
Depending on our findings, we may perform genetic testing from a blood sample. Some conditions have a specific test that can confirm a diagnosis. In other cases, based on other findings, we can make a diagnosis of a certain condition even in the absence of a positive genetic test. Also, even if previous genetic testing has been negative, there are constantly new developments and discoveries, so we may have additional testing to offer you.
Conditions
Aortic and vascular diseases
Ehlers-Danlos syndrome
Familial thoracic aortic aneurysm and/or dissection
Hereditary hemorrhagic telangiectasia
Loeys-Dietz syndrome
Marfan syndrome
Congenital heart defects and syndromes
Alagille syndrome
Chromosome abnormalities and microdeletions
Heterotaxy syndrome
Noonan syndrome
Familial rhythm disorders
Brugada syndrome
Catecholaminergic polymorphic ventricular tachycardia
Long QT syndrome
Sudden cardiac death/cardiac arrest
Inherited heart muscle diseases
Arrhythmogenic right ventricular dysplasia/cardiomyopathy
Dilated cardiomyopathy
Hypertrophic cardiomyopathy
Left ventricular non-compaction cardiomyopathy
Neurodevelopmental Issues

Sometimes, neurodevelopmental problems may be related to an underlying genetic issue. This may prompt us to send certain types of genetic testing. These tests can help explain why a child has the neurodevelopmental issues in addition to their heart problem.
Treatment

Treatment for you or your child will vary depending on the underlying genetic condition and heart issue. Our cardiologists will be able to determine the best course of therapy.
For structural heart issues that require catheter intervention or surgery, Children's Heart Center's interventional cardiology and cardiac surgical services are second to none.
Some issues are best managed with medication, including some of the heart rhythm problems.
Our electrophysiology and arrhythmia services can help for any patient that may need advanced procedures such as pacemakers, implantable defibrillators, or ablations.
Still, for other conditions, no treatment is necessary. However, we can continue to follow and monitor any condition that needs careful observation.
An advantage of a genetic diagnosis is that it can clue us into other organ systems that may need to be evaluated. We can refer you or your child to any appropriate specialist, be it a neurologist, ophthalmologist or anyone else. We can also help test family members to determine if they may be a carrier for a particular condition. This is especially helpful for parents planning future pregnancies.
Why Choose Children's Heart Center?
At Children Heart's Center, we are dedicated to providing world-class genetics testing and counseling for heart conditions. Some of the leaders in the field of cardiovascular genetics call Mount Sinai home and are available to you. We will involve you and your family in every decision we make. This way, you will be empowered to be you or your child's own best advocate for excellent care.
Our team will be there to guide your family from pregnancy through adulthood. At Children's Heart Center, we are with you for life.