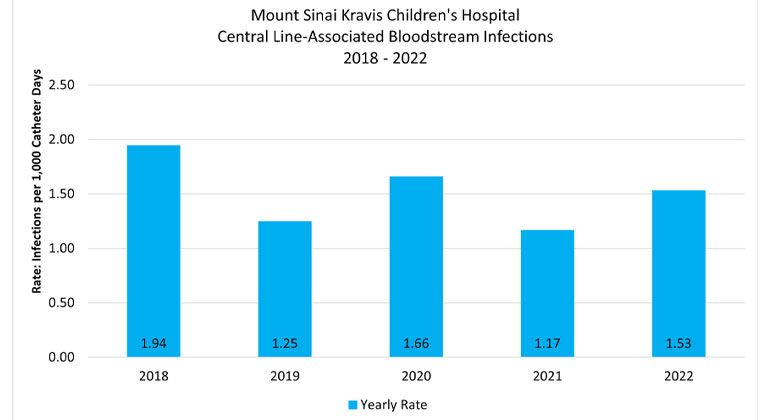 Central Line-Associated Blood Stream Infection
What is a central line and a central line-associated blood stream infection (CLABSI)?

When a child is in the hospital, they may need to have a small tube placed in a large blood vessel in their body. This tube is called a central venous catheter, or a central line. Central lines are needed to give medications and fluid to children to help treat their sickness. There are risks to having a central line, including a central line-associated blood stream infection (CLABSI).
CLABSI can cause harm to a child, and preventing harm related to CLABSI is an important part of Mount Sinai Kravis Children's Hospitals' patient safety program. Our goal is zero harm. To prevent CLABSI, we care for every child's central line using proven prevention strategies. We also review every CLABSI as a team so we can learn how to prevent future events.
How do we track CLABSI?
Each month, we compare the number of CLABSI that occurred to the number of days that all of our patients had central lines to calculate a rate. This rate helps us measure how well our CLABSI prevention methods are working. Below is a graph of our yearly CLABSI rate over time. While CLABSI is a rare complication, our goal is to eliminate all harm associated with central lines.
How do we prevent CLABSI?
The methods we use to prevent CLABSI when a central line is being placed include hand hygiene, cleaning the insertion site with a skin disinfectant, and using sterile supplies, sterile clothing, and standard procedures every time we place a central line. The methods we use to prevent CLABSI after the line is inserted include daily discussion of line necessity, regular dressing changes, and standardized procedures for any time we are using central lines. We have a CLABSI prevention committee which includes nurse champions on every unit as well as multidisciplinary team members and family advisors who help monitor how well prevention methods are being followed and come up with ways to improve.
How we partner with other hospitals to improve patient safety:
We submit our CLABSI rate and data on how well we are following CLABSI prevention methods to a national collaborative, called Children's Hospitals' Solutions for Patient Safety (SPS). We are part of a group of more than 145 hospitals in SPS who are committed to a culture of safety and who have agreed to not compete on safety with a motto of "all teach, all learn." Kravis Children's Hospital contributes to the SPS network by sharing our data and best practices regarding patient safety.
How we partner with children and families:
We truly value the partnership of our patients and families to prevent central line infection. We encourage all patients and families with a central line to:
Ask your nurse or provider any questions you may have
Request any needed changes for the safest care of your child's line
Express any concerns you have
Remind friends and family NOT to touch the central line or tubing