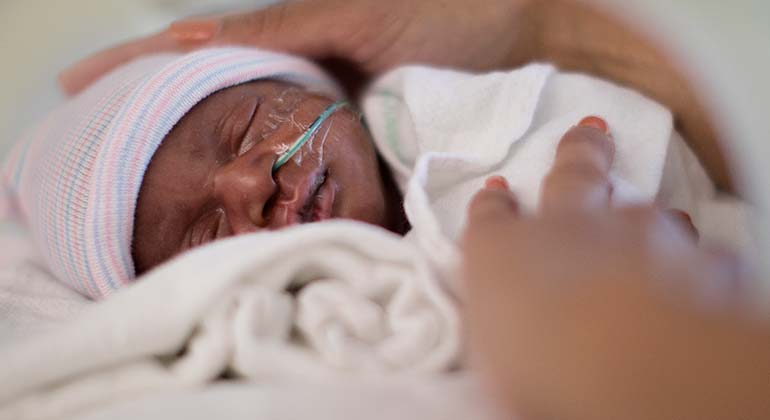 Neonatal Renal Replacement Therapy
If an infant's kidneys aren't working properly, they need high-quality care. We can help. The Mount Sinai Kravis Children's Hospital's Neonatal Intensive Care Unit team, working with the Division of Pediatric Nephrology, offers specialized care for these newborns. Our neonatologists, pediatric nephrologists, nurses, and geneticists work within the Neonatal Intensive Care Unit (NICU). We are expert at managing all primary renal disorders and complications. We use the most advanced therapies and technologies.
One of the most important tools we use is neonatal renal replacement therapy (RRT). The equipment and procedures support your child's kidney function when their own kidneys can't adequately do the job. It helps the kidneys filter waste products and maintain proper fluid and electrolyte balance. There are several forms of RRT that filter blood, including:
Peritoneal dialysis: Use of the belly lining
Hemodialysis: Use of a dialysis machine and artificial kidney
Continuous venovenous or arteriovenous hemofiltration: Use of a dialysis catheter
To provide this care, we use the Cardio-Renal Pediatric Dialysis Emergency Machine system. This advanced machine system was designed especially for newborn kidney patients.
We use neonatal RRT in several situations, including:
Acute kidney injury: This is a sudden episode of kidney failure. It can be caused by a number of factors, including prematurity, infection, and low blood pressure.
Congenital kidney anomalies: Some babies are born with kidney conditions that require immediate care.
Inborn errors of metabolism: This rare genetic disorder can cause toxic levels of ammonia or other substances. While the kidneys may be working well, we sometimes use RRT to rapidly remove the toxic substance from the body.
Why Mount Sinai Kravis Children's Hospital
At Mount Sinai's Kravis Children's Hospital, we provide top-notch care for your little one. Advantages we offer include:
Advanced technology and infrastructure: Our NICU has state-of-the-art RRT equipment specially designed for newborns. These devices provide gentle and precise therapy.
Experienced neonatal care team: Our neonatologists, pediatric nephrologists, nurses, and specialized support staff work together to provide comprehensive care. Our team's experience and expertise ensure the best outcomes.
Tailored treatment plans: We understand that each newborn's condition is unique. Our team develops personalized RRT treatment plans based on your child's specific needs. We monitor your baby's progress throughout their stay in the NICU.
Parental support: We see parents as partners in their baby's care journey. To empower you to participate in your baby's care, we provide education, guidance, and emotional support. We are here to answer questions and explain what is going on.
Team approach: Our NICU works closely with other specialties to provide comprehensive care. These specialists include pediatric nephrologists and geneticists.
Continuity of care: After your baby's condition is stabilized, your family can continue care with the same team of medical experts. If your child requires a kidney or liver transplant, we can meet that need, as well. We have excellent outcomes; don't hesitate to ask about our data. We can even provide or suggest primary care doctors. In addition, we will give you a long-term follow-up plan that works for you and your primary care doctors.
At Mount Sinai Kravis Children's Hospital, we offer advanced kidney care. We are committed to staying at the forefront of neonatal care advancements and are always working to improve our treatment strategies. We are here for you and your family.