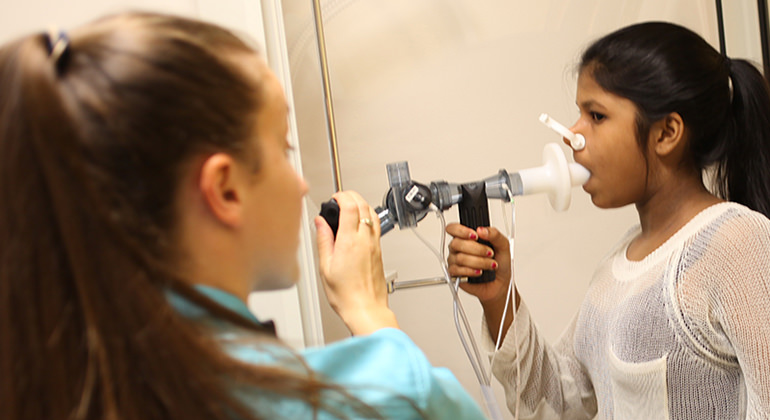 Asthma is one of the most common chronic childhood disorders and the number of incidents is on the rise. Children with asthma often miss out on school, sports, and other activities because of their symptoms. At the Mount Sinai Children's Asthma Center, we provide state-of-the-art care to treat and manage this respiratory disorder.
We treat a variety of asthma-related conditions including chronic asthma, exercise-induced asthma, chronic cough, chronic rhinitis and sinusitis, and wheezing in infants. Our pediatric pulmonary specialists are experts in identifying asthma triggers and working with parents to design personalized asthma action plans.
Our pediatric pulmonary experts develop a comprehensive treatment program for your child that combines these components:
Pulmonary function testing
Allergy testing
Environmental assessment
Nutritional evaluation
Education
Family services
Educational and Social Services
All patients admitted to Kravis Children's Hospital for an asthma attack receive one-on-one, point-of-care educational and social services by Joanna Cabrera, MSW and Gabriela Espinosa, MSW. We can also provide educational and social services in an outpatient setting through our certified asthma educators and by offering referrals to community resources.
Complex Asthma Program
Sometimes, despite the best efforts of physicians, nurses and other asthma care staff, patients continue to experience uncontrollable symptoms that do not respond to very aggressive therapy. The complex asthma program, directed by Alfin Vicencio, MD and Samantha Rose, PNP, was created to address the needs of such patients. Referrals to this program are typically initiated by other asthma care specialists, including pulmonologists, and allergists. During the initial evaluation, Dr. Vicencio and Samantha Rose will investigate the possibility that alternate disease processes that mimic asthma may be present, and they will initiate diagnostic testing to identify specific "sub-types" of asthma that may require alternate treatment plans. Personalized, non-steroid therapies such as omalizumab or mepolizumab are often an important part of therapy, and enrollment into severe/refractory asthma studies is available for many patients.