Sweat electrolytes test
Sweat test; Sweat chloride; Iontophoretic sweat test; CF - sweat test; Cystic fibrosis - sweat test
Sweat electrolytes is a test that measures the level of chloride in sweat. Sweat chloride test is the standard test used to diagnose cystic fibrosis (CF).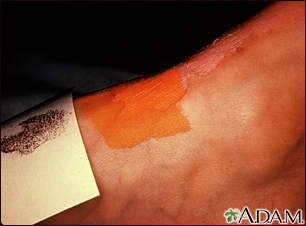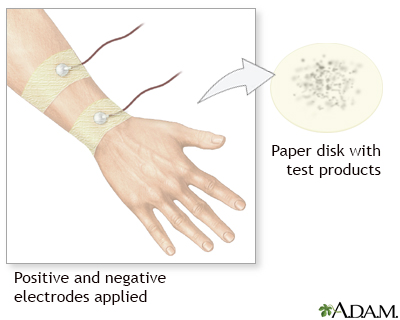 How the Test is Performed
A colorless, odorless chemical that causes sweating is applied to a small area on an arm or leg. An electrode is then attached to the spot. A weak electrical current is sent to the area to stimulate sweating.
People may feel a tingling in the area, or a feeling of warmth. This part of the procedure lasts for about 5 minutes.
Next, the stimulated area is cleaned and the sweat is collected on a piece of filter paper or gauze, or in a plastic coil.
After 30 minutes, the collected sweat is sent to a hospital lab to be tested. The collection takes about 1 hour.
How to Prepare for the Test
No special steps are needed before this test.
How the Test will Feel
The test is not painful. Some people have a tingling feeling at the site of the electrode. This feeling may cause discomfort in small children.
Why the Test is Performed
Sweat testing is the standard method for diagnosing cystic fibrosis. People with cystic fibrosis have higher amounts of sodium and chloride in their sweat that are detected by the test.
Some people are tested because of symptoms they are having. In the United States, newborn screening programs test for cystic fibrosis. The sweat test is used to confirm these results.
Parents can pass all kinds of different traits to their children, from blue eyes to blonde hair. Sometimes, parents can also pass the genes for certain diseases to their kids. Cystic fibrosis is one very serious inherited disease that makes it hard for children to breathe and digest food. Let's talk about cystic fibrosis. Genes are the coded instructions that tell our bodies how to operate. Usually, the code is correct and everything runs smoothly. But sometimes, the code is incorrect because of a defective gene or genes. In the case of cystic fibrosis, a faulty gene causes the body to produce an abnormally thick, sticky fluid called mucus. This mucus clogs the lungs, making it hard to breathe. It also gets stuck in the pancreas, making it harder for the body to break down and digest food. Millions of Americans carry the cystic fibrosis, or CF gene. Fortunately, most of them don't have cystic fibrosis. That's because you need to inherit one faulty gene from each parent to actually get the disease. Kids who are born with cystic fibrosis start showing signs very early. Newborns don't grow or gain weight as quickly as they should, and they don't make bowel movements because their bodies aren't digesting food properly. As these children get older, they may have symptoms like coughing and fatigue from the mucus in their lungs, and nausea and stomach pain from the mucus in their pancreas. They'll also get pneumonia and other lung infections more often than normal. So, you may now be asking, how do you know if your child has cystic fibrosis? Doctors diagnose cystic fibrosis using a blood test that looks for the CF gene. There is also a sweat test, which looks for saltier-than-normal sweat, another symptom of cystic fibrosis. Doctors may use other tests, such as a chest x-ray or upper GI series, to check for lung and bowel problems caused by CF. It's a good idea to get treated at a center that specializes in cystic fibrosis because they're up on all the latest therapies. For lung problems, treatments include inhaled medicines to open the airways, medicine to thin mucus and make it easier to cough up, and antibiotics to prevent lung infections. Some people may eventually need a lung transplant. For bowel problems, you'll need to eat a special diet that's higher in protein and calories to make up for the nutrients you're losing. You may also take vitamin supplements. The outlook for people with cystic fibrosis is better today than ever before. Thanks to new treatments, people with this disease can live well into adulthood. They can go to school, play sports, and get a job like everyone else. But because the symptoms of cystic fibrosis are so serious, it's very important to stay on top of treatment, and to call the doctor right away if symptoms get worse. Anyone with a family history of the disease may want to get screened for the CF gene before they decide to have children.
Normal Results
Normal results include:
A sweat chloride test result of less than 30 mmol/L in all populations means cystic fibrosis is less likely.
A result between 30 to 59 mmol/L does not give a clear diagnosis. Further testing is needed.
If the result is 60 mmol/L or greater, cystic fibrosis is present.
Note: mmol/L = millimole per liter
Normal value ranges may vary slightly among different laboratories. Talk to your health care provider about the meaning of your specific test results.
Some conditions, such as dehydration or swelling (edema) can affect the test results.
What Abnormal Results Mean
An abnormal test may mean that the child has cystic fibrosis. Results can also be confirmed by CF gene mutation panel testing.
Egan ME, Schechter MS, Voynow JA. Cystic fibrosis. In: Kliegman RM, St. Geme JW, Blum NJ, Shah SS, Tasker RC, Wilson KM, eds. Nelson Textbook of Pediatrics. 21st ed. Philadelphia, PA: Elsevier; 2020:chap 432.
Farrell PM, White TB, Ren CL, et al. Diagnosis of cystic fibrosis: consensus guidelines from the Cystic Fibrosis Foundation. J Pediatr. 2017;181S:S4-S15.e1. PMID: 28129811 pubmed.ncbi.nlm.nih.gov/28129811/.
Siddiqi HA, Rabinowitz S, Axiotis CA. Laboratory diagnosis of gastrointestinal and pancreatic disorders. In: McPherson RA, Pincus MR, eds. Henry's Clinical Diagnosis and Management by Laboratory Methods. 24th ed. Philadelphia, PA: Elsevier; 2022:chap 23.
Version Info
Last reviewed on: 4/25/2023
Reviewed by: Charles I. Schwartz, MD, FAAP, Clinical Assistant Professor of Pediatrics, Perelman School of Medicine at the University of Pennsylvania, General Pediatrician at PennCare for Kids, Phoenixville, PA. Also reviewed by David C. Dugdale, MD, Medical Director, Brenda Conaway, Editorial Director, and the A.D.A.M. Editorial team.