Lyme disease blood test
Lyme disease serology; ELISA for Lyme disease; Western blot for Lyme disease
The Lyme disease blood test looks for antibodies in the blood to the bacteria that causes Lyme disease. The test is used to help diagnose Lyme disease.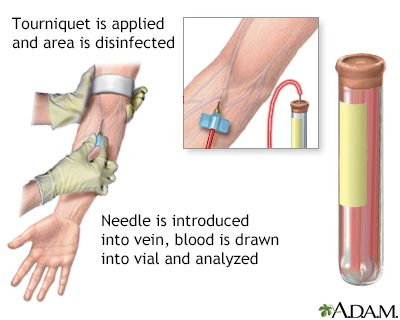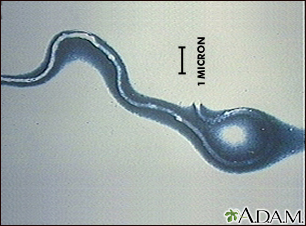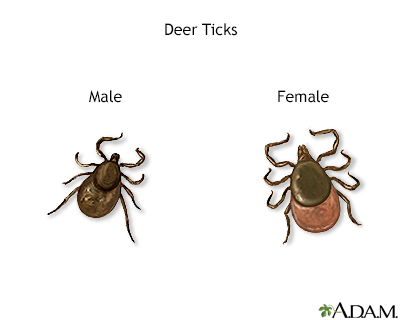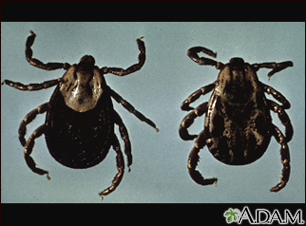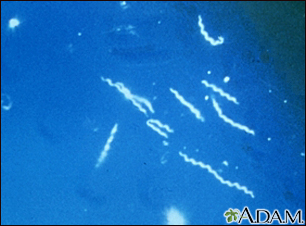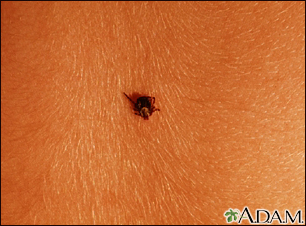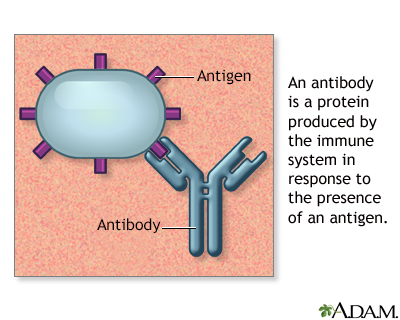 Having a tick attached to your body isn't just getting a little too close to nature. The tick can make you seriously ill with Lyme disease. Lyme disease is caused by bacteria called Borrelia burgdorferi. Blacklegged ticks carry these bacteria. The ticks pick up the bacteria when they bite mice or deer that are infected with Lyme disease. You can get the disease if you are bitten by an infected tick, mostly in northeastern states and on the West Coast. The good news is that usually a tick has to be attached to your body for 24 to 36 hours to infect you. The bad news is that blacklegged ticks are so small they're almost impossible to see. Many people with Lyme disease never even see a tick on their body. But most people bitten by a tick do NOT get Lyme disease. So, how do you know for sure that you have Lyme disease? The flu-like symptoms of Lyme disease usually start days or weeks after you've been bitten. You might have Itching all over your body; Chills, fever, and light headedness; Or perhaps a Headache, muscle pain, and a stiff neck. You'll probably see a bull's eye rash on your body. It can get pretty big. After a few weeks, the muscles in your face might feel weak or even paralyzed. Your knees and other joints may swell and hurt. You might even notice your heart skipping some beats. Eventually, your muscles might move strangely, you may feel numbness or tingling, and you may start to have trouble speaking. A doctor will test your blood for antibodies that are trying to fight the bacteria in your blood. One of these tests is called the ELISA test, and you'll often have a second test called the Western blot test to confirm you have Lyme disease. To treat Lyme disease, you may need to take antibiotics for up to a month. Pain medicines from the drug store can help soothe your joint stiffness. If it's caught early, Lyme disease is pretty easily treated. Without treatment, you can have heart, muscle, and even nerve problems. So the next time you're out in the woods or high grass, wear protective clothing, and do check yourself for ticks once you get home.
How the Test is Performed
A blood sample is needed.
A laboratory specialist looks for Lyme disease antibodies in the blood sample using the ELISA test. If the ELISA test is positive, it must be confirmed with another test called the Western blot test.
How to Prepare for the Test
You do not need special steps to prepare for this test.
How the Test will Feel
When the needle is inserted to draw blood, some people feel moderate pain. Others feel only a prick or stinging. Afterward, there may be some throbbing or a slight bruise. This soon goes away.
Why the Test is Performed
The test is done to help confirm the diagnosis of Lyme disease.
Normal Results
A negative test result is normal. This means none or few antibodies to Lyme disease were seen in your blood sample. If the ELISA test is negative, usually no other testing is needed.
Normal value ranges may vary slightly among different laboratories. Some labs use different measurements or test different samples. Talk to your health care provider about the meaning of your specific test results.
What Abnormal Results Mean
A positive ELISA result is abnormal. This means antibodies were seen in your blood sample. But, this does not confirm a diagnosis of Lyme disease. A positive ELISA result must be followed up with a Western blot test. Only a positive Western blot test can confirm the diagnosis of Lyme disease.
For many people, the ELISA test remains positive, even after they have been treated for Lyme disease and no longer have symptoms.
A positive ELISA test may also occur with certain diseases not related to Lyme disease, such as rheumatoid arthritis.
Risks
There is little risk involved with having your blood taken. Veins and arteries vary in size from one person to another and from one side of the body to the other. Taking blood from some people may be more difficult than from others.
Other risks associated with having blood drawn are slight but may include:
Fainting or feeling lightheaded
Multiple punctures to locate veins
Hematoma (blood buildup under the skin)
Excessive bleeding
Infection (a slight risk any time the skin is broken)
Nikolic D. Spirochete infections. In: McPherson RA, Pincus MR, eds. Henry's Clinical Diagnosis and Management by Laboratory Methods. 24th ed. Philadelphia, PA: Elsevier; 2022:chap 61.
Steere AC. Lyme disease (Lyme borreliosis) due to Borrelia burgdorferi. In: Bennett JE, Dolin R, Blaser MJ, eds. Mandell, Douglas, and Bennett's Principles and Practice of Infectious Diseases. 9th ed. Philadelphia, PA: Elsevier; 2020:chap 241.
Version Info
Last reviewed on: 11/23/2021
Reviewed by: Jatin M. Vyas, MD, PhD, Associate Professor in Medicine, Harvard Medical School; Associate in Medicine, Division of Infectious Disease, Department of Medicine, Massachusetts General Hospital, Boston, MA. Also reviewed by David Zieve, MD, MHA, Medical Director, Brenda Conaway, Editorial Director, and the A.D.A.M. Editorial team.