Apolipoprotein B100
ApoB100; Apoprotein B100; Hypercholesterolemia - apolipoprotein B100
Apolipoprotein B100 (apoB100) is a protein that plays a role in moving cholesterol around your body. It is a form of low density lipoprotein (LDL).
Mutations (changes) in the gene that directs the body's production of apoB100 can cause a condition called familial hypercholesterolemia. This is a form of high blood cholesterol that is passed down in families (inherited).
This article discusses the test used to measure the level of apoB100 in the blood.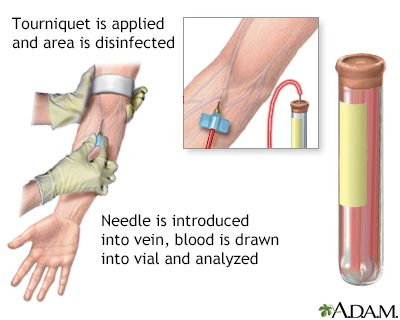 Maybe you've been eating fast food more often than you should, or you're not getting your recommended two-and-a-half hours of exercise each week. Or, it could be that you smoke, or your blood pressure is too high. Well, for whatever reason, you may be concerned about your risk of getting heart disease. Well, a few tests can help you learn that risk, so you can start making healthy lifestyle changes to reduce it. A coronary risk profile is a group of blood tests that measure your cholesterol and triglyceride levels. Why is it important to know these levels? Because if you have too much of these substances in your blood from eating foods like burgers and French fries, they can clog your arteries. Eventually your arteries can become so clogged that you'll have a heart attack or stroke. Men should have their cholesterol tested by the time they're 35. Women should have it checked by age 45. If you have a condition like diabetes, heart disease, stroke, or high blood pressure, have your cholesterol checked now, no matter what your age. To measure your cholesterol, your doctor will give you a blood test. If you're also having your triglyceride level checked, you may be told not to eat or drink anything for 8 to 12 hours before the test. Depending upon your heart risk, the doctor may measure just your total cholesterol level, or your total cholesterol along with your LDL, or bad cholesterol, HDL, or good cholesterol, and triglycerides. If you're of average risk of getting heart disease, your goal is to have total cholesterol of less than 200 milligrams per deciliter, LDL cholesterol lower than 130 milligrams per deciliter, HDL cholesterol higher than 40 milligrams per deciliter if you're a man, or 50 if you're a woman -- the higher the better, and triglycerides of less than 150 also, the lower the better. Although some illnesses, like arthritis, can raise your cholesterol level, generally having high cholesterol means that you're at increased risk for heart disease and stroke. It's a sign you need to work harder to keep your heart healthy. If your cholesterol levels are normal, that's great! That means that you're eating right, you're exercising, and you're taking good care of your health. You don't need to have another cholesterol test for about five years. But if your cholesterol level is high, or you've already got heart disease, high blood pressure, or diabetes, you'll need to have your cholesterol levels checked more often. Keeping close tabs on your cholesterol and triglyceride levels is one way that you can take charge of your health, and change it for the better.
How the Test is Performed
How to Prepare for the Test
Your health care provider may tell you not to eat or drink anything for 4 to 6 hours before the test.
How the Test will Feel
When the needle is inserted to draw blood, you may feel moderate pain, or only a prick or stinging sensation. Afterward, there may be some throbbing.
Why the Test is Performed
Most often, this test is done to help determine the cause or specific type of high blood cholesterol. It is not clear whether the information helps improve treatment. Because of this, most health insurance companies do not pay for the test. If you do not have a diagnosis of high cholesterol or heart disease, this test may not be recommended for you.
Normal Results
The normal range is about 50 to 150 mg/dL.
Normal value ranges may vary slightly among different laboratories. Some laboratories use different measurements or may test different specimens. Talk to your provider about the meaning of your specific test results.
What Abnormal Results Mean
An abnormal result may mean you have high lipid (fat) levels in your blood. A medical term for this is hyperlipidemia.
Other disorders that may be associated with high apoB100 levels include atherosclerotic vascular disease such as angina pectoris (chest pain that occurs with activity or stress) and heart attack.
Risks
Risks linked with having blood drawn are slight, but may include:
Excessive bleeding
Fainting or feeling lightheaded
Hematoma (blood buildup under the skin)
Infection (a slight risk any time the skin is broken)
Multiple punctures to locate veins
Considerations
Apolipoprotein measurements may provide more detail about your risk for heart disease, but the added value of this test beyond a lipid panel is unknown.
Fazio S, Linton MF. Regulation and clearance of apolipoprotein B-containing lipoproteins. In: Ballantyne CM, ed. Clinical Lipidology: A Companion to Braunwald's Heart Disease. 2nd ed. Philadelphia, PA: Elsevier; 2015:chap 2.
Genest J, Mora S, Libby P. Lipoprotein disorders and cardiovascular disease. In: Libby P, Bonow RO, Mann DL, Tomaselli GF, Bhatt DL, Solomon SD, eds. Braunwald's Heart Disease: A Textbook of Cardiovascular Medicine. 12th ed. Philadelphia, PA: Elsevier; 2022:chap 27.
Libby P. The vascular biology of atherosclerosis. In: Libby P, Bonow RO, Mann DL, Tomaselli GF, Bhatt DL, Solomon SD, eds. Braunwald's Heart Disease: A Textbook of Cardiovascular Medicine. 12th ed. Philadelphia, PA: Elsevier; 2022:chap 24.
Meeusen JW, Ueda M, Nordestgaard BG, Remaley AT. Lipids and lipoproteins. In: Rifai N, Chiu RWK, Young I, Burnham C-A D, Wittwer CT, eds. Tietz Textbook of Laboratory Medicine. 7th ed. St Louis, MO: Elsevier; 2023:chap 36.
Robinson JG. Disorders of lipid metabolism. In: Goldman L, Schafer AI, eds. Goldman-Cecil Medicine. 26th ed. Philadelphia, PA: Elsevier; 2020:chap 195.
Version Info
Last reviewed on: 5/8/2022
Reviewed by: Michael A. Chen, MD, PhD, Associate Professor of Medicine, Division of Cardiology, Harborview Medical Center, University of Washington Medical School, Seattle, WA. Also reviewed by David C. Dugdale, MD, Medical Director, Brenda Conaway, Editorial Director, and the A.D.A.M. Editorial team.