ACE blood test
Serum angiotensin-converting enzyme; SACE
The ACE test measures the level of angiotensin-converting enzyme (ACE) in the blood.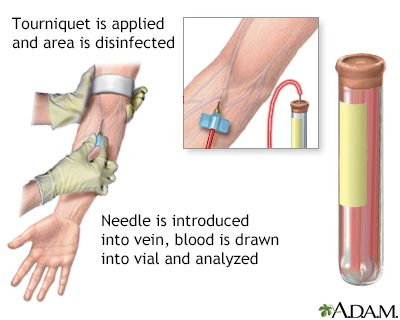 How the Test is Performed
How to Prepare for the Test
Follow your health care provider's instructions for not eating or drinking for up to 12 hours before the test. If you are on steroid medicine, ask your provider if you need to stop the medicine before the test, because steroids can decrease ACE levels. Do not stop any medicine before talking to your provider.
How the Test will Feel
When the needle is inserted to draw blood, some people feel moderate pain. Others feel only a prick or stinging. Afterward, there may be some throbbing or slight bruising. This soon goes away.
Why the Test is Performed
This test is most often ordered to help diagnose and monitor a disorder called sarcoidosis. People with sarcoidosis may have their ACE level tested regularly to check how severe the disease is and how well treatment is working.
This test may also help confirm a diagnosis of Gaucher disease.
Normal Results
Normal values vary based on your age and the test method used. Adults have an ACE level less than 40 micrograms/L.
Normal value ranges may vary slightly among different laboratories. Some labs use different measurements or test different samples. Talk to your doctor about the meaning of your specific test results.
What Abnormal Results Mean
Higher than normal ACE level may be a sign of sarcoidosis. ACE levels may rise or fall as sarcoidosis worsens or improves.
A higher than normal ACE level may also be seen in several other diseases and disorders, including:
Lower than normal ACE level may indicate:
Chronic liver disease
Chronic kidney failure
Eating disorder called anorexia nervosa
Steroid therapy (usually prednisone)
Therapy for sarcoidosis
Underactive thyroid (hypothyroidism)
Risks
There is little risk involved with having your blood taken. Veins and arteries vary in size from one person to another and from one side of the body to the other. Taking blood from some people may be more difficult than from others.
Other risks associated with having blood drawn are slight, but may include:
Excessive bleeding
Fainting or feeling lightheaded
Hematoma (blood buildup under the skin)
Infection (a slight risk any time the skin is broken)
Multiple punctures to locate veins
Nakamoto J. Endocrine testing. In: Jameson JL, De Groot LJ, de Kretser DM, et al, eds. Endocrinology: Adult and Pediatric. 7th ed. Philadelphia, PA: Elsevier Saunders; 2016:chap 154.
Pincus MR, Carty RP. Clinical enzymology. In: McPherson RA, Pincus MR, eds. Henry's Clinical Diagnosis and Management by Laboratory Methods. 24th ed. Philadelphia, PA: Elsevier; 2022:chap 21.
Young WF. Endocrine hypertension. In: Melmed S, Auchus, RJ, Goldfine AB, Koenig RJ, Rosen CJ, eds. Williams Textbook of Endocrinology. 14th ed. Philadelphia, PA: Elsevier; 2020:chap 16.
Version Info
Last reviewed on: 11/5/2021
Reviewed by: David C. Dugdale, III, MD, Professor of Medicine, Division of General Medicine, Department of Medicine, University of Washington School of Medicine, Seattle, WA. Also reviewed by David Zieve, MD, MHA, Medical Director, Brenda Conaway, Editorial Director, and the A.D.A.M. Editorial team.