Tonsillectomies and children
Children and tonsillectomies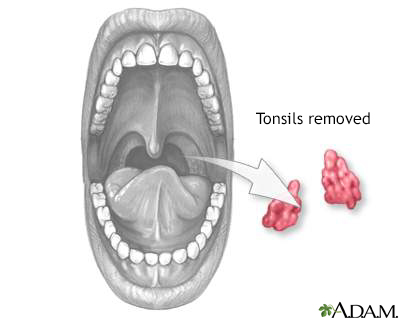 Information
Today, many parents wonder if it is wise for children to have the tonsils taken out. Tonsillectomy may be recommended if your child has any of the following:
Difficulty swallowing
Obstructed breathing during sleep
Throat infections or throat abscesses that keep returning
In most cases, inflammation of the tonsils can be successfully treated with antibiotics. There are always risks associated with surgery.
You and your child's health care provider may consider a tonsillectomy if:
Your child has frequent infections (7 or more times in 1 year, 5 or more times over 2 years, or 3 or more times over 3 years).
Your child misses a lot of school.
Your child snores, has trouble breathing, and has sleep apnea.
Your child has an abscess or growth on their tonsils.
If your child often has a sore throat, trouble swallowing, and ear pain, she may need to have her tonsils removed. This procedure is called a Tonsillectomy. The tonsils are small, dimpled, golf ball-like nodes on either side of the back of your child's throat. They normally filter out bacteria and other germs to prevent infection in the body. If the tonsils become so overwhelmed with bacteria from strep throat or a viral infection, they can swell and become inflamed, causing tonsillitis. Although the tonsils are part of your child's immune system, and aren't removed routinely anymore, if your child has repeated infections or has trouble breathing from inflamed tonsils, she may need to have this tonsil removal surgery. Before the procedure, your child's doctor may ask your child to have blood tests or a physical examination. You should tell your doctor what drugs your child is taking, or any vitamins you have bought without a prescription. On the day of surgery, your child will usually be asked not to drink or eat anything for several hours before the surgery, and make sure you give your child any drugs your doctor told you to give your child with a small sip of water. So, what happens during a tonsillectomy? Your child will be given general anesthesia. She'll be asleep and unable to feel pain. The surgeon will insert a small tool into your child's mouth to prop it open. Then the surgeon will cut or burn away the tonsils. The doctor will control bleeding, and the cuts will heal naturally without stitches. When will my child go home? Your child will probably go home the same day as surgery. Complete recovery takes about one to two weeks. During the first week or so, your child should avoid people who are sick so she doesn't become infected easily. Have your child gently gargle often with baking soda mixed with water. Soft foods and cool drinks will make her throat feel better too. Tonsillectomy is one of the most common reasons children have surgery. But surgery doesn't have to be all bad. Your child can look forward to a steady diet of pudding, ice cream, and other soft and fun foods, until they feel better. And your child can hopefully look forward to fewer sore throats and ear infections in the future.
Goldstein NA. Evaluation and management of pediatric obstructive sleep apnea. In: Lesperance MM, ed. Cummings Pediatric Otolaryngology. 2nd ed. Philadelphia, PA: Elsevier; 2022:chap 3.
Mitchell RB, Archer SM, Ishman SL, et al. Clinical Practice Guideline: tonsillectomy in children (update). Otolaryngol Head Neck Surg. 2019;160(1_suppl):S1-S42. PMID: 30798778 pubmed.ncbi.nlm.nih.gov/30798778/.
Wetmore RF. Tonsils and adenoids. In: Kliegman RM, St. Geme JW, Blum NJ, Shah SS, Tasker RC, Wilson KM, eds. Nelson Textbook of Pediatrics. 21st ed. Philadelphia, PA: Elsevier; 2020:chap 411.
Version Info
Last reviewed on: 8/10/2021
Reviewed by: Neil K. Kaneshiro, MD, MHA, Clinical Professor of Pediatrics, University of Washington School of Medicine, Seattle, WA. Also reviewed by David Zieve, MD, MHA, Medical Director, Brenda Conaway, Editorial Director, and the A.D.A.M. Editorial team.