Rape (sexual assault) - overview
Sex and rape; Date rape; Sexual assault; Rape; Intimate partner sexual violence; Sexual violence - incest
Sexual violence is any sexual activity or contact that occurs without your consent. It may involve physical force or the threat of force. It may occur due to coercion or threats. If you have been the victim of sexual violence, it is not your fault. Sexual violence is never the victim's fault.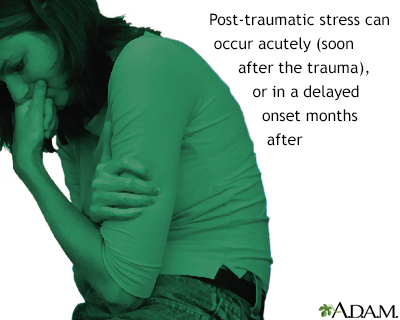 Information
Sexual assault, sexual abuse, incest, and rape are all types of sexual violence. Sexual violence is a serious public health problem. It affects people of every:
Age
Gender
Sexual orientation
Ethnicity
Intellectual ability
Socioeconomic class
Sexual violence occurs more often in women, but men are also victims. About 1 in 5 women and 1 in 71 men in the United States have been the victim of completed or attempted rape (forced penetration) in their lifetime. However, sexual violence is not limited to rape.
Sexual violence is most often committed by men. It is often someone the victim knows. The perpetrator (person inflicting sexual violence) may be a:
Friend
Coworker
Neighbor
Intimate partner or spouse
Person in a position of authority or influence in the victim's life
The legal definitions of sexual violence or sexual assault vary from state to state. According to the Centers for Disease Control and Prevention, sexual violence includes any of the following:
Completed or attempted rape. The rape may be vaginal, anal, or oral. It may involve the use of a body part or an object.
Forcing a victim to penetrate the perpetrator or someone else, whether attempted or completed.
Pressuring a victim to submit to being penetrated. The pressure may involve threatening to end a relationship or to spread rumors about the victim, or the misuse of authority or influence.
Any unwanted sexual contact. This includes touching the victim on the breast, genitals, inner thigh, anus, butt, or groin on bare skin or through clothing.
Making the victim touch the perpetrator by using force or intimidation.
Sexual harassment or any unwanted sexual experience that does not involve touching. This includes verbal abuse or sharing unwanted pornography. It may occur without the victim knowing about it.
Acts of sexual violence may occur because the victim can't consent due to the use of alcohol or drugs. The alcohol or drug use may be willing or unwilling. Regardless, the victim is not at fault.
It's important to know that past sexual contact does not imply consent. Any sexual contact or activity, physical or non-physical, requires that both people agree to it freely, clearly, and willingly.
A person cannot give consent if they:
Are below the legal age of consent (may vary by state)
Have a mental or physical disability
Are asleep or unconscious
Are too intoxicated
WAYS TO RESPOND TO UNWANTED SEXUAL CONTACT
If you are being pressured into sexual activity you do not want, these tips from RAINN (Rape, Abuse, and Incest National Network) may help you safely get out of the situation:
Remember that it is not your fault. You are never obligated to act in a way you do not want to act. The person pressuring you is responsible.
Trust your feelings. If something doesn't feel right or comfortable, trust that feeling.
It is fine to make excuses or lie so you can exit the situation. Don't feel bad in doing so. You can say you suddenly feel sick, have to attend to a family emergency, or just need to go to the bathroom. If you can, call a friend.
Look for a way to escape. Look for the nearest door or window you can get to quickly. If people are nearby, think about how to get their attention. Think about where to go next. Do what you can to stay safe.
Plan ahead to have a special code word with a friend or family member. Then you can call them and say the code word or sentence if you are in a situation you don't want to be in.
No matter what happens, nothing you did or said caused the assault. No matter what you were wearing, drinking, or doing - even if you were flirting or kissing - it is not your fault. Your behavior before, during, or after the incident does not change the fact that the perpetrator is at fault.
AFTER SEXUAL ASSAULT HAS OCCURRED
Get to safety. If you are sexually assaulted, try to get to a safe place as soon as you are able. If you are in immediate danger or are seriously injured, call 911 or the local emergency number.
Get help. Once you are safe, you can find local resources for victims of sexual assault by calling the National Sexual Assault Hotline at 800-6565-HOPE (4673). If you have been raped, the hotline can connect you with hospitals who have staff trained in working with sexual assault victims and collecting evidence. The hotline may be able to send an advocate to help you during this difficult time. You can also get help and support with how to report the crime, should you decide to.
Get medical care. It is a good idea to seek medical care to check for and treat any injuries. It may not be easy, but try not to shower, take a bath, wash hands, cut fingernails, change clothes, or brush your teeth before receiving medical care. That way, you have the option to have evidence collected.
TREATMENT AFTER SEXUAL ASSAULT
At the hospital, your health care providers will explain what tests and treatments may be done. They will explain what will happen and why. You will be asked for your consent before having any procedure or test.
Your providers will likely discuss the option to have a sexual assault forensic exam (rape kit) performed by a specially trained nurse. You can decide whether to have the exam. If you do, the nurse will collect DNA and other evidence should you decide to report the crime. Here are some things to consider:
Even when working with a trained nurse, the exam may be difficult to go through after an assault.
You do not have to have the exam. It is your choice.
Having this evidence may make it easier to identify and convict the perpetrator.
Having the exam does not mean you have to press charges. You can have the exam even if you don't press charges. You also do not have to decide to press charges right away.
If you think you have been drugged, be sure to tell your providers so they can test you right away.
Your providers will also likely talk with you about:
The use of emergency contraception if you were raped and there is a chance you could become pregnant from the rape.
How to lower the risk of HIV infection if the rapist may have had HIV. This includes immediate use of medicines used to treat HIV. The process is called post-exposure prophylaxis (PEP).
Getting screened and treated for other sexually-transmitted infections (STIs), if needed. Treatment usually means taking a course of antibiotics to reduce the risk of infection. Note that sometimes providers may recommend against testing at the time if there is concern that the results could be used against you.
TAKING CARE OF YOURSELF AFTER A SEXUAL ASSAULT
After a sexual assault, you may feel confused, angry, or overwhelmed. It is normal to react in any number of ways:
Anger or hostility
Confusion
Crying or feeling numb
Fear
Unable to control your emotions
Nervousness
Laughing at odd times
Not eating or sleeping well
Fear of loss of control
Withdrawal from family or friends
These types of feelings and reactions are normal. Your feelings also may change over time. This too is normal.
Take time out to heal yourself physically and emotionally.
Care for yourself by doing things that give you comfort, such as spending time with a trusted friend or being out in nature.
Try to care for yourself by eating healthy foods you enjoy and staying active.
It's also OK to take time off and cancel plans if you just need time to yourself.
To resolve feelings related to the event, many will find that sharing those feelings with a professionally trained counselor is beneficial. It is not admitting weakness to seek help in dealing with the powerful feelings associated with personal violation. Talking with a counselor can also help you learn how to manage stress and cope with what you've experienced.
When choosing a therapist, look for someone who has experience working with survivors of sexual violence.
The National Sexual Assault Hotline at 800-656-HOPE (4673) can connect you to local support services, where you may be able to find a therapist in your area.
You can also ask your provider for a referral.
Even if your experience took place months or even years ago, talking with someone can help.
Recovering from sexual violence may take time. No two people have the same journey to recovery. Remember to be gentle with yourself as you go through the process. But you should be optimistic that over time, with the support of your trusted friends and professional therapy, you will recover.
RESOURCES:
Office for Victims of Crime: www.ovc.gov/welcome.html
RAINN (Rape, Abuse & Incest National Network): www.rainn.org
WomensHealth.gov: www.womenshealth.gov/relationships-and-safety
Buchanan JA, Selby ST. Sexual assault. In: Walls RM, ed. Rosen's Emergency Medicine: Concepts and Clinical Practice. 10th ed. Philadelphia, PA: Elsevier; 2023:chap 191.
Centers for Disease Control and Prevention website. Violence prevention: the national intimate partner and sexual violence survey (NISVS). www.cdc.gov/violenceprevention/datasources/nisvs/index.html. Updated July 19, 2021. Accessed December 27, 2022.
Centers for Disease Control and Prevention website. Violence prevention: sexual violence. www.cdc.gov/violenceprevention/sexualviolence/index.html. Updated February 5, 2022. Accessed December 27, 2022.
Cowley DS, Burke A, Lentz GM. Additional considerations in gynecologic care. In: Gershenson DM, Lentz GM, Valea FA, Lobo RA, eds. Comprehensive Gynecology. 8th ed. Philadelphia, PA: Elsevier; 2022:chap 9.
Gambone JC. Intimate partner and family violence, sexual assault, and rape. In: Hacker NF, Gambone JC, Hobel CJ, eds. Hacker & Moore's Essentials of Obstetrics and Gynecology. 6th ed. Philadelphia, PA: Elsevier; 2016:chap 29.
Workowski KA, Bachmann LH, Chan PA, et al. Sexually transmitted infections treatment guidelines, 2021. MMWR Recomm Rep. 2021;70(4):1-187. PMID: 34292926 pubmed.ncbi.nlm.nih.gov/34292926/.
Version Info
Last reviewed on: 11/10/2022
Reviewed by: John D. Jacobson, MD, Department of Obstetrics and Gynecology, Loma Linda University School of Medicine, Loma Linda, CA. Also reviewed by David C. Dugdale, MD, Medical Director, Brenda Conaway, Editorial Director, and the A.D.A.M. Editorial team.