Chikungunya virus
Chikungunya virus infection; Chikungunya
Chikungunya is a virus passed to humans by the bite of infected mosquitoes. Symptoms include fever and severe joint pain. The name chikungunya (pronounced "chik-en-gun-ye") is an African word meaning "bent over in pain."
For the most up-to-date information, please visit the Centers for Disease Control and Prevention's (CDC) website -- www.cdc.gov/chikungunya.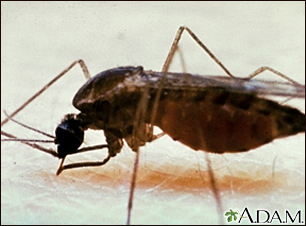 Information
Where Chikungunya is Found
Before 2013, the virus was found only in Africa, Asia, Europe, and lands in the Indian and Pacific oceans. In late 2013, outbreaks occurred for the first time in the Americas in the Caribbean Islands.
In the Americas, local transmission of the disease has been found in 44 countries and territories. This means that mosquitoes in those areas have the virus and are spreading it to humans.
Since 2014, the disease has been found in travelers coming to the United States from affected areas in the Americas. Local transmission has occurred in Florida, Puerto Rico, the Dominican Republic, and Haiti.
How Chikungunya Can Spread
Mosquitoes spread the virus to humans. Mosquitoes pick up the virus when they feed on infected people. They spread the virus when they bite other people.
The mosquitoes that spread chikungunya are the same type that spread dengue fever, which has similar symptoms. These mosquitoes most often feed on humans during the day.
Symptoms
Symptoms develop 3 to 7 days after being bitten by an infected mosquito. The disease is easily spread. Most people who become infected have symptoms.
The most common symptoms are fever and joint pain. Other symptoms include:
Headache
Joint swelling
Muscle pain
Nausea
Rash
Symptoms are similar to the flu and can be severe, but usually not deadly. Most people recover in a week. Some have joint pain for months or longer. The disease can lead to death in frail older adults.
Treatment
There is no treatment for chikungunya. Like the flu virus, it has to run its course. You can take steps to help relieve symptoms:
Drink plenty of fluids to stay hydrated.
Get plenty of rest.
Take ibuprofen (Motrin, Advil), naproxen (Aleve, Naprosyn), or acetaminophen (Tylenol) to relieve pain and fever.
When to Contact a Medical Professional
Call your health care provider if you develop symptoms of chikungunya. Let your provider know if you have traveled recently in an area where the virus is spread. Your provider may do a blood test to check for the disease.
Prevention
There is no vaccine to protect against chikungunya. The best way to avoid getting the virus is to avoid getting bitten by mosquitoes. If you are in an area where there is local transmission of the virus, take these steps to protect yourself:
When it is not too hot, cover up with long sleeves, long pants, socks, and a hat.
Use clothing coated with permethrin.
Use insect repellent with DEET, picaridin, IR3535, oil of lemon eucalyptus, or para-menthane-diol. When using sunscreen, apply insect repellant after you apply sunscreen.
Sleep in a room with air conditioning or with windows with screens. Check screens for large holes.
Remove standing water from any outside containers such as buckets, flower pots, and birdbaths.
If sleeping outside, sleep under a mosquito net.
If you get chikungunya, try to avoid getting bitten by mosquitoes so you do not pass the virus to others.
Centers for Disease Control and Prevention website. Chikungunya virus. www.cdc.gov/chikungunya/. Updated June 2, 2022. Accessed June 8, 2023.
Dockrell DH, Sundar S, Angus BJ, Hobson RP. Infectious disease. In: Penman ID, Ralston SH, Strachan MWJ, Hobson RP, eds. Davidson's Principles and Practice of Medicine. 24th ed. Philadelphia, PA: Elsevier; 2023:chap 13.
Levitt A, Messonnier N, Jernigan D, et al. Emerging and reemerging infectious disease threats. In: Bennett JE, Dolin R, Blaser MJ, eds. Mandell, Douglas, and Bennett's Principles and Practice of Infectious Diseases. 9th ed. Philadelphia, PA: Elsevier; 2020:chap 1.
Rothe C, Jong EC. Emerging infectious diseases and the international traveler. In: Sanford CA, Pottinger PS, Jong EC, eds. The Travel and Tropical Medicine Manual. 5th ed. Philadelphia, PA: Elsevier; 2017:chap 3.
Version Info
Last reviewed on: 5/19/2023
Reviewed by: Jatin M. Vyas, MD, PhD, Associate Professor in Medicine, Harvard Medical School; Associate in Medicine, Division of Infectious Disease, Department of Medicine, Massachusetts General Hospital, Boston, MA. Also reviewed by David C. Dugdale, MD, Medical Director, Brenda Conaway, Editorial Director, and the A.D.A.M. Editorial team.