Understanding the DASH diet
Hypertension - DASH diet; Blood-pressure - DASH diet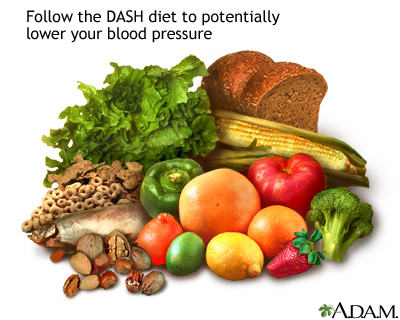 How it Works
The DASH diet helps you eat nutritious foods.
This is not just a traditional low-salt diet. The DASH diet emphasizes foods high in calcium, potassium, magnesium, and fiber, which, when combined, help lower blood pressure.
To follow the DASH diet for weight loss, you eat plenty of:
Non-starchy vegetables and fruit
You eat moderate portions of:
Fat-free or low-fat dairy products
Whole grains
Lean meats, poultry, beans, soy foods, legumes, and eggs and egg substitutes
Fish
Nuts and seeds
Heart-healthy fats, such as olive and canola oil or avocados
You should limit:
Sweets and sugar-sweetened beverages
Foods high in saturated fats such as full-fat dairy, fatty meals, tropical oils, and most packaged snacks
Alcohol intake
Your health care provider can help you figure out how many calories you need to eat each day. Your calorie needs are influenced by your age, sex, activity level, medical conditions, and whether or not you are trying to lose or maintain your weight. The "A Day With the DASH Eating Plan" helps you track how many servings of each type of food you can eat. There are plans for 1,200; 1,400; 1,600; 1,800; 2,000; 2,600; and 3,100 calories per day. DASH suggests smaller portions and healthy food swaps to aid weight loss.
You can follow an eating plan that allows for either 2,300 milligrams (mg) or 1,500 mg of salt (sodium) per day.
Off-Limit Foods
When following the DASH plan, you should limit how much you eat of these foods:
Foods with added salt (sodium) and adding salt to foods
Alcohol
Sugar-sweetened beverages
Foods high in saturated fats, such as whole fat dairy and deep-fried foods
Packaged snacks, which are often high in fat, salt, and sugar
Before you increase the potassium in your diet or use salt substitutes (which often contain potassium), check with your provider. People who have kidney problems or who take certain medicines must be careful about how much potassium they consume.
The Role of Exercise
DASH recommends at least 30 minutes of exercise a day, most days of the week. The important thing is to total at least 2 hours and 30 minutes per week of activities at a moderate-intensity level. Do exercises that get your heart pumping. To help prevent weight gain, exercise for 60 minutes a day.
Health Benefits
The DASH diet has been widely studied and has many health benefits. Following this diet plan may help:
The National Heart, Blood, and Lung Institute helped develop the DASH diet. It is also recommended by:
The American Heart Association
U.S. guidelines for treatment of high blood pressure
Possible Health Concerns
Following this diet will provide all the nutrients you need. It is safe for both adults and children. It is low in saturated fat and high in fiber, an eating style that is recommended for everyone.
If you have a health condition, it is a good idea to talk with your provider before starting this or any diet plan to lose weight.
On the DASH diet eating plan you will likely be eating a lot more of fruits, vegetables, and whole grains. These foods are high in fiber and increasing your intake of fiber too quickly may cause GI discomfort. Slowly increase how much fiber you eat each day and be sure to drink plenty of fluids.
Ease of Use
In general, the diet is easy to follow and should leave you feeling satisfied. You will be buying more fruits and vegetables than before, which may be more expensive than prepared foods.
The diet is flexible enough to follow if you are vegetarian, vegan, or gluten-free.
Where to Find More Information
You can get started by going to the National Heart, Blood, and Lung Institute web page "What Is the DASH Eating Plan?" -- www.nhlbi.nih.gov/health-topics/dash-eating-plan.
You can also buy books about the DASH diet that include diet tips and recipes.
Bakris GL, Sorrentino MJ. Systemic hypertension: mechanisms, diagnosis, and treatment. In: Libby P, Bonow RO, Mann DL, Tomaselli GF, Bhatt DL, Solomon SD, eds. Braunwald's Heart Disease: A Textbook of Cardiovascular Medicine. 12th ed. Philadelphia, PA: Elsevier; 2022:chap 26.
Devries S. Integrative approaches to the management of patients with heart disease. In: Libby P, Bonow RO, Mann DL, Tomaselli GF, Bhatt DL, Solomon SD, eds. Braunwald's Heart Disease: A Textbook of Cardiovascular Medicine. 12th ed. Philadelphia, PA: Elsevier; 2022:chap 34.
National Heart, Lung, and Blood Institute website. DASH eating plan. www.nhlbi.nih.gov/education/dash-eating-plan. Updated December 29, 2021. Accessed November 29, 2022.
Version Info
Last reviewed on: 8/15/2022
Reviewed by: Linda J. Vorvick, MD, Clinical Professor, Department of Family Medicine, UW Medicine, School of Medicine, University of Washington, Seattle, WA. Also reviewed by David C. Dugdale, MD, Medical Director, Brenda Conaway, Editorial Director, and the A.D.A.M. Editorial team.