Ileostomy - changing your pouch
Standard ileostomy - pouch change; Brooke ileostomy - pouch change; Continent ileostomy - changing; Abdominal pouch changing; End ileostomy - pouch change; Ostomy - pouch change; Inflammatory bowel disease - ileostomy and your pouch change; Crohn disease - ileostomy and your pouch change; Ulcerative colitis - ileostomy and your pouch change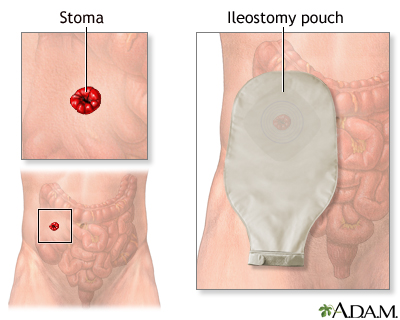 When to Change Your Pouch
Change your pouch every 5 to 8 days. If you have itching or leakage, change it right away.
If you have a pouch system made of 2 pieces (a pouch and a wafer) you can use 2 different pouches during the week. Wash and rinse the pouch not being used, and let it dry well.
Choose a time of day when there is less stool output from your stoma. Early in the morning before you eat or drink anything (or at least 1 hour after a meal) is best.
You may need to change your pouch more often if:
You have been sweating more than usual from hot weather or exercise.
You have oily skin.
Your stool output is more watery than usual.
Steps for Changing Your Pouch
Wash your hands well and have all equipment ready. Put on a clean pair of medical gloves.
Gently remove the pouch. Push the skin away from the seal. DO NOT pull the ostomy away from your skin.
Wash your stoma and the skin around it carefully with soapy water.
Trace the shape of your stoma onto the back of the new pouch and barrier or wafer (wafers are part of a 2-piece pouch system).
Use a stoma guide with different sizes and shapes, if you have one.
Or, draw the shape of your stoma on a piece of paper. You may want to cut out your drawing and hold it up to your stoma to make sure it is the right size and shape. The edges of the opening should be close to the stoma, but they should not touch the stoma itself.
Trace this shape onto the back of your new pouch or wafer. Then cut the wafer to the shape.
Use skin barrier powder or paste around the stoma, if your health care provider has recommended this.
If the stoma is at or below the level of your skin, or if the skin around your stoma is uneven, using the paste will help seal it better.
The skin around your stoma should be dry and smooth. There should be no wrinkles in the skin around the stoma.
Remove the backing from the pouch. Make sure the opening of the new pouch is centered over the stoma and pressed firmly onto your skin.
Hold your hand over the pouch and barrier for about 30 seconds after you have placed it. This will help seal it better.
Ask your provider about using tape around the sides of the pouch or wafer to help seal them better.
Fold the bag and secure it.
When to Call the Doctor
Contact your provider if:
Your stoma is swelling and is more than a half inch (1 centimeter) larger than normal.
Your stoma is pulling in, below the skin level.
Your stoma is bleeding more than normal.
Your stoma has turned purple, black, or white.
Your stoma is leaking often.
Your stoma does not seem to fit as well as it did before.
You have to change the appliance every day or two.
You have a skin rash, or the skin around your stoma is raw.
You have a discharge from the stoma that smells bad.
The skin around your stoma is pushing out.
You have any kind of sore on the skin around your stoma.
You have any signs of being dehydrated (there is not enough water in your body). Some signs are dry mouth, urinating less often, and feeling lightheaded or weak.
You have diarrhea that is not going away.
American Cancer Society website. Caring for an ileostomy. www.cancer.org/treatment/treatments-and-side-effects/physical-side-effects/ostomies/ileostomy/management.html. Updated October 16, 2019. Accessed February 3, 2023.
Galandiuk S, Netz U, Morpurgo E, Tosato SM, Abu-Freha N, Ellis CT. Colon and rectum. In: Townsend CM Jr, Beauchamp RD, Evers BM, Mattox KL, eds. Sabiston Textbook of Surgery. 21st ed. St Louis, MO: Elsevier; 2022:chap 52.
Raza A, Araghizadeh F. Ileostomy, colostomy, and pouches. In: Feldman M, Friedman LS, Brandt LJ, eds. Sleisenger and Fordtran's Gastrointestinal and Liver Disease. 11th ed. Philadelphia, PA: Elsevier; 2021:chap 117.
Version Info
Last reviewed on: 10/1/2022
Reviewed by: Debra G. Wechter, MD, FACS, General Surgery Practice Specializing in Breast Cancer, Virginia Mason Medical Center, Seattle, WA. Also reviewed by David C. Dugdale, MD, Medical Director, Brenda Conaway, Editorial Director, and the A.D.A.M. Editorial team.