Headaches - danger signs
Migraine headache - danger signs; Tension headache - danger signs; Cluster headache - danger signs; Vascular headache - danger signs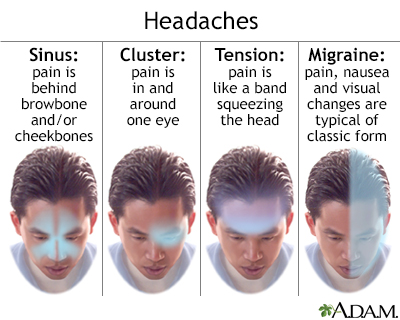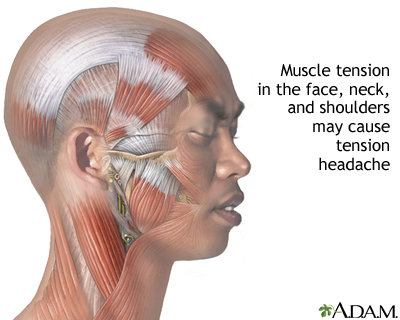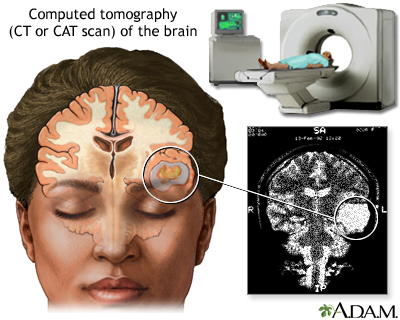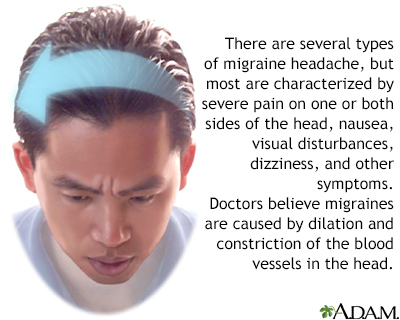 Emergency Causes of Headaches
Problems with blood vessels and bleeding in the brain can cause a headache. These problems include:
Abnormal connection between the arteries and veins in the brain that usually forms before birth. This problem is called an arteriovenous malformation, or AVM.
Blood flow to part of the brain stops. This is called a stroke.
Weakening of the wall of a blood vessel that can break open and bleed into the brain. This is known as a brain aneurysm.
Bleeding in the brain. This is called an intracerebral hematoma.
Bleeding around the brain. This can be a subarachnoid hemorrhage, a subdural hematoma, or an epidural hematoma.
Clots in the veins prevent blood flow from leaving the brain (sinus thrombosis).
Other causes of headaches that should be checked by a health care provider right away include:
When to Call the Doctor
If you cannot see your provider right away, go to the emergency room or call 911 (or the local emergency number) if:
This is the first severe headache you have ever had in your life and it interferes with your daily activities.
You develop a headache right after activities such as weightlifting, aerobics, jogging, or sex.
Your headache comes on suddenly and is explosive or violent.
Your headache is "the worst ever," even if you regularly get headaches.
You also have slurred speech, a change in vision, problems moving your arms or legs, loss of balance, confusion, or memory loss with your headache.
Your headache gets worse over 24 hours.
You also have fever, stiff neck, nausea, and vomiting with your headache.
Your headache occurs with a head injury.
Your headache is severe and just in one eye, with redness in that eye.
You just started getting headaches, especially if you are older than 50.
You have headaches along with vision problems and pain while chewing, or weight loss.
You have a history of cancer and develop a new headache.
Your immune system is weakened by disease (such as HIV infection) or by medicines (such as chemotherapy drugs and steroids).
See your provider soon if:
Your headaches wake you up from sleep, or your headaches make it difficult for you to fall asleep.
A headache lasts more than a few days.
Headaches are worse in the morning.
You have a history of headaches but they have changed in pattern or intensity.
You have headaches often and there is no known cause.
Digre KB. Headaches and other head pain. In: Goldman L, Schafer AI, eds. Goldman-Cecil Medicine. 26th ed. Philadelphia, PA: Elsevier; 2020:chap 370.
Garza I, Robertson CE, Smith JH, Whealy MA. Headache and other craniofacial pain. In: Jankovic J, Mazziotta JC, Pomeroy SL, Newman NJ, eds. Bradley and Daroff's Neurology in Clinical Practice. 8th ed. Philadelphia, PA: Elsevier; 2022:chap 102.
Russi CS, Walker L. Headache. In: Walls RM, Hockberger RS, Gausche-Hill M, eds. Rosen's Emergency Medicine: Concepts and Clinical Practice. 9th ed. Philadelphia, PA: Elsevier; 2018:chap 17.
Version Info
Last reviewed on: 11/9/2021
Reviewed by: Joseph V. Campellone, MD, Department of Neurology, Cooper Medical School at Rowan University, Camden, NJ. Review provided by VeriMed Healthcare Network. Also reviewed by David Zieve, MD, MHA, Medical Director, Brenda Conaway, Editorial Director, and the A.D.A.M. Editorial team.