Butter, margarine, and cooking oils
Cholesterol - butter; Hyperlipidemia - butter; CAD - butter; Coronary artery disease - butter; Heart disease - butter; Prevention - butter; Cardiovascular disease - butter; Peripheral artery disease - butter; Stroke - butter; Atherosclerosis - butter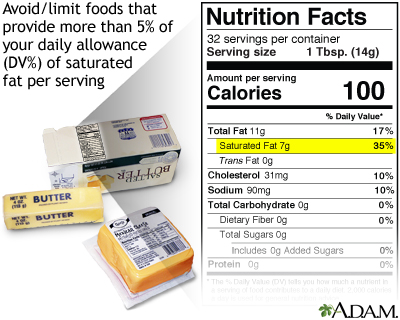 What to Use When Cooking
When you cook, solid margarine or butter is not the best choice. Butter is high in saturated fat, which can raise your cholesterol. It can also increase your chance of heart disease. Some margarines have some saturated fat plus trans-fatty acids, which can also be bad for you. Both of these fats have health risks.
Some guidelines for healthier cooking:
Use olive or canola oil instead of butter or margarine.
Choose soft margarine (tub or liquid) over harder stick forms.
Choose margarines with liquid vegetable oil, such as olive oil, as the first ingredient.
What Not to Use When Cooking
You should not use:
Margarine, shortening, and cooking oils that have more than 2 grams of saturated fat per tablespoon (read the nutrition information labels).
Hydrogenated and partially hydrogenated fats (read the ingredients labels). These are high in saturated fats and trans-fatty acids.
Shortening or other fats made from animal sources, such as lard.
Arnett DK, Blumenthal RS, Albert MA, et al. 2019 ACC/AHA Guideline on the primary prevention of cardiovascular disease: executive summary: a report of the American College of Cardiology/American Heart Association Task Force on Clinical Practice Guidelines. J Am Coll Cardiol. 2019;74(10):1376-1414. PMID: 30894319 pubmed.ncbi.nlm.nih.gov/30894319/.
Hensrud DD, Heimburger DC. Nutrition's interface with health and disease. In: Goldman L, Schafer AI, eds. Goldman-Cecil Medicine. 26th ed. Philadelphia, PA: Elsevier; 2020:chap 202.
Mozaffarian D. Nutrition and cardiovascular and metabolic diseases. In: Libby P, Bonow RO, Mann DL, Tomaselli, GF, Bhatt DL, Solomon SD, eds. Braunwald's Heart Disease: A Textbook of Cardiovascular Medicine. 12th ed. Philadelphia, PA: Elsevier; 2022:chap 29.
Ramu A, Neild P. Diet and nutrition. In: Naish J, Syndercombe Court D, eds. Medical Sciences. 3rd ed. Philadelphia, PA: Elsevier; 2019:chap 16.
Version Info
Last reviewed on: 8/16/2022
Reviewed by: Michael A. Chen, MD, PhD, Associate Professor of Medicine, Division of Cardiology, Harborview Medical Center, University of Washington Medical School, Seattle, WA. Also reviewed by David C. Dugdale, MD, Medical Director, Brenda Conaway, Editorial Director, and the A.D.A.M. Editorial team.