Bicycle safety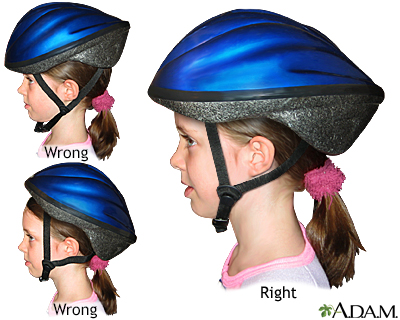 Bike Helmets
The brain is fragile and easily injured. Even a simple fall can cause brain damage that may leave you with lifelong problems.
When riding a bike, everyone, including adults, should wear helmets. Wear your helmet correctly:
Straps should be snug underneath your chin so the helmet will not twist around your head. A helmet that flies off will not protect you or your child.
The helmet should cover your forehead and point straight ahead.
Do not wear hats underneath your helmet.
Your local sporting goods store, sports facility, or bike shop can help make sure your helmet fits properly. You can also contact the American League of Bicyclists.
Throwing around bicycle helmets can damage them. If this happens, they will not protect you as well. Be aware that older helmets, passed down from others, may not still offer protection.
Make Sure You Can be Seen at Night
If you ride at night, try to stay on roads that are familiar and brightly lit.
The following equipment, required in some states, will keep you safer:
A front lamp that shines a white light and can be seen from a distance of 300 feet (ft) (91 meters [m])
A red reflector that can be seen from the rear at a distance of 500 ft (152 m)
Reflectors on each pedal, or on the shoes or ankles of the bicyclist, that can be seen from 200 ft (61 m)
Reflective clothing, tape, or patches
Riding With Infants
Having infants in bike seats makes the bike more difficult to manage and harder to stop. Accidents that occur at any speed can injure a young child.
Following some simple rules can help keep you and your child safe.
Ride on bike paths, sidewalks, and quiet streets without much traffic.
Do not carry infants younger than 12 months on a bike.
Older children should not carry infants on a bike.
To be able to ride in a rear mounted bike seat or child trailer, a child must be able to sit without support while wearing a lightweight helmet.
Rear-mounted seats must be securely attached, have spoke guards, and have a high back. A shoulder harness and a lap belt are also needed.
Safety Tips for Children
Young children should use bikes with coaster brakes. These are the kind that brake when pedaled backward. With hand brakes, a child's hands should be large enough and strong enough to squeeze the levers.
Make sure bikes are the right size, rather than a size "your child can grow into." Your child should be able to straddle a bike with both feet on the ground. Children cannot handle oversize bikes and are at risk of falling and other accidents.
Even when riding on sidewalks, children need to learn to watch for cars pulling out from driveways and alleys. Also, teach children to watch for wet leaves, gravel, and curves.
Make sure your child is careful about keeping loose pants legs, straps, or shoelaces from getting caught in the spokes of the wheel or bicycle chain. Teach your child never to ride barefoot, or while wearing sandals or flip-flops.
Centers for Disease Control and Prevention website. Bicycle safety. www.cdc.gov/transportationsafety/bicycle/index.html. Updated May 4, 2022. Accessed July 19, 2023.
HealthyChildren.org website. Bicycle safety: myths and facts. www.healthychildren.org/English/safety-prevention/at-play/pages/Bicycle-Safety-Myths-And-Facts.aspx. Updated July 14, 2022. Accessed July 19, 2023.
National Highway and Traffic Safety Administration website. Bicycle safety. www.nhtsa.gov/road-safety/bicycle-safety. Accessed July 19, 2023.
Version Info
Last reviewed on: 7/1/2023
Reviewed by: Charles I. Schwartz, MD, FAAP, Clinical Assistant Professor of Pediatrics, Perelman School of Medicine at the University of Pennsylvania, General Pediatrician at PennCare for Kids, Phoenixville, PA. Also reviewed by David C. Dugdale, MD, Medical Director, Brenda Conaway, Editorial Director, and the A.D.A.M. Editorial team.