Heart attack - what to ask your doctor
What to ask your provider about your heart attack
A heart attack occurs when blood flow to a part of your heart muscle is blocked for a period of time and an area of the heart muscle is damaged. It is also called a myocardial infarction (MI).
Angina is pain or pressure in the chest. It occurs when your heart muscle is not getting enough blood or oxygen. You may feel angina in your neck or jaw. Sometimes you may notice that you are short of breath.
Below are some questions you may want to ask your health care provider to help you take care of yourself after a heart attack.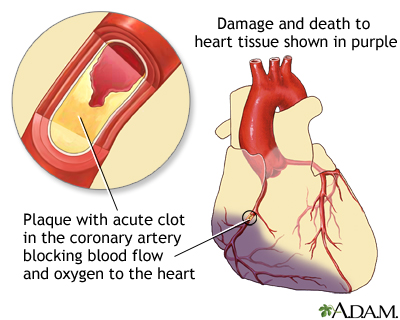 You feel a tight band of pain around your chest. The pain moves from your chest to your arms, shoulder, and neck. What could your pain mean? Could it be a heart attack, could it be the big one? Heart attacks are caused by interruption of blood supply to part of the heart. If the blood flow is blocked, your heart is starved of oxygen and heart cells die. A hard substance called plaque can build up in the walls of your coronary arteries. This plaque is made up of cholesterol and other cells. A heart attack can occur as a result of plaque buildup or the rupture of one of these plaques. We're not sure why heart attacks occur when they do. You may have a heart attack when you are resting or asleep, or after a sudden increase in physical activity, when you are outside in cold weather, or after a sudden, severe emotional or physical stress, including an illness. So, how is a heart attack treated? If you go to the hospital for a suspected heart attack, a doctor or nurse will listen to your chest with a stethoscope. You will have a blood test to look for heart damage. A coronary angiography test can show your doctor how well blood is moving through your heart. If blood moves slowly, or not at all through your coronary arteries, you have either a narrowed, or blocked artery. Other tests can look at the valves and chambers of your heart and check for abnormal heart rhythms. If you've had a heart attack, doctors can do an emergency procedure called angioplasty. This surgery or procedure can open narrowed or blocked blood vessels. Usually they'll place a small, metal mesh tube, called a stent, in your artery to help keep it open. You may also receive drugs to break up the clot in your artery. Sometimes, doctors will do heart bypass surgery to get blood flowing to your heart muscle again. After you are treated in the hospital for a heart attack, you may need to take medicines to thin your blood, to protect your heart, or to improve your cholesterol levels. You may need to take these medicines for the rest of your life. Most people who have had a heart attack also need cardiac rehabilitation. This will help you slowly increase your exercise level and learn how to follow a healthy lifestyle. After you have a heart attack, your chance of another is higher. How well you do after a heart attack depends on the damage to your heart and where the damage is, and what steps you take to prevent another one. If your heart can no longer pump blood to your body as well as it used to, you may have heart failure and will need lifelong treatment. Usually a person who has had a heart attack can slowly go back to normal activities, but you will need to take steps to prevent another heart attack.
Questions
What are the signs and symptoms that I am having angina? Will I always have the same symptoms?
What are the activities that can cause me to have angina?
How should I treat my chest pain or angina when it happens?
When should I call the provider?
When should I call 911 or the local emergency number?
How much activity is OK for me?
Can I walk around the house? Is it OK to go up and down stairs? When can I start light housework or cooking? How much can I lift or carry? How much sleep do I need?
Which activities are better to start with? Are there activities that are not safe for me?
Is it safe for me to exercise on my own? Should I exercise inside or outside?
How long and how hard can I exercise?
Do I need to have a stress test? Do I need to go to a cardiac rehabilitation program?
When can I return to work? Are there limits on what I can do at work?
What should I do if I feel sad or very worried about my heart disease?
How can I change the way I live to make my heart healthier?
What is a heart-healthy diet? Is it OK to ever eat something that is not heart healthy? How can I make heart-healthy choices when I go eat out?
Is it OK to drink alcohol? How much?
Is it OK to be around other people who are smoking?
Is my blood pressure normal?
What is my cholesterol? Do l need to take medicines for it?
Is it OK to be sexually active? Is it safe to use sildenafil (Viagra), vardenafil (Levitra), or tadalafil (Cialis) for erection problems?
What medicines am I taking to treat angina?
Do they have any side effects?
What should I do if I miss a dose?
Is it ever safe to stop taking any of these medicines on my own?
If I am taking a blood thinner such as aspirin, clopidogrel (Plavix), prasugrel (Effient), ticagrelor (Brilinta), coumadin (Warfarin), apixaban (Eliquis), rivaroxaban (Xeralto), edoxaban (Savaysa), dabigatran (Pradaxa), can I use medicines such as ibuprofen (Advil, Motrin), naproxen (Aleve, Naprosyn) for arthritis, headaches, or other pain problems?
Anderson JL, Fang JC. ST segment elevation acute myocardial infarction and complications of myocardial infarction. In: Goldman L, Schafer AI, eds. Goldman-Cecil Medicine. 26th ed. Philadelphia, PA: Elsevier; 2020:chap 64.
Giugliano RP, Braunwald E. Non-ST elevation acute coronary syndromes. In: Libby P, Bonow RO, Mann DL, Tomaselli GF, Bhatt DL, Solomon SD, eds. Braunwald's Heart Disease: A Textbook of Cardiovascular Medicine.12th ed. Philadelphia, PA: Elsevier; 2022:chap 39.
Morrow DA, de Lemos JA. Stable ischemic heart disease. In: Libby P, Bonow RO, Mann DL, Tomaselli GF, Bhatt DL, Solomon SD, eds. Braunwald's Heart Disease: A Textbook of Cardiovascular Medicine.12th ed. Philadelphia, PA: Elsevier; 2022:chap 40.
Smith Jr SC, Benjamin EJ, Bonow RO, et al. AHA/ACCF secondary prevention and risk reduction therapy for patients with coronary and other atherosclerotic vascular disease: 2011 update: a guideline from the American Heart Association and American College of Cardiology Foundation endorsed by the World Heart Federation and the Preventive Cardiovascular Nurses Association. J Am Coll Cardiol. 2011;58(23):2432-2446. PMID: 22055990 pubmed.ncbi.nlm.nih.gov/22055990/.
Version Info
Last reviewed on: 1/1/2023
Reviewed by: Michael A. Chen, MD, PhD, Associate Professor of Medicine, Division of Cardiology, Harborview Medical Center, University of Washington Medical School, Seattle, WA. Also reviewed by David C. Dugdale, MD, Medical Director, Brenda Conaway, Editorial Director, and the A.D.A.M. Editorial team.