Soy
Humans have been eating soybeans for almost 5000 years. The soybean is high in protein. The quality of protein from soy equals that of protein from animal foods.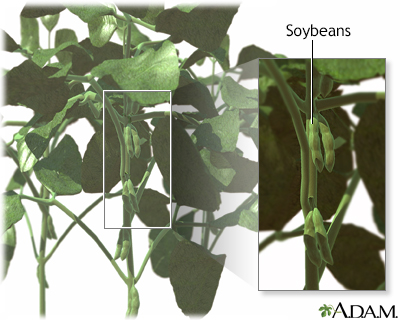 Function
Soy in your diet can lower cholesterol. Many research studies support this claim. The United States Food and Drug Administration (FDA) agrees that 25 grams per day of soy protein may reduce the risk for heart disease. Health benefits of soy products may be due to their high levels of polyunsaturated fats, fiber, minerals, vitamins, and low saturated fat content.
Isoflavones that occur naturally in soy products may play a part in preventing some hormone-related cancers. Eating a diet that has a moderate amount of soy prior to adulthood may lower the risk for breast and ovarian cancer in women. However, the intake of soy in women who are postmenopausal or already have cancer remains unclear. Whole soy in products like tofu, soy milk, and edamame is preferable to processed soy such as the soy protein isolates that are found in many snack products and imitation meat products.
The benefit of using isoflavone supplements in food or pills in the prevention or treatment of cancer has not been proven. The ability of these supplements to ease menopause symptoms such as hot flashes also is unproven.
Food Sources
Not all soy products contain the same amount of protein. The following list ranks the protein content of some common soy foods. Highest protein items are at the top of the list.
Soy protein isolate (added to many soy food products, including soy sausage patties and soybean burgers)
Soy flour
Whole soybeans
Tempeh
Tofu
Soy milk
To find out about protein content in a soy-based food:
Check the Nutrition Facts label to see the grams of protein per serving.
Also look at the list of ingredients. If a product contains isolated soy protein (or soy protein isolate), the protein content should be fairly high.
Note: There is a difference between soy supplements in the form of tablets or capsules and soy protein products. Most soy supplements are made of concentrated soy isoflavones. These substances may help relieve symptoms of menopause. However, there is not enough evidence to support soy isoflavones for other health purposes, such as lowering cholesterol.
Side Effects
People who are not allergic to soy do not have serious side effects from eating these foods. Mild side effects of consuming products with added soy protein isolate may include stomach aches, constipation, and diarrhea.
Recommendations
In adults, 25 grams per day of soy protein may reduce the risk for heart disease.
Soy foods and soy-based infant formula are often used for children with dairy allergies. No studies have shown whether isolated soy protein or isoflavone supplements are useful or safe for this group. Therefore, isolated soy products are not recommended for children at this time.
Applegate CC, Rowles JL, Ranard KM, Jeon S, Erdman JW. Soy consumption and the risk of prostate cancer: an updated systematic review and meta-analysis. Nutrients. 2018;10(1):40. PMID: 29300347 pubmed.ncbi.nlm.nih.gov/29300347/.
Aronson JK. Phytoestrogens. In: Aronson JK, ed. Meyler's Side Effects of Drugs. 16th ed. Waltham, MA: Elsevier B.V.; 2016:755-757.
Lichtenstein AH, Appel LJ, Vadiveloo M, et al. 2021 Dietary guidance to improve cardiovascular health: a scientific statement from the American Heart Association. Circulation. 2021;144(23):e472-e487. PMID: 34724806 pubmed.ncbi.nlm.nih.gov/34724806/.
Nonhormonal management of menopause-associated vasomotor symptoms: 2015 position statement of The North American Menopause Society. Menopause. 2015;22(11):1155-1172; quiz 1173-1174. PMID: 26382310 pubmed.ncbi.nlm.nih.gov/26382310/.
Nowak-Wegrzyn A, Sampson HA, Sicherer SH. Food allergy and adverse reactions to foods. In: Kliegman RM, St. Geme JW, Blum NJ, Shah SS, Tasker RC, Wilson KM, eds. Nelson Textbook of Pediatrics. 21st ed. Philadelphia, PA: Elsevier; 2020:chap 176.
Qiu S, Jiang C. Soy and isoflavones consumption and breast cancer survival and recurrence: a systematic review and meta-analysis. Eur J Nutr. 2019;58(8):3079-3090. PMID: 30382332 pubmed.ncbi.nlm.nih.gov/30382332/.
Sacks FM, Lichtenstein A, Van Horn L; American Heart Association Nutrition Committee, et al. Soy protein, isoflavones, and cardiovascular health: an American Heart Association Science Advisory for professionals from the Nutrition Committee. Circulation. 2006;113(7):1034-1044. PMID: 16418439 pubmed.ncbi.nlm.nih.gov/16418439/.
Taku K, Melby MK, Kronenberg F, Kurzer MS, Messina M. Extracted or synthesized soybean isoflavones reduce menopausal hot flash frequency and severity: systematic review and meta-analysis of randomized controlled trials. Menopause. 2012;19(7):776-790. PMID: 22433977 pubmed.ncbi.nlm.nih.gov/22433977/.
You J, Sun Y, Bo Y, et al. The association between dietary isoflavones intake and gastric cancer risk: a meta-analysis of epidemiological studies. BMC Public Health. 2018;18(1):510. PMID: 29665798 pubmed.ncbi.nlm.nih.gov/29665798/.
Version Info
Version: 2.0
Last reviewed on: 4/13/2023
Reviewed by: Stefania Manetti, RD/N, CDCES, RYT200, My Vita Sana LLC - Nourish and heal through food, San Jose, CA. Review provided by VeriMed Healthcare Network. Also reviewed by David C. Dugdale, MD, Medical Director, Brenda Conaway, Editorial Director, and the A.D.A.M. Editorial team.