CPR - adult and child 9 years and older
Cardiopulmonary resuscitation - adult; Rescue breathing and chest compressions - adult; Resuscitation - cardiopulmonary - adult; Cardiopulmonary resuscitation - child 9 years and older; Rescue breathing and chest compressions - child 9 years and older; Resuscitation - cardiopulmonary - child 9 years and older
CPR stands for cardiopulmonary resuscitation. It is a lifesaving procedure that is done when someone's breathing or heartbeat has stopped. This may happen after an electric shock, drowning, or heart attack. CPR involves:
Rescue breathing, which provides oxygen to a person's lungs.
Chest compressions, which keep the person's blood circulating.
Permanent brain damage or death can occur within 4 minutes if a person's blood flow stops. Therefore, you must continue CPR until the person's heartbeat and breathing return, or trained medical help arrives.
For the purposes of CPR, puberty is defined as breast development in females and the presence of axillary (armpit) hair in males.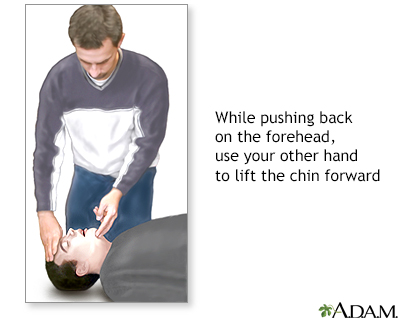 Considerations
CPR is best done by someone trained in an accredited CPR course. The procedures described here are NOT a substitute for CPR training. The newest techniques emphasize compression over rescue breathing and airway management, reversing a long-standing practice. See cpr.heart.org/en/course-catalog-search for classes near you.
Time is very important when an unconscious person is not breathing. Permanent brain damage begins after only 4 minutes without oxygen, and death can occur as soon as 4 to 6 minutes later.
Machines called automated external defibrillators (AEDs) can be found in many public places, and are available for home use. These machines have pads or paddles to place on the chest during a life-threatening emergency. They automatically check the heart rhythm and give a sudden shock if, and only if, that shock is needed to get the heart back into the right rhythm. When using an AED, follow the instructions exactly.
Causes
In adults, major reasons that heartbeat and breathing stop include:
Drug overdose
Excessive bleeding
Heart problem (heart attack or abnormal heart rhythm, fluid in the lungs or compressing the heart)
Infection in the bloodstream (sepsis)
Injuries and accidents
Drowning
Stroke
There are many things that cause an older child or teen's heartbeat and breathing to stop, including:
Choking
Drowning
Electrical shock
Excessive bleeding
Head trauma or other serious injury
Lung disease
Poisoning
Suffocation
Symptoms
CPR should be done if a person has any of the following symptoms:
First Aid
1. Check for responsiveness. Shake or tap the person gently. See if the person moves or makes a noise. Shout, "Are you OK?"
2. Call 911 or the local emergency number if there is no response. Shout for help and send someone to call 911 or the local emergency number. If you are alone, call 911 or the local emergency number and retrieve an AED (if available), even if you have to leave the person.
3. Carefully place the person on their back. If there is a chance the person has a spinal injury, two people should move the person to prevent the head and neck from twisting.
4. Perform chest compressions:
Place the heel of one hand on the breastbone -- right between the nipples.
Place the heel of your other hand on top of the first hand.
Position your body directly over your hands.
Give 30 chest compressions. These compressions should be fast and hard. Press down about 2 inches (5 centimeters) into the chest. Each time, let the chest rise completely. Count the 30 compressions quickly: "1,2,3,4,5,6,7,8,9,10,11,12,13,14,15,16,17,18,19,20,21,22,23,24,25,26,27,28,29,30, off".
5. Open the airway. Lift up the chin with 2 fingers. At the same time, tilt the head by pushing down on the forehead with the other hand.
6. Look, listen, and feel for breathing. Place your ear close to the person's mouth and nose. Watch for chest movement. Feel for breath on your cheek.
7. If the person is not breathing or has trouble breathing:
Cover their mouth tightly with your mouth.
Pinch the nose closed.
Keep the chin lifted and head tilted.
Give 2 rescue breaths. Each breath should take about a second and make the chest rise.
8. Repeat chest compressions and rescue breathing until the person recovers or help arrives. If an AED for adults is available, use it as soon as possible.
If the person starts breathing again, place them in the recovery position. Keep checking for breathing until help arrives.
Do Not
If the person has normal breathing, coughing, or movement, DO NOT begin chest compressions. Doing so may cause the heart to stop beating.
Unless you are a health professional, DO NOT check for a pulse. Only a health care professional is properly trained to check for a pulse.
When to Contact a Medical Professional
If you have help, tell one person to call 911 or the local emergency number while another person begins CPR.
If you are alone, as soon as you determine that the person is unresponsive, call 911 or the local emergency number immediately. Then begin CPR.
Prevention
In adults, to avoid injuries and heart problems that can lead to the heart stopping beating:
Eliminate or reduce risk factors that contribute to heart disease, such as cigarette smoking, high cholesterol, high blood pressure, obesity, and stress.
Get plenty of exercise.
See your health care provider regularly.
Always use seat belts and drive safely.
Avoid using illegal drugs.
Most children need CPR because of a preventable accident. The following tips may help prevent some accidents in children:
Teach your children the basic principles of family safety.
Teach your child to swim.
Teach your child to watch for cars and ride bikes safely.
Teach your child firearm safety. If you have guns in your home, keep them locked in an isolated cabinet.
American Heart Association website. Highlights of the 2020 American Heart Association Guidelines for CPR and ECC. cpr.heart.org/-/media/cpr-files/cpr-guidelines-files/highlights/hghlghts_2020_ecc_guidelines_english.pdf. Accessed March 24, 2023.
Duff JP, Topjian A, Berg MD, et al. 2019 American Heart Association focused update on pediatric advanced life support: an update to the American Heart Association guidelines for cardiopulmonary resuscitation and emergency cardiovascular care. Circulation. 2019;140(24):e904-e914. PMID: 31722551 pubmed.ncbi.nlm.nih.gov/31722551/.
Morley PT. Cardiopulmonary resuscitation (including defibrillation). In: Bersten AD, Handy JM, eds. Oh's Intensive Care Manual. 8th ed. Philadelphia, PA: Elsevier; 2019:chap 21.
Panchal AR, Berg KM, Kudenchuk PJ, et al. 2018 American Heart Association focused update on advanced cardiovascular life support use of antiarrhythmic drugs during and immediately after cardiac arrest: an update to the American Heart Association guidelines for cardiopulmonary resuscitation and emergency cardiovascular care. Circulation. 2018;138(23):e740-e749. PMID: 30571262 pubmed.ncbi.nlm.nih.gov/30571262/.
Version Info
Last reviewed on: 1/2/2023
Reviewed by: Jesse Borke, MD, CPE, FAAEM, FACEP, Attending Physician at Kaiser Permanente, Orange County, CA. Also reviewed by David C. Dugdale, MD, Medical Director, Brenda Conaway, Editorial Director, and the A.D.A.M. Editorial team.