Episcleritis
Episcleritis is irritation and inflammation of the episclera, a thin layer of tissue covering the white part (sclera) of the eye. It is not an infection.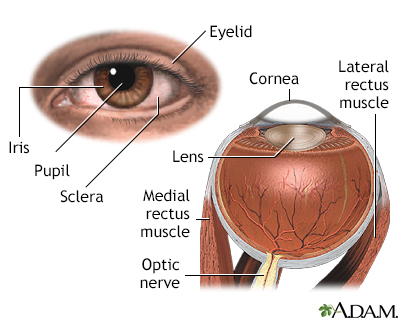 Causes
Episcleritis is a common condition. In most cases the problem is mild and vision is normal.
The cause is often unknown. But, it may occur with certain diseases, such as:
Symptoms
Symptoms include:
A pink or purple color to the normally white part of the eye
Eye tenderness
Exams and Tests
Your health care provider will do an eye exam to diagnose the disorder. Most of the time, no special tests are needed.
Treatment
The condition most often goes away on its own in 1 to 2 weeks. Using corticosteroid eye drops may help ease the symptoms faster.
Outlook (Prognosis)
Episcleritis most often improves without treatment. However, treatment may make symptoms go away sooner.
Possible Complications
In some cases, the condition may return. Rarely, irritation and inflammation of the white part of the eye may develop. This is called scleritis.
When to Contact a Medical Professional
Call your health care provider if you have symptoms of episcleritis that last for more than 2 weeks. Get checked again if your pain gets worse or you have problems with your vision.
Cioffi GA, Liebmann JM. Diseases of the visual system. In: Goldman L, Schafer AI, eds. Goldman-Cecil Medicine. 26th ed. Philadelphia, PA: Elsevier; 2020:chap 395.
Denniston AK, Rhodes B, Gayed M, Carruthers D, Gordon C, Murray PI. Rheumatic disease. In: Schachat AP, Sadda SVR, Hinton DR, Wilkinson CP, Wiedemann P, eds. Ryan's Retina. 6th ed. Philadelphia, PA: Elsevier; 2018:chap 83.
Patel SS, Goldstein DA. Episcleritis and scleritis. In: Yanoff M, Duker JS, eds. Ophthalmology. 5th ed. Philadelphia, PA: Elsevier; 2019:chap 4.11.
Schonberg S, Stokkermans TJ. Episcleritis. 2021 Feb 13. In: StatPearls [Internet]. Treasure Island (FL): StatPearls Publishing; 2021 Jan. PMID: 30521217 pubmed.ncbi.nlm.nih.gov/30521217/.
Version Info
Last reviewed on: 8/18/2020
Reviewed by: Franklin W. Lusby, MD, ophthalmologist, Lusby Vision Institute, La Jolla, CA. Also reviewed by David Zieve, MD, MHA, Medical Director, Brenda Conaway, Editorial Director, and the A.D.A.M. Editorial team.