Alcohol use disorder
Alcohol dependence; Alcohol abuse; Problem drinking; Drinking problem; Alcohol addiction; Alcoholism - alcohol use; Substance use - alcohol
Alcohol use disorder is when your drinking causes serious problems in your life, yet you keep drinking. You may also need more and more alcohol to feel drunk. Stopping suddenly may cause withdrawal symptoms.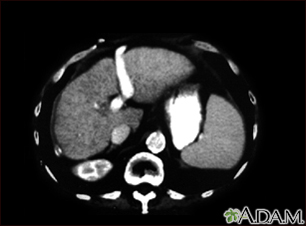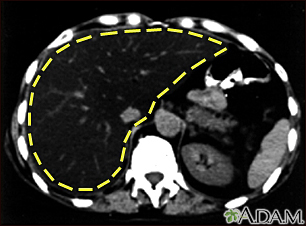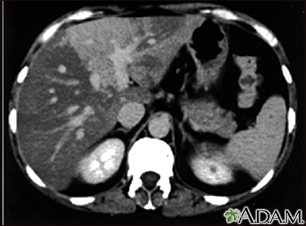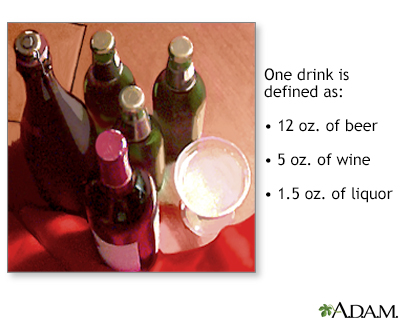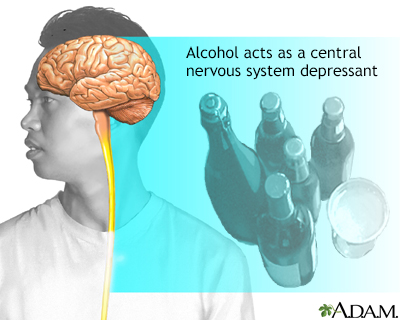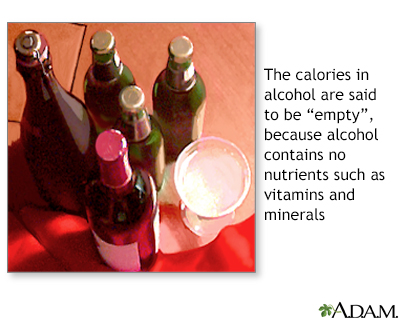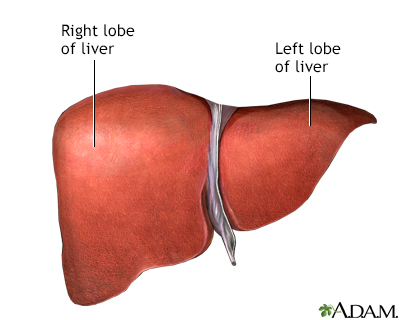 Causes
No one knows what causes problems with alcohol. Health experts think that it may be a combination of a person's:
Genes
Environment
Psychology, such as being impulsive or having low self-esteem
Long-term risks of drinking an excessive amount of alcohol are more likely if:
You are a man who has more than 2 drinks per day, or 15 or more drinks a week, or often has 5 or more drinks at a time
You are a woman who has more than 1 drink per day, or 8 or more drinks a week, or often has 4 or more drinks at a time
One drink is defined as 12 ounces or 360 milliliters (mL) of beer (5% alcohol content), 5 ounces or 150 mL of wine (12% alcohol content), or a 1.5-ounce or 45-mL shot of liquor (80 proof, or 40% alcohol content).
If you have a parent with alcohol use disorder, you are more at risk for alcohol problems.
You also may be more likely to have problems with alcohol if you:
If you are concerned about your drinking, it may help to take a careful look at your alcohol use.
Symptoms
Health care providers have developed a list of symptoms that a person has to have in the past year to be diagnosed with alcohol use disorder.
Symptoms may include:
Drinking more or longer than you planned to at times
Wanting to or trying to cut down or stop drinking, but could not
Spending a lot of time and effort to get alcohol, use it, or recover from its effects
Craving alcohol or having a strong urge to use it
Missing work or school, or not performing as well because of drinking
Continuing to drink, even when it harms your relationships with family and friends
No longer taking part in activities that you used to enjoy
Getting into situations that can cause you to get hurt, such as driving, using machinery, or having unsafe sex while or after drinking
Continuing to drink, even though it is making a health problem caused by alcohol worse
Needing more and more alcohol to feel its effects or to get drunk (this is called tolerance)
Getting withdrawal symptoms when the effects of alcohol wear off
Exams and Tests
Your provider will:
Examine you
Ask about your medical and family history
Ask about your alcohol use, and if you have any of the symptoms listed above
Your provider may order tests to check for health problems that are common in people who use alcohol. These tests may include:
Blood alcohol level (This shows if you have recently been drinking alcohol. It does not diagnose alcohol use disorder.)
Treatment
Many people with an alcohol problem need to completely stop using alcohol. This is called abstinence. Having strong social and family support can help make it easier to quit drinking.
Some people are able to just cut back on their drinking. So even if you do not totally give up alcohol, you may be able to drink less. This can improve your health and relationships with others. It can also help you perform better at work or school.
However, many people who drink too much find they can't just cut back. Abstinence may be the only way to manage a drinking problem.
DECIDING TO QUIT
Like many people with an alcohol problem, you may not recognize that your drinking has gotten out of your control. An important first step is to be aware of how much you drink. It also helps to understand the health risks of alcohol.
If you decide to quit drinking, talk with your provider. Treatment involves helping you realize how much your alcohol use is harming your life and the lives of those around you.
Depending on how much and how long you have been drinking, you may be at risk for alcohol withdrawal. Withdrawal can be very uncomfortable and even life threatening. If you have been drinking a lot, you should cut back or stop drinking only under the care of a provider. Talk with your provider about how to stop using alcohol.
LONG-TERM SUPPORT
Alcohol recovery or support programs can help you stop drinking completely. These programs usually offer:
Education about alcohol use and its effects
Counseling and therapy to discuss how to control your thoughts and behaviors
Physical health care
For the best chance of success, you should live with people who support your efforts to avoid alcohol. Some programs offer housing options for people with alcohol problems. Depending on your needs and the programs that are available:
You may be treated in a special recovery center (inpatient)
You may attend a program while you live at home (outpatient)
You may be prescribed medicines along with counseling and behavioral therapy to help you quit. This is called medication-assisted treatment (MAT). While MAT doesn't work for everyone, it is another option in treating the disorder. These medicines are often used for MAT.
Acamprosate helps reduce cravings and dependence on alcohol in people who have recently stopped drinking.
Disulfiram should only be used after you stop drinking. It causes a very bad reaction when you drink, which helps prevent you from drinking.
Naltrexone blocks pleasurable feelings of intoxication, which may help you cut back or stop drinking.
It's a common misconception that taking medicine to treat alcohol use disorder is trading one addiction for another. These medicines are not addictive. They can help some people manage the disorder, just as people with diabetes or heart disease take medicine to treat their condition.
Drinking may mask depression or other mood or anxiety disorders. If you have a mood disorder, it may become more noticeable when you stop drinking. Your provider will treat any mental disorders in addition to your alcohol treatment.
Drinking significantly may also cause depression and anxiety. You need to stop drinking for at least a month to see if these symptoms get better and do not need further treatment.
Support Groups
Support groups help many people who are dealing with alcohol use. Talk to your provider about a support group that might be right for you.
Outlook (Prognosis)
How well a person does depends on whether they can successfully cut back or stop drinking.
It may take several tries to stop drinking for good. If you are struggling to quit, do not give up hope. Getting treatment, if needed, along with support and encouragement from support groups and those around you can help you remain sober.
Possible Complications
Alcohol use disorder can increase your risk of many health problems, including:
Bleeding in the digestive tract
Brain cell damage
A brain disorder called Wernicke-Korsakoff syndrome
Cancer of the mouth, throat, esophagus, stomach, liver, colon, and breast
Changes in the menstrual cycle
Dementia and memory loss
Depression and suicide
Erectile dysfunction
Heart damage
High blood pressure
Inflammation of the pancreas (pancreatitis)
Liver disease, including cirrhosis
Poor nutrition
Sleeping problems (insomnia)
Sexually transmitted infections (STIs)
Alcohol use also increases your risk for violence.
Drinking alcohol while you are pregnant can lead to severe birth defects in your baby. This is called fetal alcohol syndrome. Drinking alcohol while you are breastfeeding can also cause problems for your baby.
When to Contact a Medical Professional
Talk with your provider if you or someone you know may have an alcohol problem.
Seek immediate medical care or call 911 or the local emergency number if you or someone you know has an alcohol problem and develops severe confusion, seizures, or bleeding.
If you or someone you know is thinking about suicide, call or text 988 or chat 988lifeline.org. You can also call 1-800-273-8255 (1-800-273-TALK). The 988 Suicide and Crisis Lifeline provides free and confidential support 24/7, anytime day or night.
Prevention
The National Institute on Alcohol Abuse and Alcoholism recommends:
Women should not drink more than 1 drink per day
Men should not drink more than 2 drinks per day
American Psychiatric Association. Substance-related and addictive disorders. Diagnostic and Statistical Manual of Mental Disorders. 5th ed. Text Revision (DSM-5-TR). Arlington, VA: American Psychiatric Publishing; 2022:chap 16.
Centers for Disease Control and Prevention; National Center for Chronic Disease Prevention and Health Promotion. CDC vital signs: alcohol screening and counseling. www.cdc.gov/vitalsigns/alcohol-screening-counseling/. Updated January 31, 2020. Accessed June 7, 2023.
Reus VI, Fochtmann LJ, Bukstein O, et al. The American Psychiatric Association practice guideline for the pharmacological treatment of patients with alcohol use disorder. Am J Psychiatry. 2018;175(1):86-90. PMID: 29301420 pubmed.ncbi.nlm.nih.gov/29301420/.
Sherin K, Seikel S, Hale S. Alcohol use disorders. In: Rakel RE, Rakel DP, eds. Textbook of Family Medicine. 9th ed. Philadelphia, PA: Elsevier Saunders; 2016:chap 48.
US Preventive Services Task Force, Curry SJ, Krist AH, et al. Screening and behavioral counseling interventions to reduce unhealthy alcohol use in adolescents and adults: US Preventive Services Task Force recommendation statement. JAMA. 2018;320(18):1899-1909. PMID: 30422199 pubmed.ncbi.nlm.nih.gov/30422199/.
Witkiewitz K, Litten RZ, Leggio L. Advances in the science and treatment of alcohol use disorder. Sci Adv. 2019;5(9):eaax4043. Published September 25, 2019. PMID: 31579824 pubmed.ncbi.nlm.nih.gov/31579824/.
Version Info
Last reviewed on: 5/10/2023
Reviewed by: Fred K. Berger, MD, addiction and forensic psychiatrist, Scripps Memorial Hospital, La Jolla, CA. Also reviewed by David C. Dugdale, MD, Medical Director, Brenda Conaway, Editorial Director, and the A.D.A.M. Editorial team.