2019 Novel Coronavirus (2019-nCoV)
Coronavirus - 2019; Coronavirus - novel 2019; 2019 Novel coronavirus; SARS-CoV-2
Coronavirus disease 2019 (COVID-19) is a respiratory illness that causes fever, coughing, and shortness of breath. Some people with COVID-19 have died. Some people have none or only mild symptoms.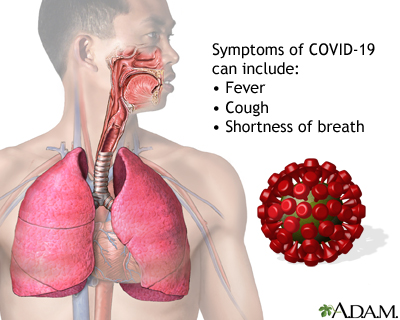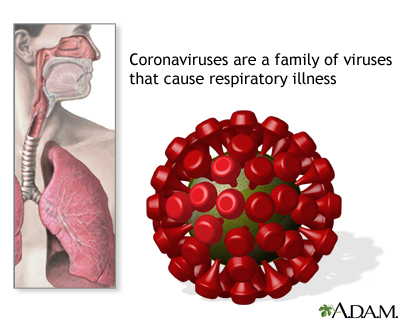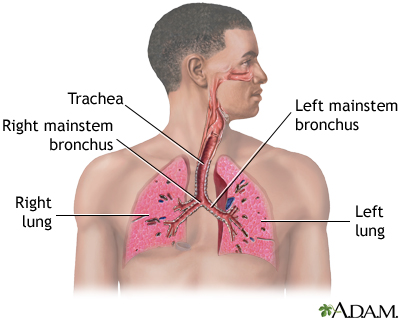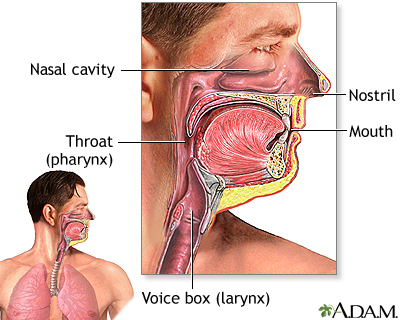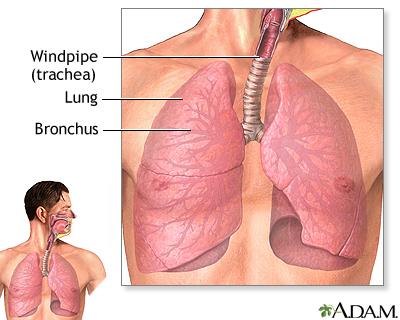 Causes
COVID-19 is caused by the SARS-CoV-2 virus (severe acute respiratory syndrome coronavirus 2). Coronaviruses are a family of viruses that can affect people and animals. They can cause mild to moderate respiratory illnesses, such as the common cold. Some coronaviruses can cause severe illness that can lead to pneumonia and even death.
COVID-19 was first reported in Wuhan City, Hubei Province, China in early December, 2019. Since then, it has spread throughout the world and within the United States.
SARS-CoV-2 is a betacoronavirus, like the MERS and SARS coronaviruses, which both originated in bats. It is thought that the virus spread from animals to humans. Now the virus is mainly spreading from person-to-person.
COVID-19 spreads to people within close contact (about 6 feet or 1.8 meters). When someone with the illness coughs, sneezes, sings, talks, or breathes, droplets spray into the air. You can catch the illness if you breathe in these droplets.
In some instances, COVID-19 may spread through the air and infect people who are more than 6 feet away. Small droplets and particles can remain in the air for minutes to hours. This is called airborne transmission, and it can occur in enclosed spaces with poor ventilation. However, it is more common for COVID-19 to spread through close contact.
Less often, the illness can spread if you touch a surface with the virus on it, and then touch your eyes, nose, mouth, or face. But this is not thought to be the main way the virus spreads.
COVID-19 can cause mild to serious illness and even death. It is also spreading from person to person quickly. The United States Centers for Disease Control and Prevention (CDC) and World Health Organization (WHO) consider COVID-19 a serious public health threat globally and in the United States. The situation is evolving quickly, so it's important to follow current local guidance on how to protect yourself and others from getting and spreading COVID-19.
Symptoms
COVID-19 symptoms have ranged from mild to severe, and some people have died from the illness. Older people and people with certain existing health conditions have a higher risk of developing severe illness:
Heart disease
Kidney disease
COPD
Obesity (BMI of 30 or above)
Type 2 diabetes
Organ transplantation
Sickle cell disease
Cancer
Smoking 
Symptoms of COVID-19 may include:
Chills; repeated shaking with chills
Shortness of breath or difficulty breathing
Fatigue
Muscle aches
Headache
Loss of sense of taste or smell
Sore throat
Stuffy or runny nose
Nausea or vomiting
Diarrhea
 (Note: This is not a complete list of possible symptoms. More may be added as health experts learn more about the disease.)
Some people may have no symptoms at all or may have some, but not all of the symptoms.
Symptoms may appear within 2 to 14 days after being exposed. Most often, symptoms appear around 5 days after exposure. However, you can spread the virus even when you do not have symptoms.
More severe symptoms that require seeking medical help right away include:
Trouble breathing
Chest pain or pressure that persists
Confusion
Inability to wake up
Blue lips or face
Exams and Tests
If you have symptoms of COVID-19, your health care provider may decide to test you for the disease.
If you get tested for COVID-19, swabs from the back of the nose or throat will be collected. If a person is thought to have COVID-19, these samples will be tested for SARS-CoV-2.
Treatment
If you are recovering at home, supportive care is given to help relieve symptoms. People with severe illness will be treated in the hospital. Some people are being given experimental medicines.
If you are being cared for in the hospital and are receiving oxygen therapy, treatment for COVID-19 may include the following medicines, which are still being evaluated:
Remdesivir, an antiviral medicine, to help slow the virus. This medicine is given through the vein (IV).
Dexamethasone, a steroid medicine, to help reduce an overactive immune response in the body. If dexamethasone is not available, you may be given another corticosteroid such as prednisone, methylprednisolone or hydrocortisone.
Depending on your situation, you may be given one or the other medicine, or both medicines together.
You will be treated for any complications from the disease. For example, you may be given blood thinners to help reduce the chance of blood clots, or you may have dialysis if your kidneys do not function properly.
Other possible treatments, such as plasma from people who had COVID-19 and have recovered, are being studied, but there is not enough evidence to recommend them at this time.
Based on available evidence, current treatment guidelines from the National Institutes of Health recommend against using some drugs for COVID-19, including chloroquine and hydroxychloroquine. Do not take any drugs to treat COVID-19 except those prescribed by your provider. Check with your provider before treating yourself or a loved one with vitamins, nutrients, or any medicines prescribed in the past for other health problems.
Possible Complications
Complications can include:
Damage to the heart and blood vessels, kidneys, brain, skin, eyes, and gastrointestinal organs
Respiratory failure
Death
When to Contact a Medical Professional
You should contact your provider:
If you have symptoms and think you may have been exposed to COVID-19
If you have COVID-19 and your symptoms are getting worse
Call 911 or the local emergency number if you have:
Trouble breathing
Chest pain or pressure
Confusion or inability to wake up
Blue lips or face
Any other symptoms that are severe or concern you

Before you go to a doctor's office or hospital emergency department (ED), call ahead and tell them that you have or think you may have COVID-19. Tell them about any underlying conditions you might have, such as heart disease, diabetes, or lung disease. If you have a face mask, wear it when you visit the office or ED, unless it makes it hard to breathe. This will help protect other people you come in contact with.
Prevention
There is no vaccine for COVID-19. The best way to avoid infection is to avoid contact with people who have the virus.
If you have COVID-19 or have symptoms of it, you must isolate yourself at home and avoid contact with other people, both inside and outside your home, to avoid spreading the illness. This is called home isolation or self-quarantine.
As much as possible, stay in a specific room and away from others in your home. Use a separate bathroom if you can. Do not leave your home except to get medical care.
Do not travel while sick. Do not use public transportation or taxis.
Keep track of your symptoms. You may receive instructions on how to check and report your symptoms.
Stay in touch with your doctor. Before you go to a doctor's office or emergency department (ED), call ahead and tell them that you have or think you may have COVID-19.
Use a face mask when you see your provider and anytime other people are in the same room with you. If you can't wear a mask, for example, due to breathing problems, people in your home should wear a mask if they need to be in the same room with you.
Avoid contact with pets or other animals. (SARS-CoV-2 can spread from people to animals, but it is not known how often this happens).
Cover your mouth and nose with a tissue or your sleeve (not your hands) when coughing or sneezing. Droplets that are released when a person sneezes or coughs are infectious. Throw away the tissue after use.
Wash your hands many times a day with soap and running water for at least 20 seconds. Do this before eating or preparing food, after using the toilet, and after coughing, sneezing, or blowing your nose. Use an alcohol-based hand sanitizer (at least 60% alcohol) if soap and water are not available.
Avoid touching your face, eyes, nose, and mouth with unwashed hands.
Do not share personal items such as cups, eating utensils, towels, or bedding. Wash anything you have used in soap and water.
Clean all "high-touch" areas in the home, such as doorknobs, bathroom and kitchen fixtures, toilets, phones, tablets, and counters and other surfaces. Use a household cleaning spray and follow instructions for use.
You should remain at home, avoid contact with people, and follow the guidance of your provider and local health department about when to stop home isolation.
It's also important to help prevent the spread of the disease to protect people at high risk of serious illness and to protect providers who are at the front lines of dealing with COVID-19.
For that reason, everyone should practice social distancing. This means:
Avoid crowded public places and mass gatherings, such as shopping centers, movie theaters, concert halls, conferences, and sports stadiums.
Don't gather in groups larger than 10. The fewer people you spend time with, the better.
Stay at least 6 feet (1.8 meters) from other people.
Work from home (if that is an option).
If you must go out, wear a face mask or cloth face cover in areas where it may be hard to maintain social distancing, such as a grocery store.
To find out what it happening in your community, check your local or state government website.
Centers for Disease Control and Prevention website. Coronavirus Disease 2019 (COVID-19) -- www.cdc.gov/coronavirus/2019-ncov/index.html.
World Health Organization website. Coronavirus Disease 2019 (COVID-19) Pandemic --  www.who.int/emergencies/diseases/novel-coronavirus-2019.
Centers for Disease Control and Prevention website. Coronavirus disease 2019 (COVID-19): How to protect yourself & others. www.cdc.gov/coronavirus/2019-ncov/prevent-getting-sick/prevention.html. Updated November 3, 2020. Accessed November 3, 2020.
Centers for Disease Control and Prevention website. Coronavirus disease 2019 (COVID-19): Information for healthcare professionals about coronavirus (COVID-19). www.cdc.gov/coronavirus/2019-nCoV/hcp/index.html. Updated August 25, 2020. Accessed October 27, 2020.
Centers for Disease Control and Prevention website. Coronavirus disease 2019 (COVID-19): Public health guidance for community-related exposure. www.cdc.gov/coronavirus/2019-ncov/php/public-health-recommendations.html. Updated October 21, 2020. Accessed October 27, 2020.
Centers for Disease Control and Prevention website. Treatments your healthcare provider might recommend for severe illness. www.cdc.gov/coronavirus/2019-ncov/your-health/treatments-for-severe-illness.html. Updated November 2, 2020. Accessed November 3, 2020.
Centers for Disease Control and Prevention website. Coronavirus disease 2019 (COVID-19): What to do if you are sick. www.cdc.gov/coronavirus/2019-ncov/if-you-are-sick/steps-when-sick.html. Updated September 11, 2020. Accessed October 27, 2020.
National Institutes of Health. COVID-19 treatment guidelines. Therapeutic management of patients with COVID-19. www.covid19treatmentguidelines.nih.gov/therapeutic-management/. Updated October 9, 2020. Accessed October 27, 2020.
Version Info
Last reviewed on: 4/11/2020
Reviewed by: David C. Dugdale, III, MD, Professor of Medicine, Division of General Medicine, Department of Medicine, University of Washington School of Medicine. Also reviewed by David Zieve, MD, MHA, Medical Director, Brenda Conaway, Editorial Director, and the A.D.A.M. Editorial team. Editorial update 11/03/2020.