Angioplasty and stent placement - carotid artery - discharge
Carotid angioplasty and stenting - discharge; CAS - discharge; Angioplasty of the carotid artery - discharge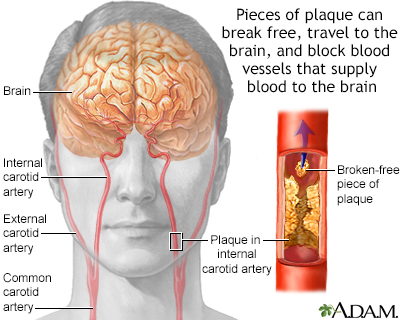 When You're in the Hospital
You had an angioplasty done when you were in the hospital. You may have also had a stent (a tiny wire mesh tube) placed in the blocked area to keep it open. Both of these were done to open a narrowed or blocked artery that supplies blood to your brain.
Your health care provider inserted a catheter (flexible tube) into an artery through an incision (cut) in your groin or your arm.
Your provider used live x-rays to carefully guide the catheter up to the area of the blockage in your carotid artery.
Then your provider passed a guide wire through the catheter to the blockage. A balloon catheter was pushed over the guide wire and into the blockage. The tiny balloon on the end was inflated. This opened the blocked artery. Then your provider may have inserted a stent to keep the artery open.
If you have a blocked artery in your heart, legs, or neck, you may need a stent to keep your blood flowing to prevent serious problems. Let's talk today about stents. A stent is a tiny tube we place in an artery, blood vessel, or other duct (such as the one that carries urine) to hold the tubes open. A stent is left in permanently. Most stents are made of metal or plastic mesh-like material. Stent grafts made of fabric are often used in larger arteries. Stents are used to treat a variety of artery and other problems. Your doctor will make a small cut in a blood vessel in your groin and thread a thin, flexible tube called a catheter to the place in your body where you need a stent. In the heart, a fatty substance called plaque can build up inside the coronary arteries. Plaque narrows the arteries, reducing the flow of oxygen-rich blood to the heart. One stent, called an intraluminal coronary artery stent, is a small, self-expanding, metal mesh-like tube that is placed inside a coronary artery after balloon angiography. This stent prevents the artery from re-closing. Another stent is coated with medicine that helps further prevent an artery from re-closing. In the carotid arteries, which are on both sides of your neck, plaque can build up and slow the flow of blood to your brain. Stents can keep the carotid arteries open. Stents can also open up narrow arteries in your legs caused by peripheral arterial disease. They're also used to treat an abdominal aortic aneurysm, which is when the large blood vessel that supplies blood to your abdomen, pelvis, and legs becomes abnormally large and balloons. After a stent procedure, your doctor will probably recommend that you take aspirin and another anti-clotting medication to prevent blood clots from forming in the stent. Make sure that you talk to your doctor, before getting a stent, about the risks associated with placing a stent to treat your condition, such as tissue growing around the area where the stent was placed.
What to Expect at Home
You should be able to do most of your normal activities within a few days, but take it easy.
Self-care
If your provider put the catheter in through your groin:
Walking short distances on a flat surface is ok. Limit going up and down stairs to about 2 times a day for the first 2 to 3 days.
Do not do yard work, drive, or play sports for at least 2 days, or for the number of days your provider tells you to wait.
You will need to care for your incision.
Your provider will tell you how often to change your dressing (bandage).
You need to take care that the incision site does not become infected. If you have pain or other signs of infection, call your provider.
If your incision bleeds or swells, lie down and put pressure on it for 30 minutes. If the bleeding or swelling does not stop or gets worse, call your provider and return to the hospital. Or, go to the closest emergency room, or call 911 or the local emergency number right away. If bleeding or swelling are severe even before 30 minutes have passed, call 911 or the local emergency number right away. DO NOT delay.
Having carotid artery surgery does not cure the cause of the blockage in your arteries. Your arteries may become narrow again. To lower your chances of this happening:
Eat healthy foods, exercise (if your provider advises you to), stop smoking (if you smoke), and reduce your stress level. Do not drink alcohol in excess.
Take medicine to help lower your cholesterol if your provider prescribes it.
If you are taking medicines for blood pressure or diabetes, take them the way you have been told to take them.
Your provider may ask you to take aspirin and/or another medicine called clopidogrel (Plavix), or another medicine, when you go home. These medicines keep your blood from forming clots in your arteries and in the stent. DO NOT stop taking them without talking with your provider first.
When to Call the Doctor
Contact your provider if:
You have a headache, become confused, or have numbness or weakness in any part of your body.
You have problems with your eyesight or you cannot talk normally.
There is bleeding at the catheter insertion site that does not stop when pressure is applied.
There is swelling at the catheter site.
Your leg or arm below where the catheter was inserted changes color or becomes cool to touch, pale, or numb.
The small incision from your catheter becomes red or painful, or yellow or green discharge is draining from it.
Your legs are swelling.
You have chest pain or shortness of breath that does not go away with rest.
You have dizziness, fainting, or you are very tired.
You are coughing up blood or yellow or green mucus.
You have chills or a fever over 101°F (38.3°C).
Brott TG, Halperin JL, Abbara S, et al. 2011 ASA/ACCF/AHA/AANN/AANS/ACR/ASNR/CNS/SAIP/SCAI/SIR/SNIS/SVM/SVS guideline on the management of patients with extracranial carotid and vertebral artery disease: executive summary: a report of the American College of Cardiology Foundation/American Heart Association Task Force on Practice Guidelines, and the American Stroke Association, American Association of Neuroscience Nurses, American Association of Neurological Surgeons, American College of Radiology, American Society of Neuroradiology, Congress of Neurological Surgeons, Society of Atherosclerosis Imaging and Prevention, Society for Cardiovascular Angiography and Interventions, Society of Interventional Radiology, Society of NeuroInterventional Surgery, Society for Vascular Medicine, and Society for Vascular Surgery. J Am Coll Cardiol. 2011;57(8):1002-1044. PMID: 21288680 pubmed.ncbi.nlm.nih.gov/21288680/.
Cameron J. Vascular surgery. In: Cameron J, ed. Current Surgical Therapy. 14th ed. Philadelphia, PA: Elsevier; 2023:chap:16.
Kinlay S, Bhatt DL. Treatment of noncoronary obstructive vascular disease. In: Libby P, Bonow RO, Mann DL, Tomaselli GF, Bhatt DL, Solomon SD , eds. Braunwald's Heart Disease: A Textbook of Cardiovascular Medicine. 12th ed. Philadelphia, PA: Elsevier; 2022:chap 44.
Rogers RK, Seinfeld J, Casserly IP. Carotid and cerebrovascular intervention. In: Topol EJ, Teirstein PS, eds. Textbook of Interventional Cardiology. 8th ed. Philadelphia, PA: Elsevier; 2020:chap 46.
Version Info
Last reviewed on: 1/23/2023
Reviewed by: Mary C. Mancini, MD, PhD, Cardiothoracic Surgeon, Shreveport, LA. Review provided by VeriMed Healthcare Network. Also reviewed by David C. Dugdale, MD, Medical Director, Brenda Conaway, Editorial Director, and the A.D.A.M. Editorial team.