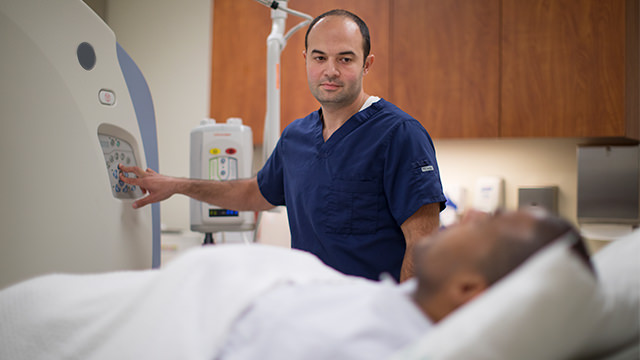 At Mount Sinai-Union Square, we offer a full range of radiology exam services—including X-ray to EKG, MRI, and mammogram—in one location. We use radiology to diagnose an injury, check for a suspected condition, or perform a regularly scheduled checkup. In addition, we also diagnose and treat various conditions using interventional radiology.
You don't even have to leave the building, and we'll get you the results as quickly as possible.
Timely Results
As part of the Mount Sinai Health System, our radiologists and radiological technicians are highly trained. We do all we can to make available the information you need to make health care decisions. Typically, we can provide results within 24 to 48 hours. Then you and your doctor can discuss the treatment that is right for you or your family member.
For your child, we have experienced pediatric radiologists who know how to help each child feel comfortable and safe during the scan. We even try to make it fun.
Scans We Perform
For all of our radiology scans, we use low-dose imaging and the most advanced equipment available. Our scans include:
Bone density scan—uses a very small amount of ionizing radiation to produce pictures of your body's organs, bones, and blood vessels. We use it to diagnose osteoporosis and measure bone loss. You should not take calcium supplements for at least 24 hours before getting a bone densitometry exam.
Computed tomography (CT) scan—creates detailed images of your organs, bones, and blood vessels. A fast, noninvasive approach, CT scans are highly accurate.
Electrocardiogram (EKG)—shows the electrical activity of your heart as it pumps blood and lasts about 5 to 10 minutes.
Magnetic resonance imaging (MRI)—uses radio waves to produce pictures of your body's organs, bones, and blood vessels. A noninvasive approach, MRIs do not use ionizing radiation. We also perform magnetic resonance angiogram, a type of MRI that focuses on blood vessels.
Mammography—is specifically for detecting cancer in breasts, before any tumor is big enough to see or feel.
Ultrasound imaging—uses a probe to create sound waves and produce pictures of your body's organs, bones, and blood vessels without using radiation. It is helpful with monitoring pregnant women and guiding needle biopsies.
X-ray—also called radiography, this uses a very little amount of ionizing radiation to create pictures of your body's organs, bones, and blood vessels. The oldest form of medical imaging, it is often used to diagnose fractured bones and look for injury or infection. Sometimes we use X-rays with an iodine-based contrast material to make it easier to see what is going on.
Having radiology services onsite at Mount Sinai-Union Square speeds up diagnosis, decreases the stress of waiting, and helps us get you in to see the right specialist as quickly as possible for the personalized treatment that Mount Sinai doctors are known for.